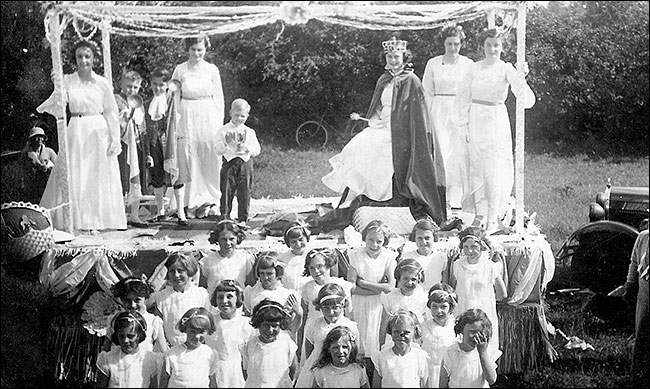 Irene Cooke - Hospital Carnival Queen - 1935. On the float: first left is Joan Buckby then
Philip Quincey, Roger Saddington, Sheila Daniels, John Baish, the Queen Rene Cooke, Ruby Payne,
Freda Coles. No names have been given for the back row of the schoolchildren. In the second
row are …………? Kath Dams, …………? …………? …………? Front row Sheila Fennell, Eileen Rickards,
Kath Dent, …………? …………? Pam Cooke.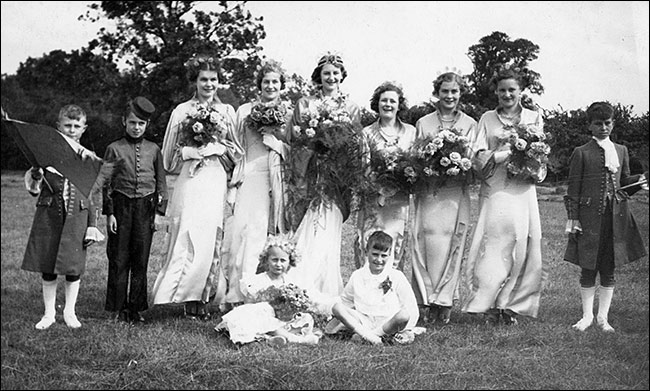 The 1936 Hospital Gala Queen Audrey Mason. L-R: Eileen Spanton, Mary Wright, the queen
Audrey Mason, Flora Reed, May Evans, Jean Olerenshaw. The young attendants are Philip
Quincey, Roger Saddington and Billy Hickman. Betty Loak and Ivan Cox are on the grass.
Audrey also had the distinction of being chosen as the Kettering Carnival Queen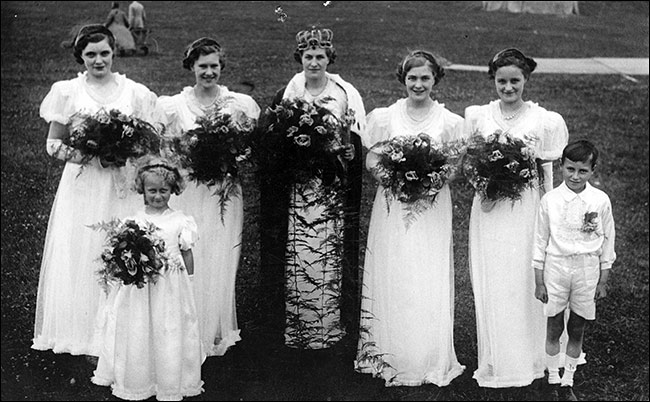 In 1939, as a departure from the traditional Gala Queen selection contest, the Gala Committee decided that it would be appropriate to chose girls to represent the various industries of the town. Below are pictures from the Evening Telegraph. The first one was taken at the crowning on 28th June and the other was taken on Saturday 15th July, the day of the parade.


By the following year, the Trade Queen idea had been dropped and the traditional Gala Queen selection returned
.
There was one innovation however, for the first time the chosen queen was a married woman - this was
19 year-old Margaret Annie Giles, née May, who had married Sidney Giles the previous October.


Although Gala Parades were held during the Second World War, there do not appear to have been
any contests to select a queen.