Dr Edwin Lloyd Warner came to Burton in the 1920s and left in 1934. He lived with his wife (who was a popular soloist) at Osborne House at The Cross and - in partnership with Dr Beaumont - his was the first practice to use it as a surgery. He was Canadian and the 1930 Medical Register – Colonial List his qualifications are given as: Date of Registration 1920, Oct 14. M.C.P S. Man., 1915; M.D. U. Man., D.P.H. Camb. 1921. When Annie Savage wrote about of the life of her sister Val she described Dr. Warner as: "our Canadian GP with his Stetson hat and bicycle"
His resignation in 1934 came as a sad blow to the town. "Simon Straight", the Burton correspondent in the local paper, commented:
The resignation of Dr. E. L. Warner as medical officer, to take effect on March 31st, was a great blow to the Council, and the doctor's removal from the community is a matter of great regret to the town generally. Doctor Warner has earned the esteem and confidence of all who came into touch with him. He has been of inestimable value to the Ambulance Corps and the Infant Welfare Centre, and his interest in both those organisations has no doubt been largely responsible for the excellent state of efficiency they have both attained. The town will also feel the removal of Mrs. Warner, who has ever been ready to assist in various ways. Her singing has always been a delight.
A Curious Position
The appointment of Dr. Warner's successor forms a curious position. Under the Local Government Act of 1929, "the County Council is required to formulate arrangements for securing, by a combination of districts or otherwise, that every medical officer of health subse­quently appointed for a district shall be restricted by the terms of his employment from enjoying a private practice as a medical practitioner."
To what extent the County Council have moved in this matter I cannot say, but the vacancy will be reported to the County Authority, whose advice will be awaited, and the new M.O. will be appointed, probably conditionally.
His departure was marked by a special Leaving Party held at the British legion Hall. The occasion was also marked by a presentation.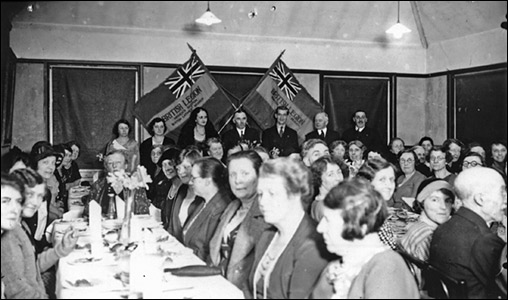 Below:
Mrs John Harpur (St John Nursing Superintendent) makes a presentation to
Dr.Warner in memory of his ten years as a G.P. in Burton Latimer.
Seated beside her is Mrs Warner. Behind Mrs Warner is Dr A P Kingsley,
who replaced Dr Warner. Mr William Batty stands between Mrs Harpur
and Dr Warner