WHEN IS A MAN IN CUSTODY? A Difficult Question at Quarter Sessions

POLICE SAY HE WAS ONLY "DETAINED"

Bench Rule Against the Prosecution

The interesting question, when is a man in custody? was discussed during the hearing of a case at Northamptonshire Quarter Sessions today, before Sir Kenneth Murchison and other magistrates.

For the police it was contended that the man was not in custody, or locked up, but detained.

The case was one in which John Riley (47), gardener, was charged with breaking and entering a certain office and store on June 20, and stealing two suits of dress clothes and other articles, valued at £5 8s 6d., the property of George James Talbutt.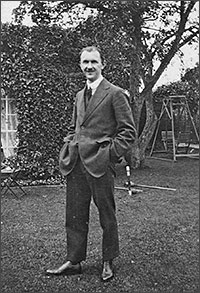 Mr R Elwes prosecuted, and Mr R Manningham-Buller was asked by prisoner to defend him.

A plea of not guilty was entered.

Mr Elwes and Mr Talbutt's house adjoined his office. On June 21 the office was found to be in disorder, and amongst other things missing was a jar of rhubarb wine. Certain of the missing things were found near an allotment 250 yards away.

There would be a discussion during the case about the admission of a statement made by prisoner. If the statement was not put in then the case would not continue.

Mr Talbutt, who lived at Burton Latimer, confirmed these facts, and said the office door was open, but not locked.

Christopher George Hendry, shoe operative, St Crispin's, Burton Latimer, said prisoner came to the house, and asked for food at 10.55 pm. He went to the police to report the man, and also to report the finding of some clothes in Old Orchard-lane (now Preston Court).

PC Robinson, of Burton Latimer, said there was one suit of dress clothes, a white waistcoat, and a jar of wine in the hedge by Old Orchard-lane.

Inspector Barker said he saw prisoner at the Kettering Police Station on June 21. He appeared to be under the influence of drink. He denied all knowledge of the theft. At 9.30 am on the next day the Inspector again saw prisoner.

THE QUESTION OF A STATEMENT

At this point Mr Manningham-Butler asked permission to cross-examine the witness on the circumstances under which a certain statement was made by prisoner.

This was granted, and in reply the counsel witness said he saw prisoner on June 20 at Kettering. In consequence of something he heard, prisoner was kept under observation.

The theft was reported at 9.30 pm on June 21. At 10 o'clock prisoner was arrested.

From 11 o'clock onwards for two to two-and-a-half hours prisoner was interviewed.

At 9.30 o'clock the next morning the prisoner was brought into the office on account of something he had said. Prisoner admitted calling at Hendry's house. This interview lasted twenty minutes.

Witness admitted that no caution was given during the first interview, as he contended that the man was not in custody.

In reply to another question, witness said the man was detained, but not locked up.

Mr Manningham-Buller said he wished to make a submission. It would best be made in the absence of the jury.

The jury withdrew

Mr Buller said police regulations laid it down that a mn in custody must be cautioned before being questioned. At no time during the final interview was prisoner cautioned.

The statement which had been referred to should not be admitted because (a) it was obtained without a proper caution being gviven, and (b) because it was obtained as the result of "menaces and undue terror" - to quote Archbald.

Mr Elwes said he quite agreed that a caution should have been administered at the first interview, but the statement was obtained the following morning after a caution had been issued.

The Bench decided that the whole of the statement was inadmissible.

Mr Elwes said he had no more evidence to offer.

The jury were recalled, and told that certain evidence was not admissible. In that case they were directed to return a verdict of not quilty.

This verdict was returned, and the prisoner was Discharged.