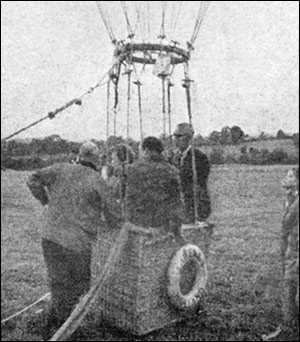 Despite the wonders of jet-planes, rocket missiles and man-made satellites, an old-fashioned balloon caused a big sensation when it landed at Burton Latimer on Saturday.
In our picture (right) taken by Mr. C. Newnes, of 4 Regent Close, Burton Latimer, the Dutch aviators have secured the balloon with the help of spectators.
The scene, allowing for a change of fashions, was almost the same as in 1907, when the last balloon with a crew of more than one visited the district. It hovered over the town of Oundle about 300 feet up, sailed majestically across West Street and Milton Road, the workmen engaged on the great hall of the School having a fine view.
After it landed "the aeronauts, one lady and three gentlemen, alighted and proceeded to the Railway Hotel, Oundle, for tea. They left by the evening train for London, whence they had started the same day at ."
Note
Two years ago a large Air Ministry balloon landed at Irchester, carrying instruments and a crew of one. All he would say was "My name is Bob".