After training at St. Thomas Hospital, London and serving for two years in the Army, Dr. Padget intended to make a career in surgery. However, at the end of the war Consultant posts were being snapped up by ex-army surgeons and opportunities were few. Following the advice of a senior colleague he applied for a General Practice post in Potton in Bedfordshire. This "taster" proved to be the basis for his decision to remain in General Practice. He applied for a post in Burton Latimer and was interviewed by Dr. Godfrey Bell at Finedon on a wet March day in 1954. Drs Kingsley and Bell shared the Burton Latimer and Finedon practice. There had previously been a Dr. Beaumont in Burton Latimer who contracted TB (He left to become a ship's surgeon). Burton Latimer was little more than a large village with a clear boundary with the neighbouring village of Barton Seagrave a mile away where only a few bungalows on the right of the A6 had been built and the Woodland Avenue estate was open fields. The practice covered Finedon, Gt & Lt. Harrowden, Isham, Cranford, Barton Seagrave and Burton Latimer. Surgeries were held in a surgery at Finedon (where Mrs. Allen was the first receptionist to be employed by the practice), in the Wesleyan Chapel at Isham until 1959 when they were held in
Dr. Padget's house twice weekly (on Tuesdays & Fridays); the village hall at Cranford (where doctors and patients had to tramp across the field to reach it); in Dr. Kingsley's house at Burton Latimer and at Lt. Harrowden in the sitting room of Mrs. Knowles (a patient) where the toilet was at the end of the garden and a tap in the yard. Originally the surgery at Lt Harrowden was opened in Mrs. Knowles' house simply to write repeat prescriptions, but it quickly became common knowledge that the doctor called on a particular day at a certain time and thus developed into a surgery. Lt. Harrowden, Isham, Cranford and Barton Seagrave patients requiring examination had to be seen in their own homes or the Health Centre in Burton Latimer after it was open. Even in 1970 in Burton Latimer examinations requiring the patient to lie down, were carried out in the patient's home.

In the late 1950s a tramp died near the railway bridge on the A6. At that time it was the responsibility of the local council to bury vagrants who had met their demise in the parish boundary. The body was within the Burton Latimer boundary when found, but it was moved over the railway line to the Kettering side, but then moved back again!

NHS Administration was governed by Regional Medical Board that held the funding. The Local Medical Committee would apply for funding for various projects in their area. Burton Latimer Wellingborough, Kettering & Corby. Northampton and surrounding towns and villages made up the other. Dr. Padget became President of the Local Medical Committee shortly before his retirement.

Burton Latimer: Drs Kingsley, Bell, and Padget and one District Nurse/Midwife (Nurse Brookes) and at Finedon Mrs. Smith District Nurse/Midwife. Nurse Brookes would often take her black Labrador with her on house calls and tie it to the stair rails while she was upstairs delivering the baby. Chloroform was administered from a bottle and poured onto a rag. Doses were guesswork. There was no on-call rota. Doctors were on call for their own patients every night and their wives took all telephone calls. Nurse Margaret Atkinson came in the late 1950s and later trained as a Health Visitor. Nurse Gladys Punyer, Midwife, came at the same time. They remained with the practice until the early 1970s. Whereas Doctors had to be invited into a patient's home, Health Visitors had a statutory right of access to any child under the age of five. Nurse Atkinson was the founder of the Mothers and Babies Club and Mrs. Padget was the first President. By 1970 Midwives had begun to take over post-natal care of new mothers. Nurse Ruth Heal joined the practice in 1960s

National Health Service came into being in 1948 and in Teaching Hospitals in 1949. Doctors had to work for the NHS for ten years before they could qualify for a pension. Because doctors were working until they were over 70 in order to qualify, and there were many ex-army doctors seeking employment, jobs were scarce at the end of the war. Of the 2-300 doctors attending an RAMC training camp only two had found employment.

In the 1950s it was quite rare to have the opportunity to see a caesarean section performed. Such an operation would attract every trainee in the hospital! Although great emphasis was put on diagnosis during doctor training, there were very few treatments available. In rural practices the main causes of deaths were diabetes and anaemia. Therefore the introduction of insulin and liver extract treatments were considered as important as the introduction of antibiotics. The next major step forward was the introduction of anti-depressants in the 1950s. It was not uncommon for Dr. Kingsley to perform circumcisions on the patient's kitchen table. He had also performed tonsillectomies and delivered breach births at home. He continued these practices until the mid 1950s.

Kettering General Hospital was a cottage hospital with only four Consultants. Dr. H Voss (Pathology), Dr. T Partington (General Medicine), Dr. R Wigglesworth (Paediatrics) and Mr. T. Cullen (General Surgery). Orthopaedics were referred to the Radcliffe Hospital in Oxford or to Northampton. Visiting Consultants came from London Hospitals. GPs would perform anaesthesia. Mr. Cullen who also worked in the Middlesex Hospital in London would encourage junior doctors to spend some time at Kettering to gain experience – many of them settled in Kettering as the hospital grew. In the 1970s there was great competition between Kettering & Corby for proposed expansion of hospital services and eventually Kettering was granted the funding to build the additional ward block. The Prince William Post Graduate Centre (named after the Duke of Gloucester's son who was killed) greatly improved training facilities for doctors and the Vocational Training Scheme was begun. In the 1970s there were 100 applicants for only 9 places. Nowadays (2006) there are very few doctors wishing to go into General Practice.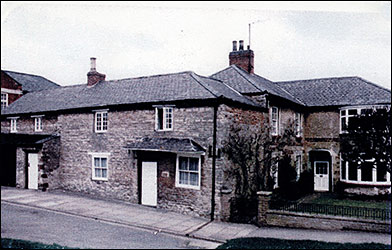 By 1969 the population of Burton Latimer had grown quite rapidly and it became necessary to find more suitable accommodation than the tiny surgery in Osborne House. A purpose built Health Centre was opened on the High Street. It comprised of three consulting suites, Treatment Room, Health Visitor room, and staff accommodation. Dr. Jonathan Bird joined the practice when the Health Centre opened and Dr. Michael C Spencer joined in 1972. Dr. Padget became GP Trainer and the practice was part of the Vocational Training Scheme where qualified junior doctors would spend six months as part of their training.

When the Health Centre opened it was a showpiece for the County. The overseer of all the administrative and reception staff was Miss Pearson who was appointed by the Northamptonshire Family Practitioner Committee. The Administrator (part-time) was Mrs. Joan Woods. Reception staff were Mrs. Norah Matravers, Mrs. Kathleen Price, Mrs. Susan Harris, Mrs. Maureen Johnson.

Unusually, a man, Mr. Bob Goosey was appointed Health Visitor along with Miss E. Beaumont.

In 1974 the Minister of Health, Barbara Castle MP, visited the Health Centre in Burton Latimer. Reception staff on duty were Mrs. Sue Harris, Mrs. Kate Bryce. The full-time Administrator at the time was Miss Mary Downs.


Dr Padget closed the interview by saying "We like it here and Burton Latimer has been very kind to us"