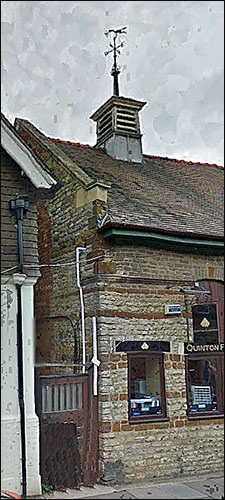 From the Northampton Mercury 10 January 1846
Richard Ashness, gentleman, of Burton Latimer, charged Wm. Maycock and Thorp Sudborough, both of the same place, with breaking a weather cock, his property, and thereby doing damage to the extent of 5s. The evidence against the defendants was the testimony of a lad named Bules, who stated that on the evening of the 14th December he was walking with them by the building on which the weather cock had been placed, when they threw stones in the direction thereof, after which he heard something fall. They were ordered to pay 5s. and 5s. 6d. costs.
The complainant then stated that he would not require the damage. This statement seemed to make a very good impression on the defendants and their friends, as, although they acknowledged they had previously attempted to disprove the charge, they now acknowledged themselves guilty of breaking the article though it was done on the evening following that specified in the charge, and they expressed their sense of obligation to the complainant for his kindness.
Left: The weathercock is still there, as can be seen by this 2016 photograph.
The building upon which it is placed has, however, gone through many changes of use. It was built as a coach-house and stables for The Poplars, which remained its use until 1942 when the widow of Mr. Ashness's successor, Mr. Frederick Preston J.P., died. After this the building was used by the Urban Council (the house's new owners) as a garage for the ambulance and the Meals-on-Wheels van amongst other vehicles, also for storing waste paper. The former hay-loft was used by the Venture Scouts for many years. The side of the building facing the High Street was converted in public toilets but they were closed when a new toilet block was opened in the public car park in the 1980s (since closed). The block was extended to become a restaurant and another extension was built at the rear to provide living accommodation. A licence was granted for a bar to be opened at the front of the building, which has since been used for a carpet and flooring shop and is now a clothes shop.