Old Woman's Brutal Death
Search for three youths, by Tony Smith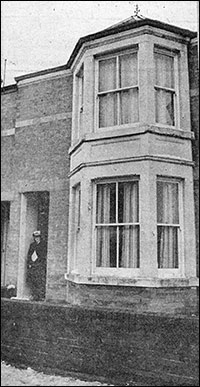 .
An elderly woman was savagely beaten to death by intruders who broke into her Burton Latimer home. The battered body of Mrs. Winnie Love (76) was found bound and gagged at her three bedroomed terraced house at 35 Station Road late yesterday morning.
Detectives swooped on the area near the A6. A 21 year old man who lives nearby was detained and is still helping police with their inquiries.
Forty officers from Kettering and Corby were today hunting three coloured youths seen thumbing a lift from Burton Latimer to Barton Seagrave just before the body was found by Meals on Wheels helpers at 11.30am. Police chiefs operating from a special incident room set up at Kettering police station say the brutal attack happened sometime between 3.30pm on Monday – when a neighbour saw her collecting coal – and the time she was found.
"This was a vicious, cowardly assault on Mrs. Love," said Detective Chief Superintendant Arthur Crawley, who is heading the inquiry. "From the state of the house a search had been made by her assailants and it is assumed that they were looking for money."
A post mortem was carried out late last night at Kettering General Hospital by Home Office pathologist Professor Alan Usher. The body was identified by Mrs Love's 74 year old cousin who lives in Kettering.
Mr. Crawley refused to disclose how the intruders entered the house or what weapon was used. But it is believed that Mrs. Love suffered severe head injuries.
The coloured youths were seen on the main A6 road and were later spotted at Kettering railway station. The man helping police with their inquiries has not been charged. Police have appealed for anybody seeing the youths or anything suspicious in the area to telephone the incident room at Kettering 83433.
"My officers will spare no effort to clear up this horrible crime," said Mr. Crawley. "This was a terrible attack on a frail lady who would have been helpless to defend herself. Whoever did this is dangerous and could strike again."