During the summer months I am always at a loss - being an ardent fan of football and not a lover of cricket I find my Saturday afternoons tend to drag somewhat. So it was one sunny Saturday that I decided to have a stroll around the town – a stroll that was to bring back memories of my childhood and some of the characters that I could recall.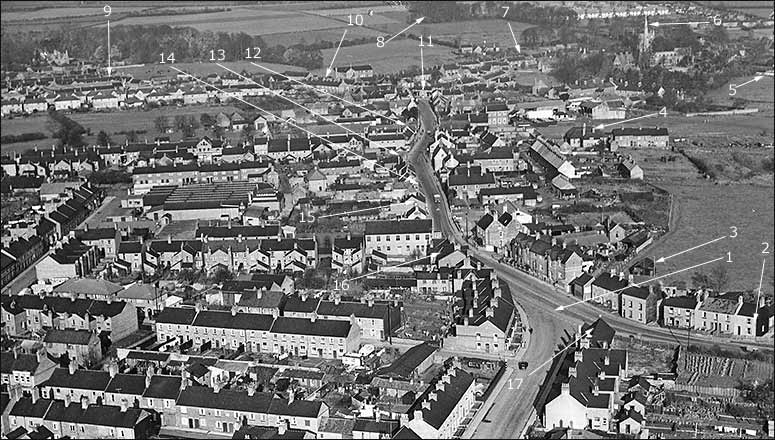 I began at Bosworth's Nurseries in Finedon Road, busy with the garden lovers searching for new plants for their garden. Yet I could remember coming as a boy of six or seven on my scooter to fetch some tomatoes from Mrs Dobson who lived here. At the top of Finedon Road (1) a glance down the hill brought memories of my happy days at 15 Higham Road (2) where I would play in the garden for hours. As children we who lived down that end of town would often play in Ensleigh Close on the waste ground (now occupied by the home of Margaret Craddock). There would be John and Julie Dacre, Janet Waller, Jacqui Buckby, Julie Russell, Paul Green and Yours Truly happily making mud pies or playing by the brook.

Walking on up past the scout hut (3) where I had spent some time as a Cub with Brian Mutlow being my Cub Leader, I now come up to the Infant School (4) boasting a playing field in what was Evans' chicken farm when I first went to school. I was but four years old when my schooling began in 1956 sitting in little chairs next to fellow pupils such as Margaret Grainger (now Margaret Marshall), Sheila Hyde, Peter Cox, John Lewin, Trevor Lovell, Stephen Grainger, Robert Felce and Michael Mellors. Even after all these years I can still name my teachers – Miss Pack, Miss Hornbuckle and Miss Williams with Mrs Freestone the secretary. Later we went to the Junior School where I came under the control of Miss Stokes. Many older readers may recall Miss Stokes and her tragic passing with what we would today call perhaps anorexia (to read more about this, click here). Former scholars will perhaps also recall Miss Leach, Miss Clipson, Mr Chambers, Mr Northern, Mr White and the Headmaster, Mr Pentelow. The school was then called the County School and not East Lea St Mary's.

When I was at school in the 1950's there was no Churchill Way (to read about this major alteration, click here). This was part of Denton 's Farm. If the wind blew in the wrong direction you knew when the cows had been mucked out as all the windows had to be closed.


Continuing on past the Infants School, I negotiated the winding footpath across the field and up to Church Lane (5) and the cemetery. Not wishing to stay long at the cemetery (a place where no doubt in future I shall be spending eternity), I came on up past the church (6), crossed the road and proceeded up Preston Court (7), passing the Rectory and the new house built on the site of the old Infants Church School playground. I paused at the top and looked at the overgrown fields before the spinney (8) recalling the allotments that were once there.


Turning left, I proceeded down the footpath to Station Road. I can never pass the corner of Station Road without thinking of Curly Pearson who kept the garage on the corner (9). I shall never forget him wearing those leather shorts of his – come rain or shine, winter or summer.


Turning to walk down Kettering Road, I passed the Catholic Church and wondered what would the old residents of Rock Terrace (10) think now that a car showroom stands where they used to entertain the parson in their front rooms. To my right is one of the eyesores of Burton – the vacant site of the old Co-operative store. I always found its windows an asset to the motorist as it reflected the traffic and you could see if anything was coming, particularly if you were wanting to turn down Church Street.


I stood and looked at the War Memorial
(11). How pleased I am that it is back where it started on what was always called The Cross. I recall as a Cub we had to march on Remembrance Sunday to The Cross and recall those who gave their lives in two World Wars. It was always said that St George stood atop of the memorial as if on guard to ward off the evil of approaching Kettering.


With teatime approaching I passed the paper shop and the Indian Take-a-way producing a different smell to that which came from it when it was Barlow's cake shop. I noticed that workmen were busy converting the old toilets in the High Street as I crossed Churchill Way and thought that was another part of old Burton going. Down past the bank was where Mrs Dacre ran the Post Office (12).


Another memory of old Burton now long gone was Charlie Ward's bicycle repair shop (13) on the corner of Duke Street. Charlie and my grandfather were old pals who had served together during the First World War. When I used to come for holidays when I lived in Southend before I had a car, I would hire a bike from Charlie Ward and it would last me all the time I stayed with my Uncle Dick and Auntie Eileen and when I took it back at the end of my stay he would never accept payment for the hire.


One of Burton's old characters was old Mrs Blott from George Street. I recall often meeting her along the High Causeway (14) where she would be pushing one of those old real prams about. I suppose it served a dual role in helping her to walk and to put her shopping in. She would always give me an orange or a threepenny bit. I never remember her wearing anything but black. I think she died in the 1960's and I know she was into her nineties.


Continuing towards home, I passed the place where Mabel Piper had her shop (15) and also the site of the extension of the Britannia Working Mens Club on the site of the old Salvation Army tin hut. On the opposite side of Newman Street stood Florrie Blake's corner shop (16) where you could buy a pennyworth of broken biscuits.


By this time I was really ready for a cup of tea so on I pressed on past the site of the Mission Room (17) and home. My ramble had taken but a mere two and a half hours, but oh what memories it had brought back to me. Some happy, some sad, but is that not what life is all about?


In its 850 years, St Mary's church must have seen many changes to the parish. Good or bad, the life of the parish goes on. Even my walk around the town with my memories made me realise that every day our lives are changed but God's love still goes on.