BUT 'UDI' WOULD BE 'SUICIDAL'


Several hundred people packed a cinema bingo hall last night and gave Burton Latimer Urban Council an undisputed go-ahead against boundary changes and amalgamation with Kettering.

They passed a resolution that the Council should be left alone to continue to function as a separate authority, and they showed unanimous support for a referendum to be held in the town over the boundary proposals.

The County Council has proposed that Burton Latimer urban district should be amalgamated with Kettering borough or de-urbanised and incorporated in Kettering rural district.

Burton Latimer Council proposed three alternatives:


To be left alone;

To be enlarged as an urban district to include Barton Seagrave, Cranford, Finedon and Isham;

Or to be amalgamated with Irthlingborough and take in Finedon, the Addingtons and possibly Barton Seagrave, and form a new urban district.

Of the three it greatly prefers to be left alone.


LOWEST RATES


Mr A F Mutlow, chairman of the meeting called for suggestions from the audience stating that there has been much protest against the county council's plans to join with Kettering borough or rural councils as Burton Latimer's rates are the lowest in the county for an urban town. They would only go up if joined with Kettering Borough and to make Burton Latimer into a village again which would be putting the clocks back - a most regrettable step.

About representation, Mr Mutlow stated that to go into either of the larger authorities it was doubtful if Burton would have more than four people representing the town on the council and that would be like a voice crying in the wilderness. The go ahead of the meeting would mean that we fight to the last ditch.

Mr Richard Harper, a Burton Latimer resident said that going into Kettering we would only have higher rates and expensive municipal offices to maintain.


"WE CANNOT DO U.D.I."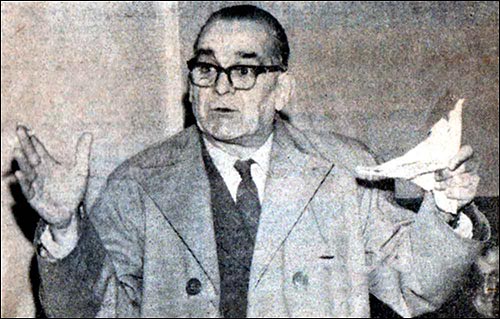 Mr O J Benford, popular Burton Latimer barber, told the meeting: "Even if we remain independent, the county council will still get their 'pound of flesh.' Unfortunately, we can't do a U.D.I. There are many reasons for that. We rely on Kettering for the sewer and for the water supply, and on the County Council for the police and education so we can't have U.D.I. It would be suicidal. Mr Benford said that Kettering people can see their amenities for nothing but we would have to pay 1s 6d bus fare to go and see White Elephants paid for with our rates.

"We don't want to go into Kettering borough or rural district. What we want is O.J.B."- his own initials which he later said stood for Others Joining Burton.

Mr Benford said this was a good year to fight for freedom in Burton Latimer. It was 750 years since Magna Carta and 700 years since Simon de Montfort's first Parliament, an "excellent year for Burton people to stand up for their rights."

He put forward what he described as a master plan - a combined operation by all local authorities to retain their autonomy.

Mr J Addis, well known for his Scouting activities in the town also spoke out at the meeting.

Mr S H Caffrey pointed out that Kettering has the worst record in the county for ten years of muddleheadedness and indecision, and we don't want to be associated with them.


'RATES WOULD RISE BY £7'


Mr A F Mutlow, chairman of the Council, said that householders' rates would be increased by an average of £7 a year if Burton Latimer was amalgamated with Kettering borough.

"What Rutland did yesterday we can do tomorrow," he said. "We feel that the majority of people in Burton Latimer want to remain independent. If we get their backing we will go ahead and fight to the last ditch."

The population of Burton Latimer is 4,430. It became an urban district in 1923 and before that was a parish in Kettering rural district. It has a general rate of 10s. 2d. compared with 12s. 2d. in Kettering borough and 10s. 8d. in Kettering rural district.