The Boultons first came to Burton Latimer just prior to 1836, when Robert Boulton arrived here from nearby Barton Seagrave, where he had been born in 1810. However, the first official record of his residing in Burton, is to be found in the marriage register of Great Harrowden, where on October 20th 1836 her married Elizabeth Marlow, giving his place of residence as Burton Latimer.
After the marriage they lived in Burton, and their first child, George Marlow Boulton, was born on January 11th 1838, with a second child, Martha, arriving on September 3rd 1839. On March 25th 1841 Elizabeth gave birth to another girl, Mary Ann. Yet just five weeks later Mary caught influenza and died on May 1st.
A census was taken on June 7th 1841 and it appears the family were not present in the village. They were back in 1842, for on July 28th another son, Joseph, was born. They remained in the village, with Robert working as an agricultural labourer, and Elizabeth bringing up the surviving children.
It was now that Elizabeth began to suffer from fainting attacks, and was also diagnosed as having water around the heart. Her health quickly deteriorated, and the next recorded entry of her appears in the 'Northampton Mercury' of June 12th 1845 – "INQUEST AT BURTON LATIMER" - "An inquest was held recently at Burton Latimer upon the body of Elizabeth Boulton". It appears that upon the morning of June 5th, after coming down stairs, she complained of feeling unwell, and medical assistance was summoned. However by the time it arrived she had expired. "It appears the deceased has suffered from water around the heart for some time". A verdict of death by natural causes was recorded.
She was interred, not in the parish churchyard, although she had been married and her children baptised in the Church of England, but in the small Baptist cemetery in Meeting Lane. Her remains now lie under the car park of John Yeomans Hall. At the time of her death she was but thirty-three.
Elizabeth's death left Robert to bring up three small children. Not an easy task in the 1840s, so it was natural that he looked for a second wife. His affections settled on Ann Quincey, daughter of Thomas Quincey, and sister of the local schoolmaster Edward Quincey. The family were indeed well respected in the village.
Robert and Ann were married in the parish church on March 6th 1848. On December 2nd their first child, a girl, Agnes Matilda was born. The census of 1851 shows the family consisted of Robert (40), Ann (41), George (14), Martha (12), Joseph (9) and Agnes (2). A further son, Robert Thomas, was born on July 5th that year.
Life in England in the 1850s consisted of a constant struggle to eke out a living. This may have persuaded George to consider emigrating to Australia. In 1857 he set sail from Plymouth aboard 'The Tanivity', and arrived in Adelaide, South Australia on June 5th. Life in Australia certainly held out better prospects than England did, a fact not lost on George who conveyed this news home in letters to both Martha and Joseph. On December 2nd 1860 the ship 'Schah Jehan' arrived at Adelaide with Martha and Joseph aboard, having also sailed from Plymouth some two months earlier.
With his three eldest children now in Australia, Robert and the rest of his family continued to reside in Burton, as the census returns of both 1861 and '71 confirm. On May 18th 1875 Robert's daughter Agnes was married in the parish church to John Applegate Kent, a master carpenter by trade. They had seven children. Agnes died in 1901 and John in 1924. Two years later, in 1877, her brother Robert Thomas married Elizabeth Musson at Wakefield, Yorkshire. The couple returned to live in Rock Terrace, Main Street, Burton, and had six children, Kezia, Martha, Clara, Janet, Percy and Harold.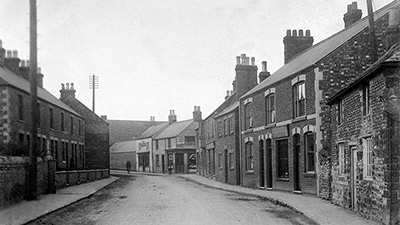 At the 1881 census Robert Boulton senior is described as a drillman and machine repairer. He remained in Burton until his death on March 12th 1885 aged 75. His widow Ann survived him by four years, dying on November 24th 1889 aged 79. Robert Thomas resided in Rock Terrace until 1903 when he moved to Duke Street and later on to 103 Church Street. It was here that he died on January 12th 1918 aged 66. His widow Elizabeth moved to 24 Church Street where she died on January 28th 1944 aged 89.
On June 4th 1906, Robert Thomas' daughter Janet, married Herbert George Clipson and they had two daughters, Freda (1909 – 1986) and Dorothy (1921 – 2007). Janet died in 1952 and her husband in 1970.
The Australian Connection
With the arrival of George, Joseph and Martha in South Australia in 1857 and 1860 respectively, they found that Australia was certainly a land of opportunity. Both George and Joseph soon established themselves as farmers. Both appear to have been well respected by their peers, who acknowledged their expertise in farming and the land in general.
George first settled in Kapunda, South Australia, where on June 25th 1860 he married at the Christchurch, Elizabeth Bayes. The couple moved to Spalding, South Australia, where they produced eleven children. George died at Spalding on October 5th 1919, and Elizabeth on October 20th 1922.
Soon after Joseph arrived in Australia he met George's wife's sister Clara and they fell in love. They were married at Truro, South Australia, on July 1st 1862. Although they first lived in Truro, they later moved to Gulnare and finally to Victoria. It seems life was indeed healthy in Australia for they had fourteen children with all but one surviving to marry. Clara died 1898. Joseph survived her until 1925 when he died on April 1st at the age of 82. Both are buried under a large monument in Warracknabeal cemetery.

Left: Joseph and Clara Boulton circa 1880.
Martha remained in Adelaide until she married Thomas White, a well established builder, in January 1867. They later moved to Gawler and had six children. Martha died on October 25th 1911 and Thomas in 1921.
Conclusion
If you go back to the original Robert Boulton who came to Burton Latimer in 1836, you will discover that descended from him are over 650 descendents living in Australia, New Zealand and Papua New Guinea. If you then couple this with those descendants living in England, USA, Canada and South Africa, you have over 1100 people.
This is surely a proud record as all can trace their line back to a small town in Northamptonshire called Burton Latimer, and just one man, Robert Boulton.
Trevor Cooper 2007