Douglas Ashby was born at his grandfather John Meadows' family home, Regent House (then part of Victoria Street) in 1928, the son of Lilian Helen (nee Meadows) and Edward Norman Ashby. His older sister Kathleen was born 1926.


He attended Burton Latimer Council School in the High Street and when he left in 1943 he went to work as a clerk at Sterling Metals, a munitions factory in Station Road, later to become Alumasc. His National Service from 1947 to 1949 was spent as a clerk at the War Office, London. After he was demobbed with the rank of corporal in 1949 he worked as a clerk at the Victoria Wallpaper Mills, which was situated in buildings at the rear of his home that once formed part of his grandfather John Meadows' farm. After the wallpaper mills closed down he worked at the Coles Group of footwear manufacturers and apart from a year with John White Footwear in 1953/4 he remained with them, ultimately as company cashier, until the company closed in 1977. He then became office manager at Chamtex Ltd. until 1983.

He attended the Baptist Church from an early age and subsequently became a sidesman and its organist. In the 1960s he started to attend St. Mary's Church and soon became a church warden, serving there for about thirty years.


He was elected to Burton Latimer Urban District Council in 1952 (at that time its youngest ever councillor) and was made chairman on three occasions. As was the custom at that time, as chairman of the council he was created a Justice of the Peace and served as a magistrate at Kettering. After local government reorganisation in 1973 he was elected as one of Burton Latimer's four representatives on the new Kettering Borough Council where he served as chairman of the Amenity and Recreation Committee for four years. He continued as a councillor on the new Burton Latimer Town Council and was elected its chairman in 1981. Although an active Conservative, in later years he stood as an Independent.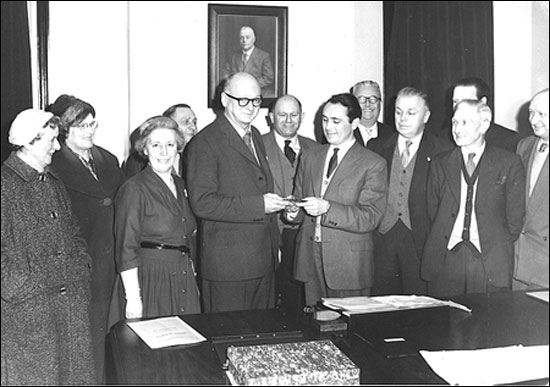 He sold Regent House in 1979 and moved into Home Farm, Kettering Road, rented from Richard Harpur. In 1989 he moved into the Coach House, part of Burton Latimer Hall. Douglas learned to appreciate fine art and antiques during time spent at Burton Latimer Rectory when it was occupied by the Revd. Ronald Williamson Sharpley who had many antiques inherited from an uncle who lived at the Old Court House, Hampton Court. All of Douglas's three homes were filled with antiques and works of art which he regularly supplemented with purchases from auction sales, starting with some of Revd. Sharpley's when he left the Rectory in 1967. His appreciation of the finer things in life extended to motoring and for many years he was the proud owner of a Bentley Mk6 car which he bought second-hand from a doctor. His love of all things historical led him all around the County and beyond on visits to stately homes, historic houses and estates, about which he became very knowledgeable and this led him to become a guide at Deene Hall, the historic home of the Brudenell family.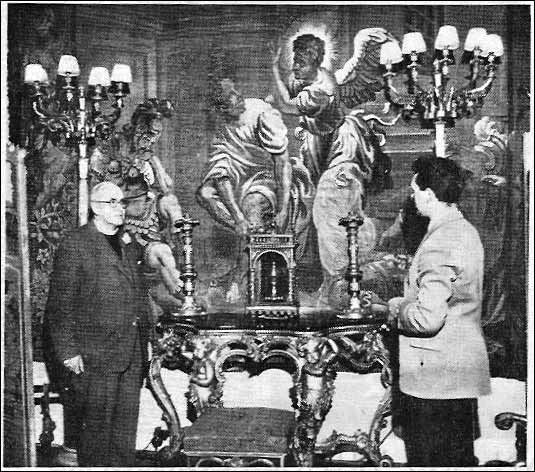 His main interest, however, was his native town and he was an avid collector of photographs and documents connected with its history. Through these, and his ability to access the records in the parish chest, he had a thorough knowledge of Burton Latimer and its families. Copies of the photographs that he collected formed the early nucleus of the Heritage Society's photo archive. Unfortunately, Douglas had neglected to make notes about the subject of the majority of the photographs and even now many are still unidentified. In his his Will he asked that all his historical material should go to the County Record Office and almost nine hundred original photographs and hundreds of his other documents are now stored there, but Burton Latimer Heritage Society has copies of all the photographs and many original documents unwanted by the Record Office.

Douglas, who never married, died aged 73, in 2002.