Miss Elsie Hobbs was born on 2nd March 1890 in Little Harrowden when her father Levi was landlord of the "Ten O'clock" public house. The Hobbs family were well known in Little Harrowden where her father's family had kept the pub since the mid-1870s and continued to do so after he moved on. Another relative ran the post office until he was appointed headmaster of the village school at Old, after which another relative was postmaster for many years.

Elsie was the last-but-one of fourteen children of Levi and Sarah (nee Mason) of Burton Latimer who had married in St. Mary's Church Burton Latimer on 29th October 1866. Elsie's mother Sarah died in 1908 and Levi re-married, this time to a widow, Anna Maria Wilman. who was described as a "dairy farmer" in the 1901 census a few years previously. In the same census Levi was living at Southfield Farm, Barton Seagrave, described as "farmer", with his family, including Elsie, whose occupation was given as "School teacher". He was still there in 1911, but moved to a farm at Oakley Hay, Little Oakley, which was where he died in 1921 - Miss Hobbs was named as informant on his death certificate. Some time after this she moved to Orlingbury to live in Isham Road with her unmarried sister Lizzie who died in 1945 and she remained there until her own death in 1974. They are buried together in Orlingbury churchyard.

Miss Hobbs may have started her teaching career as a part-time teacher at the non-denominational school in the High Street (see page 8, Northampton Mercury 3 March 1905), but by 1906 as a 16 year-old she was a part-time teacher at St. Mary's Infant School, earning £17 10s per annum. In 1908 she sat, and passed, the Elementary School Teachers' Certificate examination and, as she continued to gain experience and promotion she went on to teach thousands of children during her career, many of them children of some of her earlier pupils. Until her retirement in 1951 she was a continual presence at the school under a series of head teachers. A well-loved teacher, she regularly cycled to school and was well known for insisting on being addressed as Miss Hobbs, "None of your Miss 'Obbs!"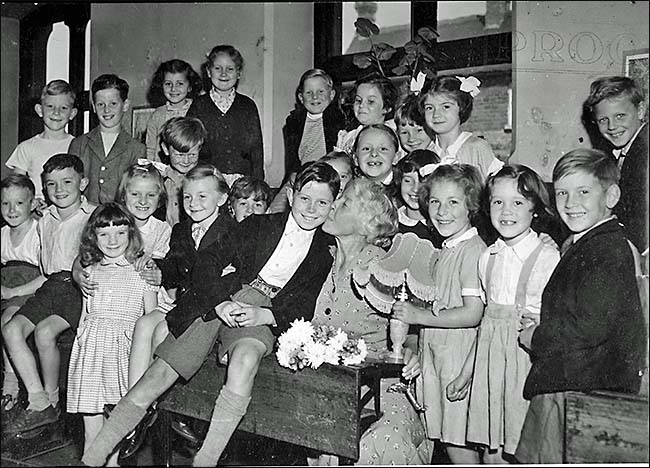 on retirement day with some of her pupils