THE CLIPSON FAMILY OF BURTON LATIMER
My branch of the Clipson's first arrived in Burton Latimer in 1757, when William Clipson, (my 4 x Great Grandfather), arrived here from Orton near Rothwell where he had been born on 22 August 1736. He was the son of Matthew Clipson and his wife Mary (neeTalbot). William had come to marry Elizabeth Braunston at Saint Mary's Church on 5 June 1757. Elizabeth was three years older than William having been born at Burton on 12 August 1733. Following the marriage, the couple settled in Burton Latimer with William working as an agricultural labourer.
It seems that Elizabeth was with child when they were married. Two months after the wedding a son was born on 28 August whom they named John. Two years later a daughter arrived whom they called Elizabeth. In 1761 a daughter was born called Mary. Sadly, young Mary died at the beginning of 1762. Later that year another girl arrived who was also named Mary. Other children followed, Martha 1765, Matthew (who became my 3 x Great Grandfather in 1766), and Sarah in 1769. Elizabeth died on 2 April 1803 aged 70. William lived on at Burton till his death on 5 October 1813 at the age of 77. Both are buried in the churchyard at Burton.
A MOVE TO SLIPTON
When Matthew was old enough he went to work on the land at the village of Slipton, probably on the Drayton House Estate. It was here about 1786 he met a girl names Anne Himpson. They were married in 1789 at Slipton and had three sons William, John and Joseph. In 1798 Matthew's wife Ann died leaving him to bring up three small children. So, it was inevitable that Matthew searched for a second wife. On 14 October 1805 Matthew married Mary Phipps. Mary was related to the Phipps Brewery family of Northampton. The pair had six children including my Great, Great, Grandfather James who was born in 1822. Matthew died on 4 December 1842 aged 77. His wife Mary survived him by ten years and died aged 70 on the 27 December 1852.
A LARGE FAMILY
My Great, Great, Grandfather James, married on 23 January 1843 Sally Bowers. He became the father of nine children, five girls and four boys including my Great Grandfather John who was born in 1849. Like his father James worked on the land of the Drayton Estate. James and Sally enjoyed 53 years of married life together, until Sally died on 19 September 1896 aged 73. James survived his wife for just under 4 years dying in 1900 at the age of 78. My Great Grandfather John married on 28 September 1876 Hannah Richardson of Islip. They had two children, my Grandfather Herbert born in 1882 and his sister Lora born 1884. Hannah passed away in 1908 and John in 1922.
RETURN OF THE CLlPSONS T0 BURTON
My Grandfather was born on 10 March 1882 at Slipton. Around 1904 he came to lodge in Spencer Street, Burton Latimer while he worked in the local ironstone mines as a labourer. About 1905 he began to pay court to a local girl named Janet Ethel Boulton. They were married at Burton on Monday 4 June 1906. Following the wedding they settled in a small cottage in what was known as Battle's (later Batty's) Row in Church Street. It was here that their first child was born in 1909. It was a girl. On Christmas Day 1909 she was christened with names Freda Audrey Noel. Freda grew up to become a school teacher at what was known as the County Junior School in the High Street. Later she moved to Essex where she became Deputy Head at two schools in Southend. My grandparents were living in Battle's Row when the First World War began in 1914. My grandfather joined the Northamptonshire Regiment as Private 16792. In 1916 he took part in the Battle of the Somme. Following the Armistice of 1918, he returned home to 103 Church Street where my grandmother had moved to in 1917. It was here on 16 February 1921 that my mother Dorothy Nellie was born. My grandfather served as a special constable for quite some time.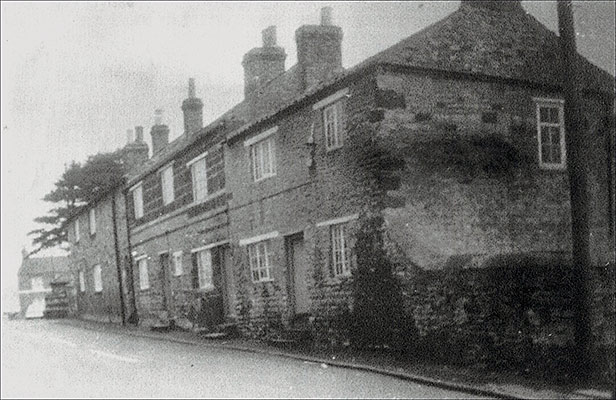 In 1946 my grandparents moved from Church Street to 99 Finedon Street. It was here that my grandmother died on 22 May 1952. In 1953 my grandfather married for a second time. His second wife died in 1962. At that time, we were living with my widowed grandmother Cooper at Wellingborough. My grandfather would come over on a Sunday to have dinner with us and return home in the evening. One Sunday he proposed to my grandmother Cooper and they were married on 20 October 1962.
Now there are not many who can say they went to their grandparents wedding, but I can say that I did. My grandfather and his third wife, (my grandmother Cooper), had six years together before she died in 1968. My grandfather then came to live with us at Southend in Essex where my parents and I had moved to in 1963.
On Boxing Day 1969 my grandfather suffered a stroke from which he died on 7 January 1970. He was cremated at Southend. In 1982 my parents returned to live at Burton Latimer. In 1986 Freda Clipson died and her ashes were buried in Burton Cemetery. My father died in 1995 and my mother in 2007.
Both are buried at Burton.
Trevor Cooper
See also the story of Trevor's Cooper ancestors here