Frank Downing York was born on the 22nd June 1891, at Berry Green Row (Henson's Row) in Finedon. He was the son of John Downing York and Mary Ann (nee Underwood). The York family line in the Finedon area goes back many generations.
John Downing York was born on the 13th June 1848, and was baptised on the 1st November 1848 at Finedon. He was the son of John and Jane York. He married Mary Ann Underwood in the 3rd quarter of 1873, probably at Finedon. They produced a total of twelve children born alive in Finedon, and their marriage lasted 24 years. He died in 1897 The following 8 children all survived into adulthood:-
William D. born 1874, George born 1882, Letitia Jane born 1877, Frederick born 1880, Rose born 1882, Elizabeth M.A. born 1883, Francis A. born 1888 and Frank Downing born 1891.
On the 1911 census for their then address in Church Street Finedon, Frank was listed at age 19 as a "boot machine operative". Mary Ann died in 1922. Records show that Frank Downing York married Edith Rebecca Chamberlain on the 2nd August 1915 in Burton Church. Edith had been born on March 10th 1889 in Burton Latimer, and was the daughter of Owen Chamberlain and Alice Clara (nee Warr).

Frank and Edith's Wedding
Groom: Frank Downing York, Bride: Edith Rebecca Chamberlain
Back Row L - R: Bridesmaid (unknown), Arthur Chamberlain (bride's brother),
Owen Chamberlain (bride's father), bridesmaid (unknown.
Front Row seated L - R: Mrs Mary Ann York (bridegroom's mother), bridesmaid
Lilian Chamberlain (Arthur's wife), Bridesmaid Aunt Edith Capps, Mrs Clara
Chamberlain (bride's mother)

Records from the 1891 Census show that her family lived in Finedon Road at that time. Ancestors of the Chamberlain family lived in Isham. On census records, Edith's occupation was described as a tailoress. This was an occupation which all three of her daughters engaged in over the years, and enabled them to make many of their own clothes at different times. A prominent feature in her living room at no 25 Alexandra Street was a "Singer" treadle-operated sewing machine. Her young grandchildren found its treadle to be quite a novelty, and she eventually tied the drive wheel with a length of material to prevent injury to them or damage to the machine, which was still used at various times over many years.
Frank fought with the Machine Gun Corps in the Great War (photo of him in uniform available). He sustained serious injury to his respiratory system in France after being caught in a mustard gas attack by the German Army (copy of related telegram to Edith available) in 1917. Initially, he was hospitalised in France and survived the war, only to have one of his lungs surgically removed several years afterwards as a result of complications. After his discharge from the army, he worked as a "Finisher – boot trade" in the Whitney and Westley factory in Finedon Street in Burton.
| | | |
| --- | --- | --- |
| | | |
| | Frank and Edith York | |
Their family home was at 25 Alexandra Street (originally known as Alexandra Terrace) in Burton, and their marriage produced five offspring, all of whom were born in this house:
1. Edward Owen
2. Barbara Margaret
3. Muriel Rebecca
4. Stella Joyce
5. Dennis Frederick
Frank died in November 1950 (aged 59), and his grave is in the cemetery of St. Mary's Church in Burton.
This house remained the hub of the family, and Edith continued to live there after she was widowed in 1950. Her father, Owen Chamberlain (1864-1923 press cutting of his funeral available), had lived next door at number 27, and conducted a joinery and undertaking business from there. He made coffins in a hut at the bottom of the garden. Owen's wife was Alice Clara (known mostly as Clara), and they also had a son Arthur. He and his wife Lillian had two daughters, Sylvia and Cynthia, who subsequently lived in Finedon for many years. This same house was later purchased by one of Edith's cousins, Edith Emmett (nee Capps), and they both lived there until Edith Emmett's decease. Edith York continued to live there afterwards, right up until she had a fall and broke one of her hips. After her discharge from hospital in Kettering, she then went to live with her youngest daughter Stella Tyrrell and her family in their house at Queensway in Burton Latimer. Unfortunately, Edith's overall health deteriorated over time, and she died in April 1974 (aged 85). Her grave is next to that of her husband Frank, in St. Mary's Church in Burton.

| | | |
| --- | --- | --- |
| | | |
| | | |
Edward was the first-born of the five York siblings, who were all born at 25 Alexandra Street in Burton Latimer. He started his primary schooling at Finedon Road Infants' on 22nd March 1920. After leaving school, there are memories of him working for Timson's Garage in Finedon Street, and the Garage was taken over by United Counties in 1936. Edward was a bus driver for them until he was called up for military service in 1940, when he enlisted with the 13th/18th Hussars (Queen Mary's Own) Regiment.
He married Gladys Muriel Page in 1942 at St. Andrew's Church in Kettering, and they initially lived with her parents at Carlton Street in Kettering. Edward steadily achieved promotions to the rank of sergeant in the regiment, and became a tank commander. In that capacity, he was awarded the Military Medal for conspicuous action in February 1945 during the advance of the Allied forces through Germany for the liberation of Europe. The last paragraph of his citation reads: " His determination to destroy the enemy and to hold on to ground already taken at whatever cost, was a magnificent example and inspiration to other tanks and to the other infantry". Subsequently, he sustained a serious and life-affecting head injury whilst in combat.
After being discharged from the Army, he and his wife and first child Richard moved to Spinney Road in Burton Latimer in August 1948. This remained their family home for many years, and Edward and Gladys subsequently moved to Bird Street in 1975 where they lived for the remainder of their lives. Edward's employment after his Army service was with Mason's Garage in Burton Latimer, where he was a mechanic and fuel attendant. He later moved to Regency Car Sales on the adjacent site, and was the car valet there until his retirement in 1981.
His wife Gladys pre-deceased him in 1986. Edward himself died the following year in 1987, and he was cremated at Kettering Crematorium. There were three children from the marriage of Edward and Gladys:
Richard Owen – born in October 1945 and died in August 2013
Marlwyne Glywne – born in October 1948 and died in infancy in early 1949
Lorraine Olwyn – born in July 1953.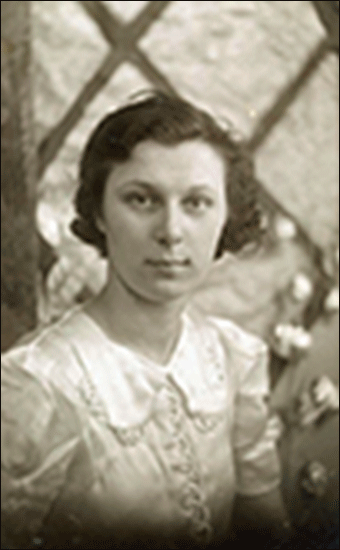 Barbara was born at 25 Alexandra Street, where all of the five siblings were born. Her maternal grandparents and Uncle Arthur lived next door at no 27, which was where Owen Chamberlain conducted a joinery and undertaking business. Barbara recounted a time when as a toddler, she was sat in a coffin whilst it was being made in a hut at the bottom of the back garden. This experience had quite an impact on her at such a young age, and although she was happy to tell the story, she clearly remained uncomfortable about it.
She started school at Finedon Road Infants' School on 7th September 1925, and moved to the Council Mixed School in 1928. As she grew through her childhood years, she became involved with the Methodist Sunday School and associated activities in Burton (see photos in other sections of this site). Singing was an important feature of her involvement in these activities, and she was known to burst into an impromptu rendition of the "Halleluja Chorus" , Ave Maria or Jerusalem as an accompaniment it if came on the radio over the years.
After leaving school, Barbara worked at the Co-op Clothiers factory in Burton. Her mother Edith had previously been employed as a tailoress, and all three York sisters were involved in clothing manufacture over the ensuing years. In later years, she enjoyed hand knitting and produced a number of items for her family.
Barbara enlisted with the ATS after war was declared in 1939, and remained part of that Service until the end of the War. During that time, she made a number of life-long friendships with other members. Much of her time with the ATS was spent in Ashford in Kent , where she was stationed. Coincidentally, she was later to spend the last almost-40 years of her life living in nearby Canterbury.
After her discharge from the ATS at the end of the War, she subsequently worked at Mason's Garage in the High Street in Burton as a petrol pump attendant. It was there that she met and formed a relationship with her future husband. He used to regularly call at the garage to obtain fuel for his car, whilst working as a travelling salesman in the area. Maurice Wallis (known as Edgar to many of his friends), had previously been stationed in Burton with the Inns of Court Regiment during the War years.
Barbara and Maurice eventually married in London in 1948, and initially lived with his parents in Finsbury Park. By that time, Maurice was employed as an officer at Pentonville Prison, and was later transferred to a prison in Lincolnshire after being appointed as the Hospital Officer there. Whilst living in Lincolnshire, they made frequent weekend visits to Burton, where they stayed with her mother at her house.
The family moved to Canterbury in 1964 as a result of Maurice's promotion in the Prison Service, and they both lived there for the rest of their lives. Maurice died in hospital in Canterbury 1997, and Barbara died suddenly at home in 2003. Their ashes are interred together in the graveyard of Thanington Church near Canterbury.
They had two children:
Philip Raymond – born in 1949
Angela Margaret – born in 1960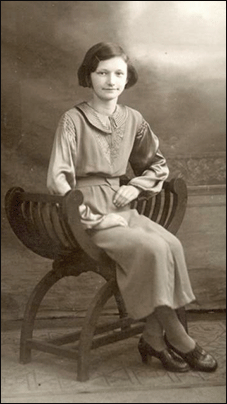 Muriel was the second of the three York sisters to be born at 25 Alexandra Street, and was given her mother's middle name as her own. She was often referred to as "Midge" by her siblings. However, it still remains a mystery as to how she came to be known by this name. She started school at Finedon Road Infants' School on 16th April 1928, and moved to the Church of England (mixed) School on 31st July 1931. She eventually left school at age 14, and started work with the Co-op Clothing Company. Whilst there, she underwent and successfully completed an apprenticeship with the " Ready-Made and Wholesale Bespoke Tailoring Board".
Muriel enjoyed tap dancing as she grew through the years, and joined the St.Johns Ambulance Service in 1942 at age 18. She wanted to sign up to help the war effort, but her work was classed as a reserved occupation as they were sewing military uniforms.Muriel married Cyril Ernest Plowman in 1947, and they initially lived with his parents in St. Botolph's Road in Barton Seagrave. 1947 was also the year when Queen Elizabeth II married Prince Philip, and Muriel and Cyril received a specially inscribed gift to celebrate their shared golden anniversary in 1997. Muriel and Cyril started life as hoteliers in 1948 at the Queen and Castle in Kimbolton. Subsequently, they ran the following licensed premises:
1949-1951 The Band Club in Burton Latimer
1951-1955 The George and Dragon in Raunds
1955-1958 The Bull Hotel in Irthlingborough
1958-1961 The Horseshoe in Weston Favell
1961-1965 The Robin Hood in Kettering
By that time they had two small children, and left the licensed trade from the Robin Hood. The family moved to a house in Naseby Road in Kettering (24th March 1965), and occupied it until 2015. Cyril worked at Alumasc from 1965 until his retirement in1987, and Muriel subsequently worked at Challenger's clothing factory in Havelock street in Kettering. This factory was used for the production of specialist stage outfits and costumes, and Muriel produced outfits for Harry Secombe and Kenny
Ball and his Jazzmen amongst many others.
Sadly, their second-born Deanna died in December 2013 as a result of a cancerous condition.
Cyril's health rapidly deteriorated after this, and he died in Kettering Hospital in 2014 after a lengthy period of treatment there. After Cyril's decease, Muriel moved from Naseby Road after 50 years of
residing there, to supervised accommodation at Harry Potter House in Kettering, where she remained until her own decease. There was a strange coincidence when she was discovered collapsed in her apartment having sustained a stroke, by two of her sister Barbara's step sons, who had decided to call in on her quite by chance. They called for urgent medical assistance, and she was taken to Northampton Hospital where she died on 10th May 2016. Her ashes were interred at Rothwell Road Cemetery in a plot with Cyril who was previously buried there.

They had two children:
Anthony Dennis - born September 1959
Deanna Muriel - born March 1961 - died in December 2013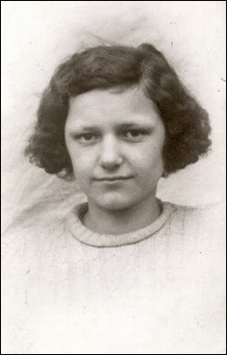 STELLA JOYCE YORK
born 31st May 1926
Stella was the youngest of the three York sisters, and throughout her life was known as "Dot" to her siblings. All five of the York children initially attended Finedon Road Infants' School, and Stella started there on 13th April 1931. She moved to the Church of England (mixed) School on 4th August 1933, and left there at age 14. Whilst growing up, she was involved in various social and community activities and events. Stella enjoyed dancing and was an active member of the St. John Ambulance group in Burton with her sister Muriel.
Her first job was at the Ideal Clothing factory in Alexandra Street, and in the late 1940's she went on a "blind date" with a friend as a foursome. It was on that date she met her future husband Charles Walter George Tyrrell ("Wally"), who lived in Kettering. At that time, he worked in a Freeman Hardy and Willis shoe factory and was also the secretary of the Kettering Town Supporters' Club ("Poppies") for several years.
After a 2-year engagement they married in 1950, and initially lived with Stella's then-widowed mother at 25 Alexandra Street. Their only child Stuart was born in July 1953, and they then moved to a house on the new Queensway estate in Burton in 1954. At about that time, Wally joined the Royal Mail in Kettering, and remained in that employment as a sorter and delivery man until retiring after 28 years' service in 1982. They continued to live in Queensway throughout their married life, and shared a love for the music and songs from the big shows, musicals and films of the times.
During Stuart's early years, Stella had a shoe-stitching machine installed at home and was employed as a homeworker. After Stuart had started school, she was then employed on a part-time basis at the Duke's Arms Public House in Burton, where she performed domestic duties. In 1964 she then worked at the Jaffe Rose depot near Burton and retired from there aged 60.
Sadly, Stella collapsed suddenly at home in Queensway in April 1992, and died soon afterwards in Kettering Hospital. She was cremated at Kettering and has a commemorative plaque in her memory behind St. Mary's Church in Burton. Stella's husband subsequently moved to supervised accommodation at Yeomans Court in Burton, and remained there until his own decease in 2012.
They had one child: Stuart Charles – born 3 July 1953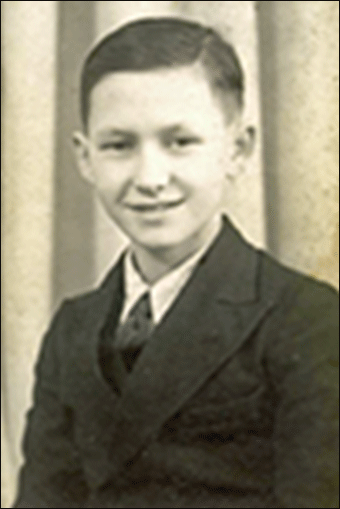 Dennis was born in the family home at 25 Alexandra Street and provided an early Christmas present for his parents and older siblings. He attended Burton Latimer Church School and left aged 14. He was also a member of the St. Mary's Church choir in Burton Latimer as a boy. After leaving school he worked at Mason's Garage in Burton Latimer, and Jewer's Garage in Kettering. He was then called up at age 18 for National Service, and spent his time with the Royal Corps of Signals. After his National Service, he worked at the Whitney and Westley shoe factory in Burton Latimer.
Dennis married Renee Strudwick on the 4th April 1953. Renee was one of six Strudwick sisters whose father owned and travelled with his own fun fair (see separate entry on BLHS). Immediately after their marriage in 1953, they lived in a living wagon on the corner of Spencer Street, and then moved into a wagon on the corner of Rosebery Street and Finedon Road. They later moved into a house in Newman Street where they lived for a number of years, and subsequently moved to Kettering in 1979.
After marriage, Dennis worked for the Co-op on a mobile grocery store. Subsequently, he worked at Coles' shoe factory in Burton Latimer, and later at the Lane & Wright domestic appliance business in Kettering. The "Lane" partner of that business was Dennis Lane, who had been an evacuee during wartime, and with whom Dennis York was a lifetime friend.
In retirement he was a wedding chauffeur for a business in Kettering. Dennis died on 9th September 2009. After his funeral in St. Mary's Church in Burton Latimer, he was interred close to his parents in the cemetery of the same Church. Renee died after a short illness in May 2022, and was interred in the same grave as Dennis.
Children:
Debbie.
Russell - He has a son, who in turn has two sons and they will carry the York name forward.