Billy Perkins was born at Kettering in 1876 to George and Sophia Perkins. His father was a blacksmith in a railway gang and Billy's early schooling took place in Surrey where the family lived in railway huts before they moved back to Northamptonshire to live in Alexandra Street, Burton Latimer, where his father continued to work as a blacksmith.

After his schooling, Billy worked as a shoe finisher but his first love was sport and he played for several sides including Burton Latimer Temperance F.C. before he went on to play for Kettering Town F.C. and thence to Luton Town in 1898. From Luton he went to Liverpool Football Club (see photo below) where he stayed until 1903. He was one of three "ever-present" players in the side that won Liverpool's first ever League Championship in 1901. He moved to Northampton Town (see photos below) and played there until 1906. When he left professional football he went into partnership with T.E. Fox as Fox & Perkins with a shop at 102 High Street where they made, sold, and repaired boots. After serving in the First World War he worked for Buckby Brothers in their Kettering Road factory whilst living at 64 Station Road, a house named 'Aston Villa'.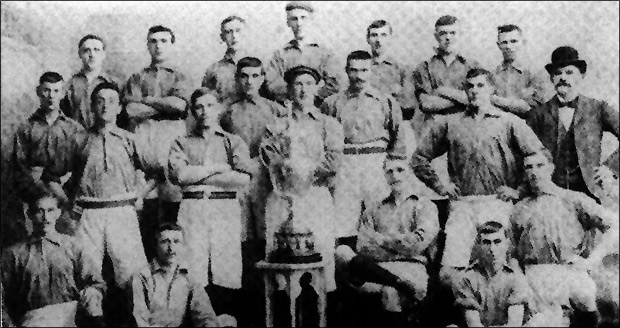 Billy Perkins is standing in the centre, directly behing the trophy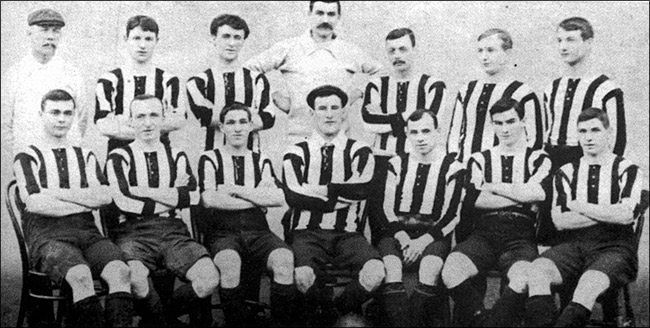 Billy Perkins is seated in the centre, he was both goalkeeper and captain.
Also in this side was the legendary Herbert Chapman (second from the end in the back row)
who was later to be the manager of Arsenal
Left - Billy Perkins at Northampton Town FC in 1905

Right - His career as a footballer over, Billy Perkins served in WWI and then earned a living as a shoe worker at Buckby Bros' Burton factory where he can be seen in this 1930s photograph
Other photographs which have survived show him to have won honours with Burton Latimer Cricket Club in 1905 (see below), with the Church Institute's Whist Team in 1908, Rifle Team in 1909 and Billiards Team in 1911. Also on record are reports of him as a member of St. Mary's Dramatic Class in 1905 and singing at a social evening in the Assembly Room in 1913. He served in the Royal Garrison Artillery during the First World War.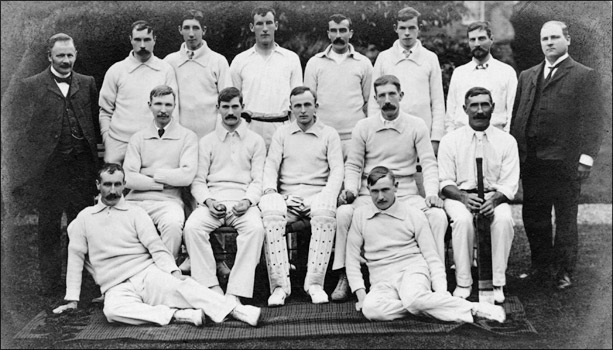 Billy Perkins is in the middle of the back row
There can be few other local men who have excelled at so many varied sporting activities. No doubt as boy and man Billy was generally the first choice when it came to "picking sides" !