Regarded as a Burton Latimer character, "Charlie" Charles, an engineer who ran a petrol station, shop and workshop on the corner of High Street and Duke Street actually lived at Little Harrowden with the owners of the premises Mr. and Mrs. Alfred Ward. In the early 1900s the premises was a butchers', number 104 High Street belonging to the River Plate Meat Company, but by 1911 it had been bought by Alfred Ward and joined with 1, Duke Street.



Charlie, full name Charles Clement Charles, was born in 1896 at Farlow, Shropshire, the son of Walter Prince Charles, an ironmonger. Details of Charlie's early years are unknown but it is thought that he was injured in the First World War. Whether it was a wartime injury or not, at least at some time in his life he had suffered major damage to his hands resulting in having missing fingers. However, this did not hinder him when it came to working with machinery and he very dexterously manipulated nuts and bolts with his thumbs and knuckles when mending the bikes that were brought in to him for repair. His workshop was notorious for its muddle, with parts scattered here and there, but Charlie always knew where to find what he needed. Before the Second World War he did some taxi work and operated two petrol pumps that stood on the pavement near the double doors that led on to the High Street. Some of his last customers before petrol was rationed and small garages closed down in the war were military vehicles belonging to army units stationed here.
Charlie was a cheerful, generous, well liked and respected gentleman. As yet, his early life is unknown so we don't know if he ever married but he was single when living at Harrowden. Most people would be suprised to learn that he spent several holidays cruising across the Atlantic on the Queen Mary, and this was when cruising was the prerogative of the wealthy! He died in 1981.


| | |
| --- | --- |
| | |
| | |
Extracts from memories and comments about "Charlie":

..."I have no idea who paid the bill. As kids with a broken bike we just took it to Charlie's. Parents must have caught up with him at some time and paid." ... "I remember the darkness and clutter of Charlie's shop. He enjoyed telling my mum about his cruises."
"My grandad took us for a haircut at Dougie Benford's then he got some snuff. We went to Charlie's bike shop - also I can remember he had some of his fingers missing. Wondered how he could change a tyre."
"I've been in there lots of times and round the back where he kept some old cars and lots of old bikes and a big old van. And the petrol pumps and paraffin pumps... used to get paraffin with gramp for the heater in the hall...I can see it all now, and his old bike clamp vice and all the old bike lamps and oxide batteries, pumps, brake cables, mudgards, old Brooks seats tyres. New tyres, brake shoes, tins of bike paint, saddle bags, lots of cool stuff in that front shop."
"... going to Charlie's being a child was fascinated by his missing fingers."
" ... spent a lot of my pocket money in there."
"Another memory of old Burton now long gone was Charlie's bicycle repair shop on the corner of Duke Street. Charlie and my grandfather were old pals who had served together during the First World War. When I used to come back for holidays ..... before I had a car, I would hire a bike from and it would last me all the time I stayed with my Uncle and Auntie and when I took it back at the end of my stay he would never accept payment for the hire."
And from John Lack: "A bit more to add to the memories of Charlie Charles.
After Charlie Charles retired he used to walk into Kettering and have half a pint of beer in the Peacock pub and he told my brother Michael when he met him in there one day, that he did it daily and it was better than medicine.
Charlie and his "mate" Charlie Henson used to ferry members of the BLTCC to away matches in the late 1950s and early 1960's. Two vehicles were used, carrying those of us who did not have their own transport, which was the majority of players. From memory the cars may have been Austin 8's that ceased production in 1948, although Charlie's were probably made pre- war.
Each car carried 4 or 5 players plus their kits to places around the Kettering district like Stoke Albany, Corby, and Oakley etc. Fortunately the travels were not too far as it was a bit cramped inside.
One problem experienced while travelling with Charlie Henson was that he had to have the drivers' seat pushed right back as he had a 'crook' left leg. Changing gear was a bit scary for the passengers as it was a "double de clutch" plus a big pause. Both drivers also tended to free-wheel down the hills. Charlie Henson lived in Croxens Yard close to Charlie's garage."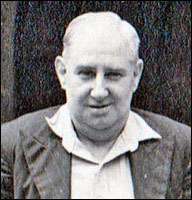 Click here to read about shops near Charlie's premises