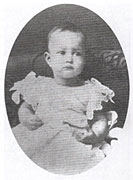 On October 16th 1875, a baby girl was born in Honolulu . Her name was "Victoria Kawekiu Lunalio Kalaninuiahilapalapa Kaiulani Cleghorn",
but more commonly known as Princess Kaiulani - Kaiulani translates to "royal sacred one" or "the highest point of heaven".
Her mother was Miriam Likelike, who was Hawaiian and her father was Archibald Cleghorn born and educated in Scotland . He came to the Hawaiian Islands aged 16 with his father Thomas; they had arrived on the British brig called "Sisters", from Auckland .
Thomas died in Honolulu in the same year, leaving 16 year old Archie to run the small dry goods store he had started up there. Archie's mother soon went back to New Zealand but her son decided to stay on and prospered in business. Four years later he was doing well in the mercantile industry and he had stores on other neighbouring islands as well as Honolulu .
He met an Hawaiian lady called Elizabeth and he went on to have three daughters with her, Helen, Rose and Annie, all this happened while he was still in his thirties.
He had a home on Queen Emma Street in downtown Honolulu and his love of horticulture (which he had gained from his father) started there. His house had beautiful gardens created by himself.
When he was 35, he married 19 year old Miriam Likelike (as Elizabeth had since died). She was from a chiefly family and they had an estate called Ainahuau in Wakiki. It was there that he really got to use his talent for growing and caring for plants and trees. Amongst the many things he had planted and nurtured at their home were, eight varieties of mango trees, trees of teak, cinnamon, soap and an Indian tree with scarlet flowers shaped like a tiger's claw. He also created 3 lily ponds and added the peafowl for the wildlife addition to this beautiful haven he had created in his grounds.

Miriam Likelike was the daughter of High Chief Kapa'ake and the Chiefess Keohokalole. She was also sister to David Kalakaua, King of Hawaii from 1874 to 1891 and also Lili'uokalani who was Queen from 1891 to 1893.
As Kaiulani's Uncle and Aunt never had any children of their own, she was placed third in line to the throne from birth, which was celebrated with the tolling of bells and gun salutes.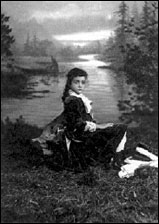 (below) Princess Ruth
Ke'elikolani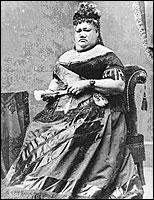 Kaiulani grew up enjoying many things including, singing, reading, playing the guitar and ukulele, playing tennis and croquet, sewing and even surfing! Her main love however was horses and riding, she was an expert equestrienne and she had a special childhood pony called "Fairy", this was a very apt name for this almost 'fairytale princess'. She shed tears for "Fairy" as she was to leave her beloved animal behind when she was later sent abroad for schooling.
The Cleghorn family lived at Ainahau in Waikiki which was owned by Princess Ruth Ke'elikolani, who was Kaiulani's godmother.
Sadly on 2nd February 1887 aged 36, Princess Kaiulani's mother Miriam died and left her 12 year old daughter sorrowful at the loss. However, the brave princess had the duty to stay in the palace for three weeks while her mother's body was lying in state in the throne room and she was even part of the funeral procession.
Princess Kaiulani found a friend in Robert Louis Stevenson when he moved into one of the neighbouring residences in January 1889. He helped her in many ways at different times of her short life and with the loss of her mother still obviously affecting her, he brought some joy to the dark times that had already happened and would continue to happen to the teenager.
Robert Louis Stevenson had been a friend of Miriam Likelike and was very taken with the family, and especially fond of the young Princess who thought that his hair was much too long!
When he learned of the Princess' father's plan to send her abroad for schooling, he feared that the drastic change of climate would prove detrimental to her health, it was not his place however, to voice these fears to her father.
Sadly his fears were to come true, and unfortunately very early on in her life.
The two of them enjoyed special times together, he would tell her stories of his and her father's homeland, Scotland , and he loaned her several books to read.
A music box given to the Princess by Stevenson is amongst a collection at the Hulihe'e Palace in Hawaii , but the selection of tunes it plays has never been identified.
He also prepared the Princess for her trip to England by telling her as much information as he could about the place. He even wrote the Princess a poem in her autograph book before she left: