In 1662, during the reign of Charles II, a hearth tax was levied which lasted until 1689. Persons with houses valued less than 20 shillings per annum were exempt from paying, as were those in receipt of poor relief. The rest were liable to pay 2 shillings per hearth per annum, collected at Michaelmas (29th September) and Lady Day (25th March). The Parish Constable was required to make lists of house-holders, with the number of hearths in their dwelling and this list was submitted to the Justice at the Quarter Sessions. Some of these lists survive and one is copied below. A person with only one hearth was probably relatively poor, a yeoman or husbandman might have three or four and a gentleman six or more.
The list for Burton Latimer contains 113 properties, roughly half of which were exempt from the tax. Only thirty houses in the village had more than one hearth. Not all properties were lived in by the owner so lists may indicate the liable owner and not the person living in the property.
The lists indicate the hierarchy in the village or town and so we find the Burton Latimer list headed by Edmund Bacon Esq. who was the Lord of the Manor at the time and who lived at the Hall in Kettering Road which we see from the list had twelve hearths. One has to bear in mind that in such a large house the bedrooms, dressing rooms and nursery, as well as the kitchen and other ground floor rooms would have needed fireplaces at this time, well before any sort of central heating.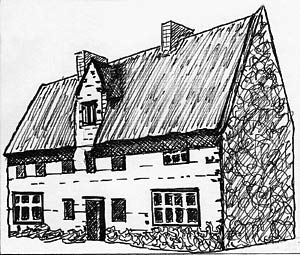 The second largest number of hearths was in the home of Mr. Beck with seven. He was the Rector of Burton Latimer from 1662 to 1676 and lived at the Rectory which, although on the same site as the 'old' rectory would not have been the same building. He also had five hearths in another dwelling which presumably was the Manor House adjacent to the church, which was owned by the Church and occupied by curates for many years. Also with five hearths was John Hopkins, butcher and yeoman; there are no others. Several houses were occupied by women and widows who presumably had inherited them. Widow Kennell had three hearths so must have lived in a sizeable house for that time. Other persons with three hearths were Mr. Francis Robinson, William Wood, Edward Powers and Francis Ball, who were all described as yeomen in the parish registers.
A forge was counted as a separate and extra hearth and we can see from the list that Burton Latimer had three forges at this time. Unfortunately, no other occupations are mentioned but a clear indication of the presence and standing of a family in the village can be found from examining the list.
For The Burton Latimer Hearth Tax List for 1673 - click here