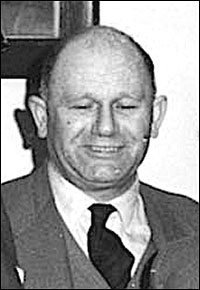 Certainly, my father had been on the railways all his life. He was appointed first of all as a junior porter at Blakesley in south Northamptonshire and he worked there. He then was a shunter at Northampton Castle Station and he was also in the Territorial Army. He was one of the first to be called up after war was declared in 1939 and he served in the Royal Engineers running, initially, coastal railways in Kent and Sussex. The last four years of the war he spent in Assam and Burma running railways there and fighting against the Japanese. After the war when he came back he was appointed Station Master at Billing near Northampton and was there for several years and then was moved to the control room at Rugby station. He then applied for a job as Yard Master at Kettering and he was there for precisely a day. He was taken ill that evening and was off work for some fifteen months. He had a kidney removed because of cancer and was appointed as Station Master at Burton Latimer in December 1954. We didn't move there until October 1955 when the house became vacant and we moved from Guilsborough, a little village in the west of the county of which I have very fond memories. It is where I am to be buried when I pass on - which I hope will not be for a few more years. Yes, we moved from a small, rented bungalow (there were half a dozen in Guilsborough belonging to a local builder) to this large three-bedroomed detached house. We moved on the 10 October 1955.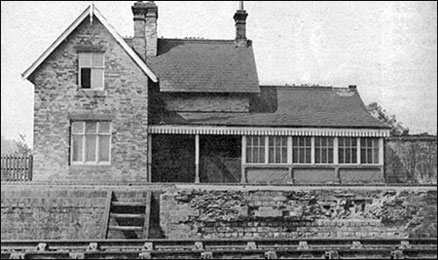 What was the difference? Well we didn't have central heating in either but the bungalow was warm and cosy. The Burton Latimer station house was cold. It was very, very cold. Two bedrooms looked out towards Isham, one looked out over the railway and that is the one that I slept in. In the winter there was ice inside and you used to have to go to bed with a stone hot water bottle, the usual pyjamas and umpteen dressing gowns and blankets. It was very cold. I had a brother, my younger brother, Michael. When we came I transferred from Northampton to Kettering Grammar School and my brother from the village school at Guilsborough to what was then called the Council School here in the High Street. My mother got involved with the church. She was a member of Miss Orpin's sewing circle. They used to meet in Miss Orpin's house in Church Street - now owned and occupied by Gillian and Nicholas Loake - and every fortnight they would meet and would knit and sew. Then every year at the Autumn Bazaar in aid of the Church Restoration Fund their goods were put on show. My mother didn't go out a great deal because they lived down there. My father, was a very keen gardener and there was a huge garden where he grew fruit, vegetables and flowers. He won a number of prizes in the local shows. By the house there was a flower garden and we had a large Victoria plum tree. In the winter it used to flood regularly and the field in front of us was constantly under water. We believe the station must have been built on arches because frequently the soil was washed away and if you stood in that field, or in the next one that belonged to Mr & Mrs Kemp at the bungalow - Mrs Kemp runs the Monday Club – you could see the arches on which the station was built. We didn't have a bathroom when we got there until they knocked a hole in the wall of the old Porter's Room. The bathroom was as big as many a lounge. When we got there first of all the kitchen, which must have been built on at some later date, had an open drain in it with a drainpipe coming down from the roof where all the leaves and muck, etc came down. At right angles to the kitchen were two outbuildings. One was the coal shed and the other was what was known as the washhouse and in it we had a brick-built copper where the water used to be boiled and the clothes were boiled and in the door there was a window about a foot square. On a Friday night - or was it Saturday - we had our bath there. It was a tin bath that hung on a nail in the wall and we used to fill it from the copper and get in there and have a bath.
Leading down to the house was a drive from the road and there was quite a large parking area in front of the house because of the old passenger station buildings. As you came round the house there was a little gate and facing you, as you came down, was the old booking office and Station Master's office. The passenger side of the station was no longer in use. It had closed as a passenger station I think about a year before my father came.



Subsequently when Eddie Steele, who was the Station Master at Finedon, retired that was also added to my dad's responsibilities and he was Station Master/Goods Agent for the two places. No trains stopped at the station at all apart from goods trains. Goods trains would stop there to pick up vans containing Weetabix. They didn't have lorries. They would take beer barrels and drainpipes from Alumasc and a regular thing was Grays Pits. They mined a type of grey clay called ganister, used for lining furnaces, and they had got their own little engine, which used to bring these trucks down. My father having been a shunter in his early life would hitch them up. The goods trains would come along and back into the siding and my father would link up these trucks of ganister and they would take them off to wherever they were going. We had a railway lorry that used to come in, it was based there and would do a lot of deliveries, parcels etc that came by rail. They would take them out round the various local area and also Weetabix had, I don't know what they called it, but it was a waste product from the wheat after they had extracted the various materials to make the Weetabix. It was wet grain and farmers used to buy it from Weetabix to feed cattle and pigs. Just at the entrance to the station yard, that's this side, on the Burton side of the bridge, was a small building where there was a weighbridge and the tractors and trailers used to come down. The trailer would be weighed empty and then they would come back when they had got loaded up with grain and weigh it full. The tickets used to go to Weetabix and they would be charged so much per hundredweight. There was also another brick built shed there that Ellis & Everard operated from. They stored there a lot of cattle cake etc. That was on the agricultural merchant side and they also had coal and coke that I suppose would be stored outside. There was fencing around – their compound if you like. Crosby & Beale from Kettering, the coal merchants, also had coal there and of course our own Co-op in Burton. I believe - I'm not sure about this - that Billy Hickman also used to come and get coal from there and take it around. The goods shed, which was a huge place, stood in the yard. It is still there and there was a small office attached to it, which my father operated from, and all sorts of things were stored in the goods shed. Stuff that had come in by rail or been delivered by the railway lorry or for collection by local builders or farmers.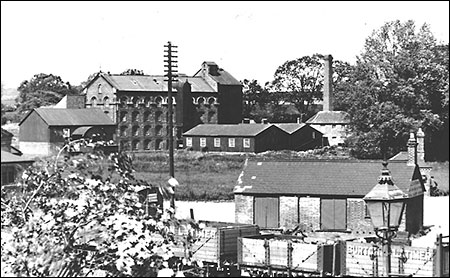 Burto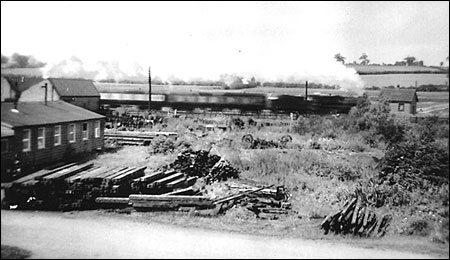 When the royal train went through my father was always very pleased because he got paid overtime. It usually went through in the middle of the night and the gates on the Burton side had to be padlocked. The gates - they were then our drive - which used to be the passenger side, also had to be padlocked. The Isham policeman, Stan Brown who subsequently became an Inspector and is now dead, had to come down there and he had to stand on guard outside. On the Burton side, one of the Burton policemen – that's the days when we had proper policemen a sergeant and three constables - had to come down there. My father had to stand on the platform in his full uniform, his resplendent cap with the gold braid on the peak and the badge, logo, etc. Only while it went by and an hour before and an hour afterwards but he got paid about three hours overtime. It happened quite frequently. In 1923 the Midland Railway became the London Midland and Scottish Railway following the 'grouping' after World War I. The reason for the Isham and the Burton policemen was that before the 1930s when Burton gained urban district status the station was "Isham for Burton Latimer" but of course when Burton got urban status, you couldn't have it named after a little village next door, so they renamed it "Burton Latimer for Isham" but the station house was in Burton Latimer and the gates were in Isham. You then went over the bridge and on the right-hand side the old gas works was also in Isham parish but the gates were in Burton Latimer. If you walked up the line a little to the signal box towards Kettering, that was actually in Pytchley parish and that's why you had the Isham policeman and the Burton Latimer policeman.


The line was quite low lying and it used to flood frequently and I remember one particular July in 1958, it flooded very heavily and it came right across the line. The staff, in addition to my father, consisted of a porter and a gang of platelayers. Platelayers used to look after the line and every Sunday morning – Sunday not being a working day – the ganger in charge used to have to walk the length from Finedon Station, up to Kettering junction. He used to have to walk up and down the lines just checking that everything was in order and he had a large hammer with a long head on it. As he went along if anything was loose he would just knock it into place. This particular July when there were the floods the engines could go through as they were on the rails but someone had to walk in front. A rota was arranged consisting of my father, with the ganger and the platelayers. They had to pilot, if you like, these trains through from Finedon to Kettering sidings where the Kettering gang took over and back again. There was a local Burton gang. One of them was Basil Pollard and the others were all within Burton or from two or three miles of the town..



| | |
| --- | --- |
| | |
| | |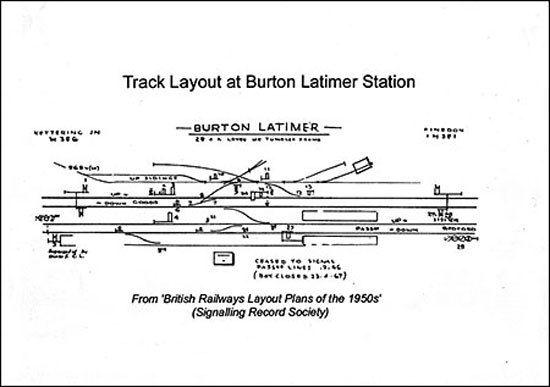 | | |
| --- | --- |
| | |
| | |
People have said I'm like my father. I don't think I am – my wife who obviously knew my father well - says I am more awkward than my father ever knew how to be. My father was a member of the Urban District Council for many years. He was Chairman at one time, and he served for, I think it was nine years, as a member of the County Council.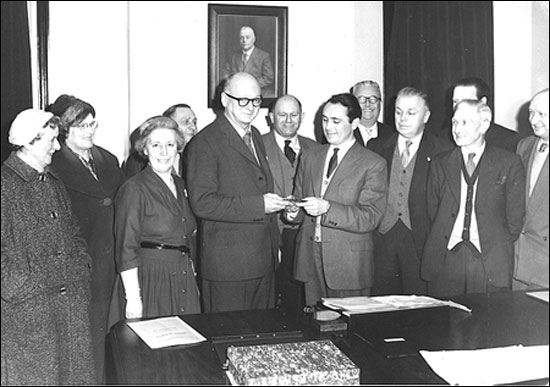 Tuesday February 16th 1960. Cllr A F Mutlow seen in the centre at the back of the photograph attending the presentation of a gold watch to Mr. G C Borman on the occasion of his retirement as Surveyor & Public Health Inspector to the Burton Latimer Urban District Council after 30 years service, by Cllr. DJ Ashby J.P. Chairman of the council 1958-59 and 1959-60. Left to right - Mrs. B Spanton (former Councillor), Mrs E C Peck J.P. (former councillor) Cllr Mrs MVO Gardner, Mr B W Phillips (former councillor) Mr. AC Borman, Cllr A F Mutlow, Cllr D J Ashby JP (Chairman), Cllr E C Lewis, Ald. RJ Mackintosh, Cllr P J Toseland(rear), Cllr L Patrick, Cllr RS Horn, Cllr WC Meads (present but not on photograph)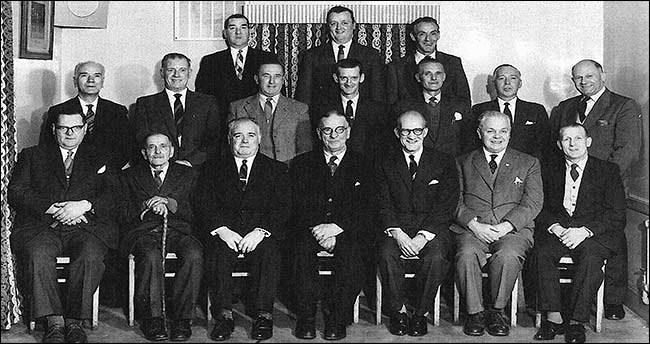 He was also a member of that peculiar body which was the Kettering Divisional Executive which was responsible for educational matters in the Kettering area as opposed to the County Council. Why it was separate I don't know but it was chaired initially by a local magistrate who was Mrs Peck of She Drinks and she was Chairman for many years. Subsequently it was chaired by the Rector of Cranford, Canon George Turner, and my father was very friendly with him. He was also instrumental in setting up the Royal Engineers Association in Burton Latimer and he was the Secretary. He was very much involved with the British Legion. He was at Guilsborough and when we moved to Burton he continued as the County Sports Secretary for a number of years. He died in 1973. I lived at the station until 1966 when I got married. My father stayed there and in 1968, my mother died – she had a brain haemorrhage, she was only 57 – and my father subsequently remarried and moved into Churchill Way. The station closed sometime between 1968 when my mother died and 1970 when he remarried. They closed the station down completely and subsequently the land on the goods side was sold to Weetabix, there was a helicopter pad, etc and the car park, and then the house was sold. My father did try to buy the house at one time but because the water supply ran under the track they wouldn't sell it at that time because any repairs necessary would mean complete disruption.


Click here to read Les Muddiman's recollections of the Station

Click here for a description of the Station House before and after conversion to a private home