George James Muir (Snowey) married Mona May Durling in 1932. They lived in Whyteleafe, Surrey. They were the proud parents of four daughters – Frances (1936), Ramona (1937), Ruby (1939) and Valerie (1944). The first three children were born in Surrey and the baby at "Elmsdale", Finedon Road, Burton Latimer, Northamptonshire. Dad joined the Air Force in 1940 - George James (Snowey) Muir. RAF Number 1205339, Served from 3.10.40 to 23.7.47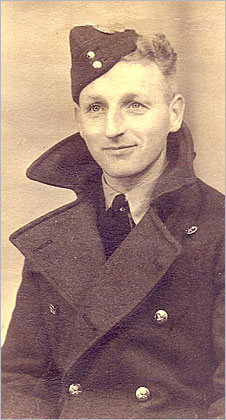 My mother's father came to live with us. We had an 'Anderson' shelter built in the back garden which basically contained a mattress, tinned food, water, candles, matches, baby nappies and, of course, the necessary air raid masks. When the sirens sounded we would all rush to the shelter and lay there listening to the bombings. I can remember one bomb hitting a house across the road. The house was demolished and burned for what seemed to be ages. Since my mother was a warden, when she would have to leave the shelter, Grandad would care for us three children. He would sing to us and tell us stories, which I remember to this day.
My Mother's responsibilities as a warden were varied, but mostly making sure that the elderly people in the neighbourhood were safe and that all curtains were pulled. It was always very important that no lights be seen during a raid. On many occasions when Mum had made her rounds she would join us in the shelter to get some sleep, even when the sirens had sounded "all clear".
The bombings were getting more frequent and plans to evacuate children to the country became essential. The Police came door-to-door and said that all children had to be moved – with or without parents. Mum hired a lorry and driver and we took essential items with us such as mattresses, kitchen items, a baby crib and a bedroom set. Thank goodness that Granddad was there to help.
Burton Latimer seemed to be the only place to go because we had family there. My Grandmother was one of the ten daughters born to Mr & Mrs Miller who were well- known there. I still have pictures of him in his horse and cart and some of his daughters. Edward and Mary Ann Miller had 10 daughters who were born in Burton Latimer, Leicester, Northampton, Yorkshire and Irthlingborough. The 1881 census only recorded the following eight names – Charlotte 1869, Ellen (Nell) 1871, Elizabeth (Bess) 1872, Frances Harriet 1875, Rosa Beatrice 1877, Susan Louise (Fanny) 1880, Charlotte (Top) 1884, Rachel A (Annie) 1886.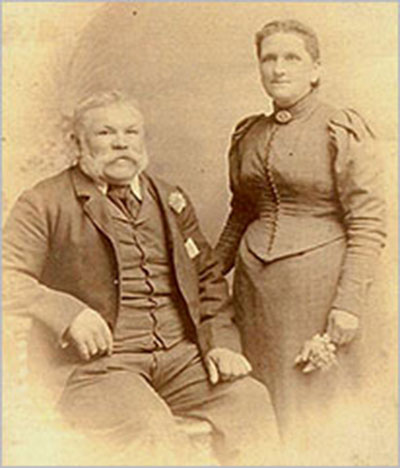 Upon arriving at Burton Latimer, we went from relative to relative to ask if they could put us up temporarily, but no one had "any room at the Inn"! Of course, I do not remember all of the details, but we were told afterwards. I can understand why no one would really want to take in my Mother and Granddad and three little girls, but to this day it still hurts a little. However, we found a "Saviour" whose name was Margaret Moisey. She had several children at the time and her husband, Jim Moisey, was in the Air Force. They lived in Spencer Street. We were very grateful for her kindness and we all loved our "Auntie Margaret & Uncle Jim". She gave us a bedroom and the front room for our exclusive use.

We stayed with the Moisey's for about nine months and Ramona (Rona) and I went to the Infants School in Church Street. I can remember that we all had rush mats and we had to take naps every day. During the war if a house was vacant you could occupy it if you could obtain the keys. Mum had a wonderful knack of finding keys – we found a bungalow down Finedon Road, Elmsdale, and moved in and stayed there for many wonderful years. The same thing happened to our own house in Whyteleafe. The government subsidized the rent and so it was a great deal for us.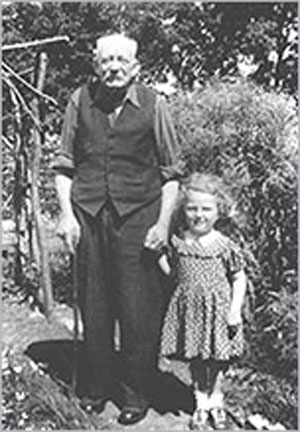 Valerie Muir shown here with her grandfather, Fredric James Durling, was born at "Elmsdale" in Burton Latimer in 1944
There were quite a few families who had been evacuated to Burton Latimer. I can only recall a few – Mr & Mrs Phipp and children. ( I went to school with one son, Ray, who many years later died in a car crash with several other young men from Burton.) Mr & Mrs Bill Smith* (children: George and Barbara). Mr & Mrs O'Neil **(my aunt and cousins), Mr & Mrs Cope (Ted, Ann, Margaret and Helen). There were many more.

* (Below left) William and Violet Smith were evacuated from Kent to Burton Latimer. They had two children, George and Barbara, and lived in Duke Street with Mr and Mrs Farrow until they acquired a council house in Poplar Road. William was a member of the Inns of Court Regiment. (The Inns of Court Regiment was a British army regiment from May 1932 to May 1961. In January 1941, the regiment was part of the 9th Armoured Division in Great Britain. On D-Day, "C" Squadron of the regiment landed on Juno Beach with the 3rd Canadian Infantry Division. During the campaign in Northwest Europe of 1944-45, the Inns of Court, organised as an armoured car regiment, was the reconnaissance asset of the Corps.).

** (Below right) William and Jane O'Neil with three of their children – They had five children, Frances, Jimmy, Ted, June and Maureen. They lived in Station Road, Burton Latimer. Jane is another sister of Mona Muir.
It was sad that the evacuee children had to deal with a lot of teasing and mockery. It seemed that we invented "fleas" and "scabies" and we were dirty and spoke funny (if you came from the London area"). Mr George Borman, who was the Health official at the Council Offices, used to hand out big bottles of a pink liquid to help the rash and irritation of scabies. I have to add that this didn't happen to all of us and most Burtonians were wonderful – they must have been, we never moved away after the war.
Everyone was entitled to a ration book and I can remember standing in line at Mabel Piper's shop to buy Turkish cigarettes for Mum. When my sister, Valerie, was born we went to the Red Cross shop in Kettering and they gave us beautiful baby clothes and fitted the rest of us with winter coats, etc. The Americans and Canadians sent the majority of the Red Cross items – they were very kind.
Around 1943 or so there was a camp for US soldiers and lots of them would go by "Elmsdale" on their bicycles. When Mum saw them coming she would shout to the three older girls to stand at the front gate and we would chant "Any Gum Chum". The soldiers would always give us gum and sweets. When the camp was dispersed, we woke up to a gift box full of gum, lemon drops, pear drops and chocolate. Oh, what a delight!
We used to have Italian Prisoners of War working on the farms, especially on the hedgerows. On our long walk home from school we would be given willow baskets which they had made and when they showed us pictures of their children in Italy it made us sad. Also there was a contingency of Czechoslovakians. I believe they were stationed at the Preston Hall. Every now and again they would give a party for the children in the village and they would make paper cones and fill them with chocolate powder or sherbet. We would lick our fingers and dip them in the powder to eat the chocolate. Oh, the things we remember!