Evidence of some sort of settlement here can be found dating back as far as the Bronze Age, nearly four thousand years ago and artefacts recovered during excavations for the wind farm at Burton Wold prove that the area was occupied in the late Iron Age/early Roman period. A hundred years earlier, some ironstone labourers discovered a Bronze Age collared urn, possibly a domestic vessel but more likely to be a burial urn, this is now in Kettering Manor House Museum
When a farm worker was digging a silage pit in 1954 on the eastern slope of the valley of a small stream opposite what is now Cornfield Way and Hollands Drive, pottery, tiles, brick and tessarrae and a hoard of 3rd-century Roman coins were uncovered. Consequently, when an application to build several hundred houses off Higham Road was received in 2010 one of the conditions placed on the planning consent was that the site be investigated by archaeologists. This investigation was carried out in 2011 which resulted in the discovery of what is thought to have been a Romano-British farmstead together with a cemetery containing about 30 graves. Also found on the site were many neolithic flint tools indicating that they were not the first people to live and work in the area. In addition to these flint tools, some flint arrowheads have been discovered less than half a mile west of the site on some allotments.

The first written evidence of the existence of Burton Latimer came in the Domesday survey of 1086, which also tells us that before the Norman Conquest 'Burtone' was held by Earl Ralph.
An aerial photograph shows traces of former medieval buildings and closes in the fields off Kettering Road south of Burton Latimer Hall, and elsewhere, despite considerable quarrying for ironstone, there is photographic evidence of other ditches, enclosures and ridge-and-furrow field workings. Quarrying will also have destroyed much of the evidence of ridge-and-furrow but some can still be seen, off Kettering Road.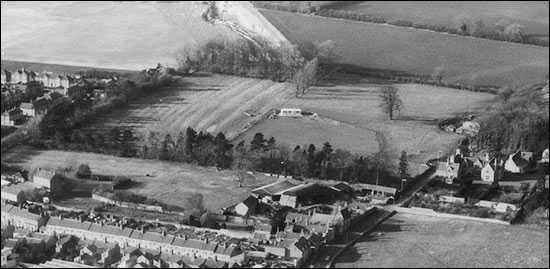 Photo reproduced with the permission of Simmons Aerofilms

Name
According to the 'Victoria History of Northamptonshire', Burton Latimer was 'Burtun' in 13th century, 'Burton Latymer' in the 15th century and Burton Lattimer in the 17th century. This is a very simplified account of the name changes. Apart from slight variations, 'Burton', originally meaning a 'settlement at a fortified place', has been constant since records began but the second part of the name has generally been Latimer or Plessy depending on the reason for it being written down or referred to. The medieval villager would have been quite satisfied with "Burton" and it would have been the church and manorial courts that used the second part depending upon the manor in which their business was being conducted.
The alternative versions began to be used late in the 14th century following the division of the manor that had existed since before the Norman Conquest. Guy de Reinbuedcurt (or Raimbeaucourt) held it at that time, but his son Richard pledged it to King Henry I in payment of a gambling debt and subsequently Henry granted it to Alan de Dinant. Some generations later, through marriages, inheritances and law suits, Alan de Dinant's right to the manor came into the hands of the Plessy family. Meanwhile, the descendants of the Reinbuedcurts had married into the Latimer family and, following other legal proceedings in the 13th century, the manor of Burton was divided, two thirds going to the Plessy family and one third to the Latimers.
The term "Burton Latimer, alias Plessy" is found in legal and church records right up to the 19th century and since 1974 the names of the Latimer and Plessy manors have been perpetuated through being used for the two Burton Latimer wards of Kettering Borough Council.


Before the Norman Conquest in 1066, Earl Ralph (probably Lady Godiva's son, Ralf, Earl of Hereford) held 8½ hides of land which, until the 13th century, constituted the manor of Burton. The survey contains these entries for Burton Latimer, then known as Burtone.
Land of the Bishop of Constance ……….
Of the same Bishop, Walchelin holds 2 hides and 3 Virgates of land in Burtone. There is land for 5 ploughs. In demesne there are 2 ploughs with 1 male and 1 female servant. There are 9 villagers and 5 smallholders have 3½ ploughs. There are 15 acres of meadow. It was worth 20 shillings; now it is worth 40 shillings. Burgred held it with full jurisdiction.



Of the same Bishop, Richard holds 1½ hides in Burtone. There is land for 3 ploughs. In demesne there is 1 plough with 1 slave; and 3 villagers with 1 smallholder have 1 plough. There are 6 acres of meadow. It was and is worth 10 shillings. Burgred held it.
Land of Guy de Raimbeaucourt ………….
Guy de Raimbeaucourt holds from the King 8½ hides in Burtone. There, in King Edward's time, were 14 ploughs. Of this land 3 hides are in demesne, and there are 3 ploughs with 1 slave; and 21 villagers and 18 smallholders have 9 ploughs. There are 2 mills rendering 16 shillings, and 20 acres of meadow, and half an acre of wood. It was worth 40 shillings; now 6 pounds.
"In Burtone, Richard Fitz Guy 8 hides and a half (Held in 1086 by his father Guy de Raimbeaucourt). There are also William de Houton 1 hide and a half."