Set into the floor of the parish church is a monument that marks the grave of a Burton Latimer resident who was connected with high society in the latter part of the 15th century.
Background
Richard Boyville (Bovile, Boyvile, Boyvill, Boyvyle) was a son of Hugh Boyville of Ridlington, a parish in Rutland some 20 miles north of Burton Latimer, who held a number of public offices. Hugh was one of the two Members of Parliament for Rutland in 1439-40 and 1447. [1] [2] The name of Richard's mother is not certain but she was probably Alice, daughter of Richard Christian, whom Hugh married as her second husband. [3]
Career and connections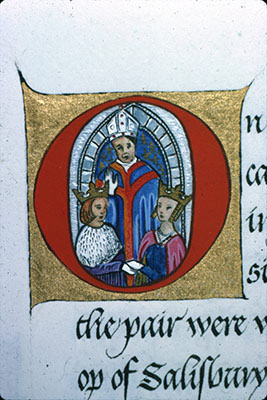 References to Richard's career are limited, but it is clear he was a long-standing and trusted courtier in the service of the House of York. In 1468, he was one of those who accompanied Margaret of York (1446-1503) when she moved to Burgundy for her marriage (above) to Charles the Bold [4]. On that occasion, he was responsible for taking a present of eight horses from Cecily Neville, Duchess of York (Margaret's mother) to her new son-in-law. [5] The route included a voyage from Margate to Sluys, risking possible interception by French ships as King Louis XI was actively opposed to the match. Twelve years later, Margaret's brother Edward IV, granted an annuity of £20 per year to Richard and his wife Griselda for attending Margaret when she paid a visit to England. [6] In October 1484 Richard III, who was also Margaret's brother, confirmed that payments of this annuity and arrears on it should be funded from the revenues and profits of the demesnes of Preston and Uppingham which were then held by the Crown. [7]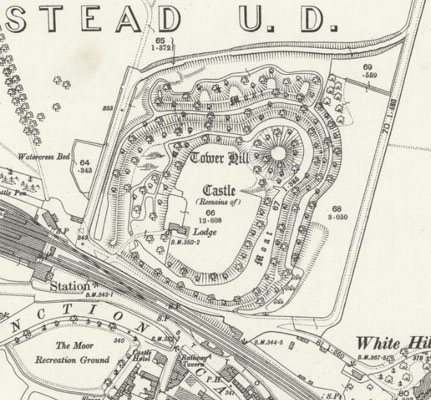 From 1472, the household of Cecily Duchess of York was based at Berkhamsted occupying its substantial castle which at that time was equipped as a high-status residence. Most of the buildings then standing have since been demolished but the walls and earthworks that remain (above) give an idea of the generous scale of the property in its prime. For the period when Cecily was in residence, Richard and Griselda probably spent a significant proportion of their time at Berkhamsted. Also present was Richard Lessy, the dean of Cecily's chapel and steward of her household, who came to be accused of "misprision of treason" (not promptly reporting to the authorities when he knew treason was being planned) in connection with the Perkin Warbeck conspiracy. As a result, in 1495 Lessy was required for pay £200 for pardon. Writers disagree as to whether Richard Boyville was one of those who stood surety for the fine. [8]
It was at Berkhamsted Castle on 31 May 1495 that Cecily of York finalised her will, in which she described herself as 'Cecille, wife unto the right noble prince Richard late Duke of Yorke, fader unto the most cristen prince my Lord and son King Edward the iiijth'. The numerous bequests included these to 'Richard Boyvile and Gresild his wif':
"my charrett and the horses with the harnes that belongith therunto, a gowne with a dymy trayn of purpull saten furred with ermyns, a shorte gowne of purple saten furred with jennetes, a kirtill of white damaske with aundelettes silver and gilte, a spone of gold, a dymysynt of gold with a columbyne garnesshed with a diamant, a saphour, an amatist, and viij. perles, a pomeamber of gold enameled, a litell boxe with a cover of gold and a diamant in the toppe." [9]
Richard Lessy did not forget the Boyville family when he made his own will [10], as can be seen in this bequest:
"Item where as [Gofe?] Grene sumtyme suffragane of Chester left in my handes xli [£10] towarde the mariage of a pore maide. I have disposed the saide xli [£10] to the mariage of Grisilde Boyvyll wherof I have paed to Sir Henry Golde her uncle in p[ar]te of payment of the saide xli. [£10] xls. [40 shillings] upon this condition that if she be married to anyone the hole sume and if she be not maried the saide sume of xl [£10] is to be restored to me or my executours and thanne if it happen so I will the saide sume be bestowed to the fynding of a pore scoler as longe as the sume of xli [£10] lasteth."
At that time the title "Sir" might be ascribed to a knight or a priest. It is not clear which applied to the uncle of Griselda junior. If he were a priest and so not married, he would have been a brother of Grisleda senior and her maiden name also be Golde. If Henry were a knight, that relationship is also possible but an alternative would be that he was married to a sister of Richard Boyville or of his wife. It may be significant that amongst those in the 1524 Lay Subsidy list for Burton Latimer was 'John Golde' with an assessment of 70 shillings in goods.
Land ownership
Richard Boyville was a substantial landowner. On 3 June 7 Edward IV (1467/8), he received from his father the Manor of Little Oxendon along with a parcel of land, also in Northamptonshire, called Elsterne Meadow. The relevant deed does not mention a spouse or intended spouse, so the transfer was not part of a marriage settlement. It provides that the property should pass on to Richard's heirs, failing which it would devolve to Hugh's son William Boyvyle and his heirs with reversion to the right heirs of Hugh himself. [11]
Will and burial
By the time he made his will on 20 January 1510/11, Richard had also purchased property at Burton Latimer. There does not appear to be a probate court record for the will; however, In the 16th century the text of the will and details of its probate were copied into the Cartulary of Edward Griffin. [12] In it, Richard stated he was of Burton Latimer and described himself as sick. The will was proved on 23 May 1511, leaving an interval of four months during which Richard died. He gave his property at Burton Latimer and Little Oxendon to his wife Gresyll for life, after which it was to go to his "son and heir" George with detailed provisions for a variety of other beneficiaries. Richard mentioned five other children - his son Richard and his daughters Grysyll Blakwall, Margaret Gage, Cecily and Agnes. Surnames were not stated for Cecily and Agnes, so they were presumably as yet unmarried. The will mentions "my manor in Burton …. that sometime was John Langley". Probate was granted at the hospital of St John in Northampton by Thomas Knyght, commissary of the Archdeaconry of Northampton. When the will of John Cobbe of Northampton was proved by Thomas Knyght in 1505, the venue was more precisely recorded as the Church of the Hospital of St John, which suggests the particular building was normally had that role. This largely medieval building, by the south corner of Bridge Street and St John's Street, survives and is currently used as a restaurant. Richard asked to be buried "afore the channcell dore in the paryshe churche of our lady seynt mary of Burton [Latymer] besides my wyffes sete". He and his family are almost certainly the group commemorated by brasses set into a large stone in the floor of Burton Latimer church, at the east end of the south aisle just south of the chancel arch. Only two brasses survive:


A group of nine girls in the top left-hand corner


A heraldic shield with the arms of Richard's branch of the Boyville family in uncoloured form; this was recorded at the Visitation of Northamptonshire in 1618-19 as "Gules, a fess Or between three saltires Argent". [13]
Indentations in the stone were evidently designed for other brasses, none of which appear to have been in place when the Victoria County History volume 3 was published in 1930. [14] A photograph displayed on a wall near the memorial and shown in the article in "Burton Latimer – A Sense of Place" about the parish church indicates that the original stone was considerably larger and also featured a man, woman, group of nine boys and three more heraldic shields. This implies that Richard and Gresyll had a very large family even by 15th-century standards; as far fewer offspring were mentioned in Richard's will it is likely that many of them died young. [15]

Click here to read the will in full
The next generation
Not long after Richard's death George Boyvyle and his wife Laurencia sold the manors of Great and Little Oxendon to Andrew Palmer for £400. The final concord for the transaction was registered on the day after Ascension 7 Henry VIII (22 May 1515). As well as the names of the manors, it specifically listed two messuages, four tofts, 200 acres of land, 20 acres of meadow, 200 acres of pasture, two acres of wood and 20 shillings' worth of rent. [16] The associated common recovery is dated 12 February 6 Henry VIII (1514/5). Details of the property in the plea that initiated that procedure differ slightly from those is the final concord, as the former referred to the manor of Little Oxendon, 200 acres of land, 40 acres of meadow, 100 acres of pasture, six acres of wood and 20 shilling's worth of rent. [17] 'Griseldes Boyvvell widow' was still alive on 20 May 1515 when she quitclaimed her interest in the manor of Little Oxendon, stating that her son George had lately sold it to Andrew Palmer. [18] A detailed article at the Historic England website about the history of Little Oxendon leaves open the question of whether the settlement there had been depopulated during the period when the manor was owned by members of the Boyville family. [19]
It has been possible to track these details about six of Richard's children:
References
[1] Whalley, Peter, ed. (1792). The History and Antiquities of Northamptonshire compiled from the manuscript collections of the late learned antiquary John Bridges Esq. Vol.2. Oxford. p. 8.
[2] History of Parliament: Register of the Ministers and of the Members of Both Houses 1439-1509. London: His Majesty's Stationery Office. 1938. pp. 17 & 82.
[3] Wood, HJT (1906). "Pedigrees from the De Banco Rolls, temp. Henry VII". The Genealogist, New Series. London. Vol.22: 29.
[4] Armstrong, CAJ (2003). England, France and Burgundy in the Fifteenth Century. The Hambledon Press. p. 156.
[5] Ian Arthurson,(1994). The Perkin Warwick Conspiracy. Alan Lane Publishing. p. 8.
[6] Calendar of Patent Rolls, Edward IV (1477-85), p. 217.
[7] Calendar of Close Rolls, Edward IV, Edward V and Richard III (1476-1485), p. 373, item 1272.
[8] Laynesmith, JL (2017). Cecily Duchess of York. Bloomsbury Academic. p. 236n. I have seen no primary evidence of Richard Boyville standing surety.
[9] The National Archives (TNA): PROB11/10/447. The will was proved on 27 August 1495.
[10] TNA: PROB11/11/458. The will was proved on 1 October 1498. The office copy records the date when the will was made as 21 February without the year.
[11] Northamptonshire Record Office: ZA6242/3, folio 13a.
[12] Northamptonshire Record Office: ZA6242/3, folio 14.
[13] Metcalfe, Walter C, ed. (1887). The Visitations of Northamptonshire made in 1564 and 1618-19, with Northamptonshire Pedigrees from various Harleian manuscripts. London. p. 92.
[14] 'Parishes: Burton Latimer', in A History of the County of Northampton: Volume 3, ed. William Page (London, 1930), pp. 180-186. British History Online http://www.british-history.ac.uk/vch/northants/vol3/pp180-186 [accessed 24 May 2021].
[15] 'The History of the Parish Church of St Mary the Virgin', in Burton Latimer – A Sense of Place. https://www.burtonlatimer.info/churches/St%20Mary'shistory.html [accessed 24 May 2021].
[16] Northamptonshire Record Office: ZA6242/3, folio 16a.
[17] Northamptonshire Record Office: ZA6242/3, folio 15a.
[18] Northamptonshire Record Office: ZA6242/3, folio 15a.
[19] Abandoned Medieval Village of Little Oxendon. Historic England. https://historicengland.org.uk/listing/the-list/list-entry/1418685 [accessed 24 May 2021]
[20] Stephens, Sir Edgar (1961). The Clerks of the Counties 1360-1960. The Society of Clerks of the Peace of the Counties and of Clerks of County Councils. p. 139.
[21] TNA: PROB11/19/294.
[22] TNA: C131/110/24.
[23] Northamptonshire Record Office: L(C)1936.
[24] Northamptonshire Record Office: L(C)1937.
[25] TNA: E179/155/123.