Left: Walter and Emma with baby Ernie


Their movements in the early years of their marriage is unknown but Walter served in the Machine Gun Corps in World War 1.

In 1924 Walter, Emma and Ernie moved to 2 Croxens Yard and Emma took on the running of the general store at 125 High Street owned by the Hickman family.

In 1936 Emma died leaving Walter and Ernie to carry on the business until Ernie married Phyllis (Phyl) York of Northall Street Kettering in 1937.

By 1939 Ernie and Phyl had moved into the shop as business owners. This remained the family home and business for the next 28 years.
Left: In 1940 William (Bill) was born

Right: Later Ernie went to war with the RASC serving in Italy and Egypt with the 8th Army
During this time Phyl's sisters, Dorothy (Doll) and Gladys, were also living at the shop. Elizabeth Anne (known as Anne) was born in 1950. In 1954 Ernie died suddenly and is buried in Burton Cemetery. Ernie's death came at an already difficult time for the family, Billy had developed the disabling condition Syringamelia, needing many hospital visits, and Phyl's sister Gladys was diagnosed with schizophrenia attributed to losing her husband in the war. This made life very difficult at the shop and led to Anne moving out to live with close family friends John (Jack) and Marjorie (Marge) Northern in 2 Whitney Road.
Left: The Papworth's shop on carnival day. Jack Northern standing with Anne on the right of the picture.

Bill's secondary schooling at Henry Gotch School, Kettering, was badly interrupted due to his illness. He spent some of his spare time helping Charlie Charles at his garage opposite the shop (right)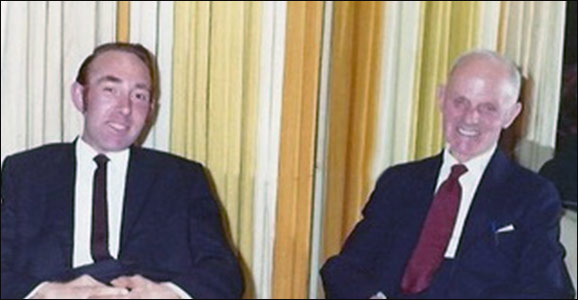 Bill and Charlie became good mates and had many holidays together on
Ocean going cruises. Bill subsequently had several jobs, working for
Hickmans delivering coal, a pottery company at Finedon Road, an electrician
at the Co-op and finally at Weetabix from where he retired.

Walter moved to Latimer Close new build in the early 1960's and the High Street shop was demolished in 1965 as part of the High Street redevelopment and the family moved to 59 Spencer Street when Phyl married Robert (Bob) Short in the same year. They were married at the Parish Church, Burton Latimer.

Walter died in 1967 aged 79.

Anne married Peter Hull from Kettering in 1970.

Bob Short died in 1978.

The Papworth Family of Burton Latimer story ends with the deaths of Phyl 2006 and Bill in 2010, although Anne still visits 'home' occasionally visiting the Heritage Centre, Cemetery and Kettering with husband Peter. She celebrated her Silver and Ruby wedding anniversaries at The Palmichael with family and friends (Covid19 stopped the Golden anniversary.)
Read Anne's "Memories of Burton Latimer and After" here.