Origin

The Britannia Working Men's Club, or The "Brit" as it is commonly known, began life in about 1895 in a former barn off the High Sreet that had been converted into a workshop by a clothing manufacturer and then vacated. The Wellingborough News for April 21st 1899 mentions that these premises had became more and more inadequate due to the increase in membership, so much so that the members themselves bought a plot of land on the corner of High Street and Newman Street; in 1898 the building was begun and completed one year later at a cost of £1,200. Talking generally about the Working Men's movement, the article informs us that the intention was that "a club should be a training ground of making members more gentle and forebearing one to another, and should help to brighten the lives of the people as well as help in the training of character." The opening ceremony included a first class dinner provided by Mr and Mrs Tapsell of the Burton Latimer Coffee Tavern.

Click here to read about the opening event 1899


Extensions and alterations to the Building

The club has undergone many improvements and noticeable changes since it was built. One of the first was noted in the Northampton Mercury 6th May 1910 below:


This new facility would have been a boon to members, especially the ironstone miners, none of whom would have had a bathroom at home.

In the 1920s the front wall and railings were demolished to make way for a new extension to the front to enable the bar and lounge to be enlarged. Part of the original ballroom window was removed to enable new access to the large upstairs function room.

To the right of The Britannia, almost adjoining and somewhat incongruously, stood the Salvation Army's hut, thought to have been erected some ten years prior to the club being built. In the mid 1960s the Salvation Army had ceased to use it and it was demolished. By this time The Britannia had acquired the land for an extension but it was a condition of the sale of the land that alcohol should not be sold or consumed on the site. This resulted in the building of an extension to accommodate a new front entrance and staircase, with the entrance at the extended frontage being bricked up.

Members in Wartime Service
Commemoration boards were put up to honour those men who served in the two world wars. The one below honours those who took part in World War II. To see the board commemorating members who fell during World War I, please click here. Both boards can still be seen in the club.

Annual Events

A highlight of the year for more than a hundred years has been The Britannia Club's Annual Show. Still held until recent times, it featured the finest produce from the local allotments. The photograph below, dated 1920s, has been reproduced from a newspaper at the time.





Another show was that of the Fur and Feather, although sadly this event ceased some time ago.





Sports days were also held, in which Members' children were invited to take part in various races.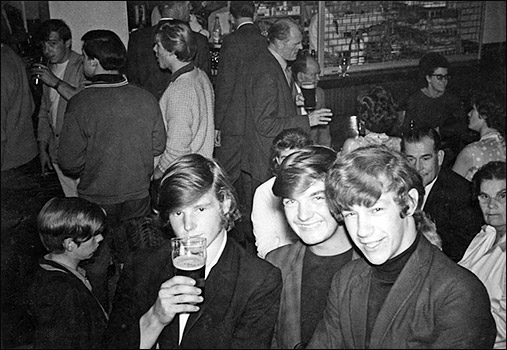 Photo by permission of Ron Carter
A feature of the club were the numerous societies and groups that were formed by members. These included sports teams, gardening societies (press report on 1980's flower show can be read here) and other activities. A number of members were keen punters and trips to race meetings were held regularly, it was after one such trip that a group of keen race goers won a national competition, details of the win were reported in the local press and can be read here.

Views From Above