INTRODUCTION from Peter Willey: "I would like to place on record my thanks and appreciation to the Cricket Club and people of Burton Latimer for their kind support on this my Benefit Year.

I hope the weather will be kind to us on May 3rd and an enjoyable day's cricket will be had by all concerned.

I would also like to wish the Cricket Club every success in this their Centenary Year."

PETER WILLEY 1981

Two Years Too Late

Burton Latimer Cricket Club decided that 1981 would be about the correct year to celebrate their Centenary Year, knowing that cricket had been played in the town for a century. As it turned out the actual celebrations were two years too late!

The first known cricket match was played on the very same ground, the Hall Fields, as is used today, against a Rushden Baptist side on the 17th of June 1879. The Burton team scored 147 runs, which wasn't enough to beat the Rushden side who won by 3 wickets, as was quoted at the time, "This is a Challenge Match in which the gate money shall be halved." The Burton team included the local Vicar, Doctor and gamekeeper.

Further matches were played by a Burton side during that year, and in 1880, at which time the side was skippered by a Major J J Stewart. In 1882 a four-cornered tournament was arranged in which Burton Latimer, Desborough, Rushden and Great Oakley competed for a shield. Rushden won the shield after a close final with Desborough. The final was played at Burton Latimer, who won the toss of a coin to stage the final, in front of a crowd of over a hundred people who paid fourteen shillings and sixpence at the gate.

Formation of local Cricket League

Games against local rivals such as Desborough and Rothwell were continuously played until on October 10th 1895, at the invitation of Mr Frank Hutchen of the "Citizen" local newspaper office, a public meeting was held in the Committee Room, Cross Keys Coffee Tavern, Kettering, to consider the advisability of forming a Cricket League for the town and district.

Considerable discussion took place respecting the proposed League and eventually it was proposed that steps be taken to form a Cricket League. Mr G H Court of Burton Latimer was appointed along with four others to draft a code of rules for the League. Burton were placed in Division One along with Desborough Britons, Finedon Dolben, Rothwell, Kettering Working Mens Club, Brigstock, Little Bowden and Irchester.

During the inaugural season a protest was lodged by Mr W J Gross on behalf of Burton Latimer C C who claimed the point and 10 shillings out of pocket expenses on the grounds of Brigstock C C failing to fulfil their engagement at Burton Latimer on July 18th. Mr F J Steward, on behalf of Brigstock stated that the reason for them failing to turn up was on account of the haymaking - Brigstock being entirely an agricultural village. They offered to play on any date suitable to Burton and would provide the latter with a tea and pay any incidental expenses. The Committee decided that the match should be played on Feast Tuesday, September 1st and ordered Brigstock to make the gate money up to 10 shillings, should it fall short of that amount. Desborough won the first Kettering and District League.

The following season, due to the great interest shown in the town, Burton entered a Second Eleven, who would participate in Division 3. The Second Eleven soon showed their mettle by winning promotion to Division 2 in 1898.

Cricketing Doctor

Burton's First Eleven was at this time captained by Dr A Atkinson, who was and still is as far as can be accounted for, the only medic to have played for the town in League cricket. Dr Atkinson was also elected to play for the League XI to oppose the champions of Division I, again being Desborough. (Dr. A. Atkinson was almost certainly Dr. H.N.C. Atkinson who also played golf competitively.)

Difficulty in Fielding Side

For an unknown reason, no Burton side at all competed in League cricket again until 1903. The only possible reason for this occurrence was the fact that during the early years, after the initial great interest, participation tempered to such an extent that the town was struggling to field a side.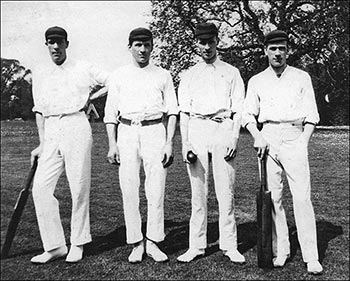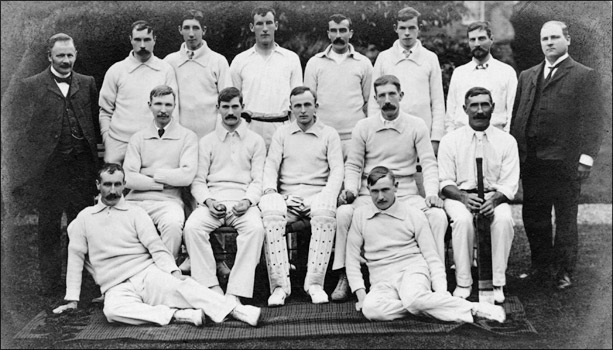 Runners up in Kettering League Div I in 1905
Back Row: Joe Eady, Walter Tailby, Cyril Bates, Charlie Grainger, Sid Eady, Jim Hodson, Henry Whitney, Bert Dunmore
Second Row: Sid Hunt, Wilf Eady, Ted Hyde, Mr T W Harpur, Sam Cleaver, Bernard Saddington, Joe Mason
Front Row: Walter Miller, Jack Craddock
Poaching Players


In 1910 Burton lodged a protest against Kettering Athletic for "poaching players" from their club and offering to pay the players' expenses. Burton's appeal was upheld and the Kettering side were reprimanded and told that no registrations would be accepted from former Burton players.


Northamptonshire League


Also in 1910, a proposition was made for the first time to amalgamate with the Northamptonshire League, and Mr J Newman, of Burton, was one of the proposers to accept the proposition but it was decided to wait for another year. This turned out to be a two-year wait when, after meetings with the Northants League, it was decided not to amalgamate due the the fact that the latter wanted neutral umpires. It was also during this year (1912) that the Kettering Town League was formed, for Junior teams only. An item from 1914 was a sign of the times to come, when Cranford protested against Burton Second Eleven for fielding four first teamers in a match on August 1st. Burton explained that they had had great difficulty raising a team for the Seconds, the first team game having already been cancelled. Cranford were unanaimously awarded the points!


The World War I Years - and after


Mr J Stokes of Burton Latimer proposed that no League Cricket should be played in 1915 due to the war. The proposal was upheld and no cricket was played until 1919, when just one league was formed, with Burton included, and a second eleven formed the following year. In 1923 Burton First Eleven finished bottom of the league with no points from fourteen matches, and the Seconds finished bottom of the second division, but managed four points from fourteen matches! This began the worst period of Burton's playing fortunes as the First team finished bottom of the league for the next four years.


1931


In 1931 a cricket tournament was organised in the town for factories, shops and clubs. The Burton secretary and First Team captain of that time, Mr B J Saddington, commented, "It is the first time such a knockout competition has been run in the town, and we hope to raise a trophy by public subscription."

The reason for the tournament, as much as anything else, was to find potential players as the two teams had lost so many players during the disaster years that it would take two years to reach old standards. Teams entering the competition were Buckby Bros., The Co-operative, Thorneloe & Clarksons, Whitney & Westley A and B, Britannia Club, Conservative Club, Finedon Street Club and The Baptist Chapel, with Mr F G Downing entering a team named the Nondescripts. Buckby Bros. beat Baptist Chapel in the final in front of a good crowd who paid 25 shillings at the gate.

The year 1931 was a fluctuating year with some excellent results and some indifferent ones. Burton played Finedon Dolben in the First Division on one occasion and were all out for nineteen runs, batted again, and were all out for eleven runs! Then at the end of the season Burton played Northants Club and Ground, the Burton opening pair, A Meads and W C Bates, were batting well when a drive by Bates into the long grass did not reach the boundary, the ball was lost, six players feverishly searched for it and the batsmen calmly helped themselves to nine runs until it was eventually found and returned to the wicketkeeper.

A new cricket pavilion was opened in the 1930s (see photographs below).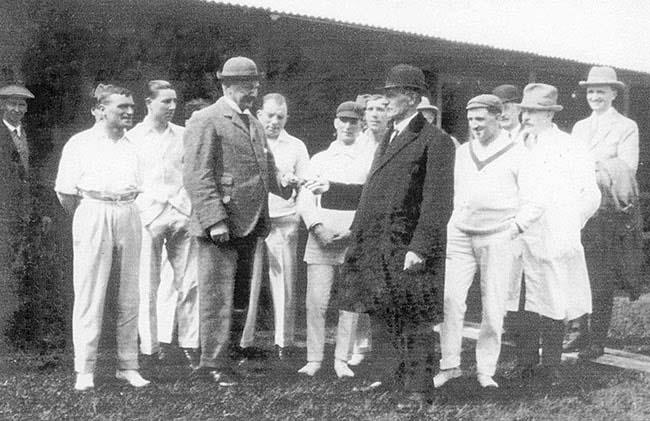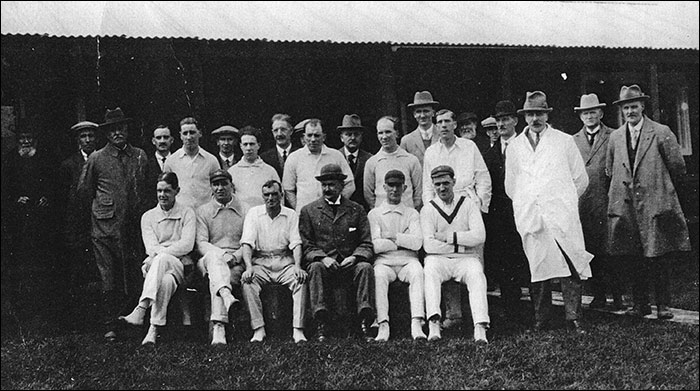 B


The following two photographs show teams from 1935 and 1936:


It was 1939 before Burton gained its first honour when Division One Section B was won, claiming the Dolben Cup.


The Burton Latimer Town Cricket Club Eleven in the late 1930s-early 1940s pictured below: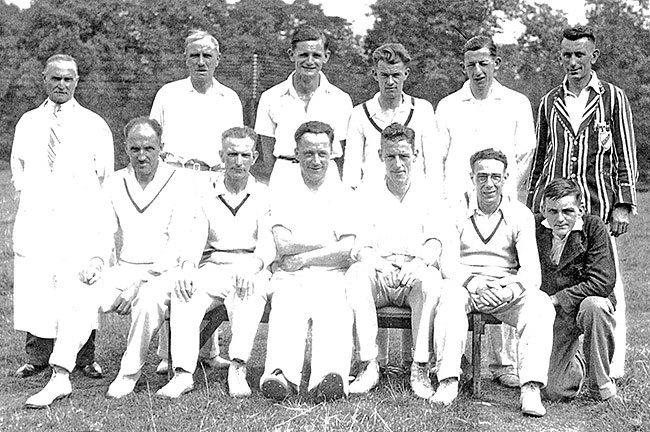 Back Row: Two unknown, F Wood, Ron Palmer, Arthur Buckby, R Scrutton.
Front Row: Bernie Saddington, Sam Cleaver, Fred Scott, Herbert Buckby, Cyril Bates, Roger Congreve.
World War II


Due to the war no cricket was played in the town until 1947 whereupon two teams were originally entered for the league, when disaster struck. Trees were being removed from the ground after a strong gale. During the course of moving the trees by tractor deep ruts were made on the actual playing surface making it impossible for the club to prepare wickets and both teams were "regrettably" withdrawn. One team was re-admitted the following year but only in Division Two where runners up spot was achieved behind Geddington.


The 1950-1953 Years


It took until 1950 to get back into Division One with Seconds in Division Two North. The Firsts won Division One Section C and the skipper received the Cup at the League Dinner and Dance. It was during this year that the County League came into existence with local rivals, Irthlingborough, Wellingborough, Finedon Dolben, Rushden and Rothwell joining for competition starting in 1951. This was the year that Alan Northern represented the League XI in their annual match against Northants Club and Ground and included in the Northants side was Fred Jakeman who at the time was third in the National batting averages behind legends, Peter May and Denis Compton and in front of Len Hutton. He scored nine runs and the League XI won the match.

The following season saw the Second Eleven gain their first award by winning Division 2 North. Skipper, Bill Shelford, received the trophy (the Sheffield Cup) from Norman Oldfield of Northants, at the club's Annual Dinner and Dance. This was followed up by the First Eleven winning Division 1B in1953. Burton amongst others were being put under mounting pressure to join the County League at this time, as the County League were extending their divisions. Great protest came from the Kettering and District League but it did not stop the exodus continuing.




The Year 1959 and Into the Sixties



This year began a very successful period for Burton Latimer C C, as the First Eleven won Division 1 that season and finished runners up for the next two years. The First Eleven had a very formidable team during the Sixties with strong batting, bowling and excellent fielding, and this at a time when the League as a whole was probably at its strongest.

It took to 1964 to win the now named Premier Division, under the guidance of the shrewd Bill Hickman, the present Chairman of the Club, who was reappointed Captain in 1963. The hat-trick was achieved by Championship wins in 1965 and 1966. At this juncture, Burton again joined the band of County League admirers, having previously applied in 1959, and so began the long haul of applications and visits from the League's officals that was to take nine years before being successful.



Ground Improvements and Pavilion Fire in 1970


Fortunes wavered a little until in 1970 the runners-up spot was achieved after a tremendous battle with Wellingborough West Indies. It was after this time that extremely fervent measures were taken to get the ground up to the appropriate standards for the County League. The ground was levelled and lengthened and the actual square was changed in direction, so allowing for many more wickets being available. Burton were dealt a blow which turned out to be a blessing in disguise, when an act of arson destroyed the pavilion. The old pavilion had been used for many years and was due for redevelopment anyway, so the arsonist quickened the inevitable. This did not deter the Second Eleven who won Division 1, completing their first honour for twenty-one years.


New Pavilion


During 1975 Burton Latimer Cricket Club were accepted as members of the County League, to play in Division 4 the next season. The new pavilion was completed and built by Burton's own players and members, and was a tribute to their hard work. It was offficially opened on Friday evening 6th June 1975 by David Steele of Northants, and was preceded by a match versus Northants in aid of David Steele's benefit season. Invitations were sent to as many "Old Burtonians" as possible to attend the celebrations.

First County League Championship Win

The start of Burton's County League life commenced with long-serving skipper Bill Hickman relinquishing his post and Malcolm Craddock, who had been Vice-Captain for a number of years, taking the reins. Burton stormed through their first season pipping Overstone 2nds to record a first County League Championship win. The next season saw the Second Elevens' election to the Fourth Division of the County League.

Another fine season followed as again the First team conquered all before them to win Division 3, with Old
Wellingburians runners up. A useful first season for the 2nds in their first year too.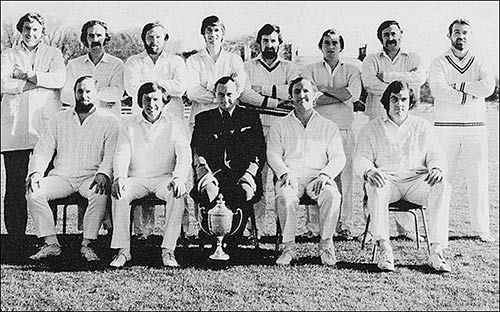 The 1978 sseason commenced with Burton in Division Two and with a few new faces in the side, which of course always follows with success. However, the hat-trick was snatched from Burton's grasp by Rothwell, who eventually won by six points, with Burton claiming runners up spot.

Further Success

So Malc Craddock led Burton's charge into their fourth season of County League Cricket, (Click here to read of Malc's 80th birthday) with present Club Secretary and long-serving player, Mick Lack, regrettably relinquishing his spinning fingers for the First XI to skipper the Seconds. The season started with a storm, as Burton went on winning game after game, until they claimed Division 2 by thirteen points, losing only one game on the way. Burton Seconds weren't to be overshadowed as they finished runners up in Division 4 behind Irchester.

Into the Eighties

Four season and three Championship wins and runners up, could it be continued into the Eighties? Not quite, as a season devastated by the weather saw Burton finishing in fourth spot. However, there was always 1981 - hoping for a fourth Championship win in the Centenary Year.

HONOURS LIST

FIRST ELEVEN



1939

Winners Division IB

Kettering & District League

1950

Winners Division IC

Kettering & District League

1953

Winners Division IB

Kettering & District League

1959

Winners Division I

Kettering & District League

1960

Runners up Division I

Kettering & District League

1961

Runners up Division I

Kettering & District League

1964


Winners Premier Division

Kettering & District League


1965

Winners Premier Division

Kettering & District League

1966

Winners Premier Division

Kettering & District League

1970

Winners Premier Division

Kettering & District League

1976

Winners Division 4

Northants County League

1977

Winners Division 3

Northants County League

1978

Runners up Division 2

Northants County League

1979

Winners Division 2

Northants County League

1952

Winners Division 2 North

Kettering & District League

1973

Winners Division 1

Northants County League

1979

Runners up Division 4

Northants County League


ADDENDUM from The Citizen 1 September 1896:

The "Burton Latimer Cricket week" opened disastrously for the club, who on Saturday lost badly to Desborough by 94 to 53.
Yesterday the annual match with Mr Vernon's XI was brought off, and, after an exciting game,
ended in favour of the club by three runs; although I hear that, had it not been for a
misunderstanding on the part of one of the scratch team, victory would have rested with Mr
Vernon's XI.


BURTON LATIMER v S.C.F. VERNON'S XI
This match was played at Burton Latimer on Monday, and after a closely-contested match
ended in favour of the home club by three runs.


J. Mason, run out..........................0

S. King, b Whitney...............................9

A. Mason, b Judd.......................... 6

S. Wetenhall, b Whitney …...................10

S. Whitney, by Clapham ….............3

R .Clapham, b Whitney …......................0


J. Westley, b Judd …......................5

T. Addis, b Whitney …..........................10

S. Maycock, b Ayres ….................16

J. Judd, b Whitney................................4

G. Linnell, b Addis..........................3

T. Gilliat, not out..................................4


W. J. Gross, lbw, b Clapham..........0

S.C.F. Vernon, by Whitney........ .........11


H. Dicks, b Clapham......................6

H. Ayres, run out ….................... ..........1

W. Perkins, not out........................0

W. Beckbessinger, b Newman …...... .....0


W. Newman, b Clapham ….............0

G. Fourt, b Newman …............... ..........0


Extras ….....................................19

Extras …....................................... .......5

Total...........................................65

Total..................................................62