Preparations Begin
Surveys of potential homes for 'refugees' from areas in danger of being bombed started as early as January 1939 when local authorites were asked to make a list of potential accomodation but more detailed arrangements for the evacuation of expectant mothers and schoolchildren and their teachers commenced mid-1939 when it became obvious that war was highly likely. One press report in April stated that the medical officer for Willesden, North London, had already visited the area to liaise with local councils. At a meeting of the County Council in July, it was stated that the number of evacuees to be billeted in the county was based on the educational facilities and public health services but also railway transport arrangements and Burton Latimer was scheduled to receive 660, presumably to de-train at Burton Latimer railway station, but in the event, they came via Wellingborough station.

The First Arrivals
This forward planning meant that on September 1st, four days before war was declared, evacuation was able to begin, with just over 400 coming from north-west London to Burton Latimer by bus from Wellingborough railway station. They came as school groups, and the 1939 Register taken on September 29, shows at least eight adult teachers staying with Burton Latimer families, some hosts being teachers themselves. The vast of majority children found good homes straight away and stayed there but a small minority were more difficult to place in permanent billets due to, as a Burton Latimer Urban District Council report stated: "vermin infestation, bed-wetting and behaviour abnormality." In due course, the County Council requisitioned three large properties to house some of the problem children evacuees with so-called behaviour abnormalities, one of these being in Burton Latimer at 'Glenroy' in Finedon Road.


| | |
| --- | --- |
| | |
| | |
Schooling
Inevitably, such an influx of school-age children had an effect on the schooling of the local children. To add to the difficulties, the Council School in the High Street, the towns largest, had been requisitioned by the County Council as a First Aid and Gas Cleansing post and only its Infants School building could be used. So the hours were staggered - Council School pupils (that included myself) were taught at the Church School, Church Street, during the morning and the Church School pupils were taught in the afternoons, in alternate weeks. Burton Latimer Council tried to persuade the County Council Education Committee to allow it to use the Methodist Sunday School but sanitary considerations prevented this. This arrangement continued for several months but by mid-1940 the First Aid Post had been moved to the Mission Room and normal schooling resumed, albeit with larger classes.

1940 - Arrivals and Departures
Besides the children that came with their school, like Brian Lavin, others came independently with families to stay with friends, like Bill Joyce or, like Neville Sumpter and Frances Muir, to live with or be near relatives. However, several of these families and other children returned home, due no doubt to the fact that the expected heavy bombing of London had not taken place and of the 409 that arrived in September, only 241 remained at the end of the year. When the real blitz of London started in the autumn of 1940 there was another influx of evacuees and at the end of that year and the BLUDC reported that there were now 102 mothers with 201 children, 195 unaccompanied schoolchildren and 95 teachers, helpers and other adults, a total of 591.

By the end of 1942 even more evacuees had returned home and BLUDC reported that there were then 18 mothers with 42 children, 106 unaccompanied children and 34 teachers, helpers and others, a total of 200. Maybe some came back again because a 1944 newspaper reported that it had been stated at a council meeting that there were 180 evacuee children and 600 Burton Latimer children in the town.

A separate evacuation was that of about 24 girls from a Home at Leytonstone run by the Community of St John Baptist, also known as the Sisters of Mercy, an Anglican religious order, who were billeted at Burton Latimer Hall and who attended the Church School. This group left midway through the war to be replaced by Land Army girls.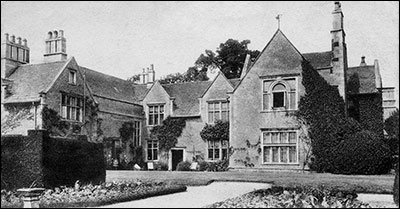 Sadly, some of the first evacuated children had been orphaned and some families bombed out with no homes to return to. Some of the orphans were eventually adopted by their hosts and several families stayed here and made Burton Latimer their home.

FOOTNOTE: I moved on from the Council School in about 1943 so had about three years being taught by a mix of local and London teachers. I suppose I was prejudiced, but I seem to remember not enjoying being taught by the 'Londoners' most of whom seemed to favour their own pupils – or was that because I was thick? At least one exception was a Mr. Williams who I remember as a good-humoured man who got along with everyone. Mr. G.H. Ayling, one of the 'Londoners', became headmaster in late 1941 replacing Mr. J.E. Oxley with whom, incidentally, he was billeted when he was first evacuated.
The Teachers
These are names of teachers found on the Find My Past 1939 Register that appear to have come with their schools. I don't know yet whether they all taught in Burton Latimer.
George H Ayling, born 25 Oct 1888, Male, Elementary School Master, Married
Ellen F Abbinett, 25 Jul 1913, Female, London County Council School Teacher, Single
John G Capon, 29 Dec 1879, Male, London County Council School Teacher, Married
Mabel P Bell, 18 Oct 1881, Female, London County Council School Teacher, Single
Walter G Carter, 25 Oct 1880, Male, London County Council School Teacher, Married
Florence Colledge, 07 Sep 1882, Female, London County Council Assistant Teacher, Single
Herbert O Williams, 20 May 1885, Male, Elementary Evacuee School Master, Married
Winifred E Wilkinson, 03 Jan 1896, Female, Secondary School Assistant Mistress, Single



If you were evacuated to Burton Latimer or are the decendant of an evacuee and have an amendment or a story to tell please contact us at project@burtonlatimer.info