During the Second World War, the Government undertook a farm survey that it hoped would give a clear picture of the state of Britain's farms and their ability to provide the country with the food that was becoming scarce due to U-boat activity in the North Atlantic.
Farmers, smallholders and owners of large fields were sent forms by the Ministry of Agriculture and Fisheries through County War Agricultural Committees from 1941 to 1943. From the way in which they were filled in, it would appear that some were visited by an official who filled in the forms and some were completed by the occupier.
With the help of a Heritage Lottery grant, Burton Latimer Heritage Society has purchased the returns from The National Archives that relate to farms and smallholdings in the Parish of Burton Latimer and these have been summarised below. Some refer to farms that have land in both Burton Latimer and other parishes and it will noted that all the large farms are occupied by tenant farmers, only some of the smaller holdings being owned by the occupier. The principal landlords were Capt. J.L. Harpur, who was living at Barton Seagrave while his home at Burton Latimer Hall was occupied by the Land Army, Burton Latimer Glebe (to help pay the Rector's stipend) and the ironstone company Richard Thomas Ltd. of Irthlingborough. The efficiency of several farms was affected by the requisitioning by the War Office of 1000 acres at the Wold for use as an army training area.
Some surveys are less informative than others. Whether this is due to some of the pages being lost or not returned is difficult to establish after over sixty years. Because there were over 180 questions on the full set of forms, some of the questions needing more than one answer, we have summarised some of the headings in the tables that can be seen when you click on the farm name. Some information such as water and electricity supply, farm roads, use of fertilizers and infestation by vermin or weeds has been left out altogether but can be supplied to anyone with an interest in such things!
To read a summary of the survey results, click on the Ministry Reference Number beside the name below or on the reference number on one of the two maps shown below, where more detailed information can be seen.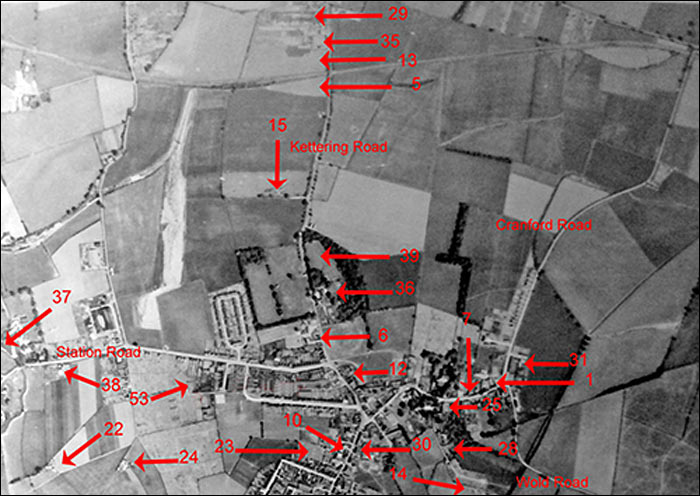 | | |
| --- | --- |
| 71/1 | Frank & William Attfield, Windmill Farm, Church Street |
| 71/5 | Butlin & Turner, Kettering Road Nurseries |
| 71/6 | James Bennie, Home Farm, Kettering Road |
| 71/7 | Mr. H. Craddock, Sunnyside Farm, Church Street |
| 71/10 | A.S Denton, Home Farm, High Street, Burton Latimer & Five Willow Farm, Cranford |
| 71/12 | S.J. Dunmore. Redlands Farm. [Kettering Road] |
| 71/13 | J.E. Davies. Holmfield, Burton Road, Barton Seagrave |
| 71/14 | S.J. Farrow. [Church Lane, south-west of the cemetery] |
| 71/15 | W.H. Gilliat, North Close. [Kettering Road] |
| 71/16 | H. Garton. Dairy Farm, Cranford |
| 71/22 | Messrs Loake and Sons. Bridle Lane Farm [Between Bridle Lane and the railway line] |
| 71/23 | Mrs. A.M. Preston, The Poplars, High Street, Burton Latimer |
| 71/24 | John Meadows, Hogs Hole Farm |
| 71/25 | W. Moore, 16 Church Street |
| 71/28 | G.F. Smith, Braybrook Close. [East of Church Lane approaching the cemetery] |
| 71/29 | J.H. Smith, The Bungalow, Kettering Road, Barton Seagrave |
| 71/30 | Vernon Guy Clemoes. Hilly Farm, High Street, Burton Latimer |
| 71/31 | William Talbutt, 32 Cranford Road [Farm buildings: Bird Street] |
| 71/35 | T.A. Walsh, Hillside, Kettering Road, Barton Seagrave |
| 71/36 | Capt. J.L. Harpur, Rookery Field [Kettering Road] |
| 71/37 | Messrs. Weetabix Ltd., Weetabix Mills, Station Road |
| 71/38 | J.G. Plowright, Bungalow Farm, Station Road |
| 71/39 | W.M. Damms, The Hall Farm, Kettering Road |
| 71/53 | H. Cole, The Nurseries, Victoria Street |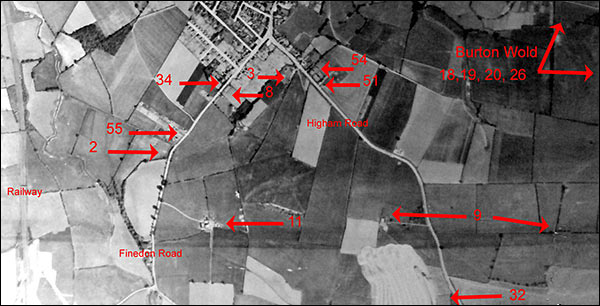 | | |
| --- | --- |
| 71/2 | Burton Latimer Co-operative Society Field, Finedon Road |
| 71/3 | Burton Latimer Urban District Council Sewage Farm, Higham Road. |
| 71/8 | Mr. W.J. Church, Finedon Road |
| 71/9 | Mr. H. Tompkins, Buccleuch Farm & Glendon Lodge, Higham Road |
| 71/11 | J.T. Dixon, Barnfield Farm, Finedon Road |
| 71/17 | T.E. Mills, Finedon Station Road |
| 71/18 | |
| 71/19 | Harry Ringrose Gent. Top Lodge, [Burton Wold] Thrapston Road, Finedon |
| 71/20 | P.E. Herbert, Lodge Farm, [Burton Wold] Finedon |
| 71/26 | H.O. Perkins, Burton Wold Field 40 Acre Allotment |
| 71/32 | C.Tilley, Black Lodge, Finedon Road [A6] |
| 71/34 | Jos. Westley, Beechwood, [Finedon Road] Burton Latimer |
| 71/50 | H. Ward, Finedon Station Road |
| 71/51 | F.E. Underwood, The Bungalow, Higham Road |
| 71/54 | W. Batty, Brooklyn, 163 High Street [Land at Higham Road] |
| 71/55 | W. Mills.Home address: 119 Great Park Street, Wellingborough |