Registers kept by the Parish Church of St Mary the Virgin show that various Miller families have lived at Burton Latimer for over two and a half centuries. Here, we look at five generations of one such family.
Joseph & Mary
Joseph Miller (1776–1833), in adult life a shoemaker, is believed to have been the son of Burton Latimer farmer William Miller and his wife Martha. On 30 Nov 1797 at St Mary's Church, Joseph married Mary Robinson (1776–1818), daughter of John Robinson and the latter's wife Elizabeth.
Their religious observance "nonconformist", in accordance with Lord Hardwicke's 1753 Marriage Act, in force between 1754 and 1837 (requiring all couples with the exception of Jews and Quakers to marry by Anglican rites/clergy), Joseph & Mary would have had no choice but to marry at St Mary's, or another Church of England parish church, but their nonconformity is reflected in the register kept by the Independent/Congregational Old Meeting at Wollaston (today's Wollaston Museum), which recorded the following baptisms of their children:
| | | |
| --- | --- | --- |
| | Baptised | Date of Birth |
| John Miller | 21 Jan 1807 | 8 Sep 1802 |
| Francis Miller | 21 Jan 1807 | 20 Dec 1803 |
| Eliza Miller | 21 Jan 1807 | 7 Apr 1806 |
| Benjamin Miller | 22 Mar 1810 | 2 Jun 1808 |
| George Miller | 22 Mar 1810 | 25 Jun 1809 |
| Samuel Miller | 28 Jan 1812 | 31 Aug 1810 |
| Edy Miller | 16 Feb 1813 | 26 Dec 1812 |
Leaning more towards the Baptist Church, the reason that Joseph & Mary looked to Congregationalists (with whom Baptists had an affinity) could well have been due to a desire to have their offspring baptised in infancy rather than waiting until reaching adulthood. There may have been disillusionment, too, with the unhappy state of Burton Latimer Baptist Church at that time: Click here for more details ["Baptist Ministers Through The Years"]. Why Joseph & Mary chose the Old Meeting at Wollaston in preference to the much closer Kettering Great Meeting (Toller United Reformed Church) was quite possibly due to the popularity of Wollaston Congregational pastor, the Rev. David Hennell, and his willingness periodically to visit, among other places, Burton Latimer to "register" baptisms.
On 10 Feb 1822, Joseph, having lost Mary a few years before, married for a second time, to widow Elizabeth Aldwinckle (née Yeomans, 1795–1843), this again at the parish church. A son, Joseph Miller Jnr, born on 26 Sep 1822, was on 25 Apr 1823 baptized at Kettering Great Meeting, and the Burton Latimer Baptist register surrendered in 1837 recorded the birth on 12 Oct 1824 of Martha Yeomans Miller, daughter of shoemaker Joseph Miller and his wife Elizabeth (daughter of Edward Yeomans of Kettering). lt is noteworthy that a number of George & Elizabeth Miller's children (below) were given the second forename "Yeomans", suggesting that the children in question were so named after Elizabeth.
[Revised with input from Adam Cann 2017]
George & Elizabeth
We now focus on the fourth of Joseph & Mary's sons shown above. George Miller (1809–81), a shoemaker, is shown in local population census returns as Burton Latimer-born and having lived in the village (as it then was) all his life, latterly at Nichols Yard, High Street. His grave, shared with his eldest daughter Mary Ann Miller (1835–1911), can be found in St Mary's churchyard. In 1835, as required by Hardwicke's Marriage Act, George married Elizabeth Aldwinckle (1815–72) at St Mary's, but it is known from the birth records of their daughters, Mary Ann and Charlotte, and confirmed separately by a descendant, that George and Elizabeth were in fact members of the Burton Latimer Baptist congregation at that stage. The Baptist register helpfully noted the following information when recording the birth in 1837 of the second daughter: "Charlotte Miller, daughter of George Miller, shoemaker, and Elizabeth his wife, daughter of Jn Allwinckle of Drayton, Leicestershire…". Elizabeth, the daughter of John and Elizabeth Aldwinckle, is shown as having been baptized by Wollaston Old Meeting on 22.10.1816. She and George Miller had twelve known children, namely:
| | | |
| --- | --- | --- |
| | Born | Died |
| Mary Ann Miller (above) | 7 May 1835 | 26 Nov 1911 |
| Charlotte Miller (above) | 7 Feb 1837 | |
| Thomas Miller | c.1839 | 16 Oct 1872 |
| Edward Yeomans Miller | 1843 | 1912 |
| Samuel Miller | c.1845 | |
| Elizabeth Miller | c.1847 | |
| George Miller | c.1849 | 1934 |
| Charles Miller | 20 Feb 1851 | 11 May 1939 |
| James Yeomans Miller | 1853 | 2 Sep 1872 |
| Ellen Miller | c.1855 | |
| John W. Miller | c.1857 | |
| Henry Miller | c1860 | |
In 1872, Elizabeth and her two sons, Thomas and James, died within weeks of each other, casualities of the major outbreak of typhoid fever in Burton Latimer that year. Click here to read about the major sewage problems that year. James died on 2 September, followed by Elizabeth on 2 October and then Thomas on 16 October. George Miller registered the death of James, but the person who registered the deaths of Elizabeth and Thomas was laundress Mary Jones, suggesting neither George nor any other responsible adult in his household was able to perform this task - incapacitated by typhoid fever? Such must have been the trauma surrounding those events that whoever commissioned the headstone for Thomas recorded the wrong month of his death - September instead of October.
Charles & Susan
Charles Miller (1851–1939), George & Elizabeth's fifth son, was born at Burton Latimer. His future wife, Susan Brains (1853–1932), was the daughter of agricultural labourer Thomas Brains and his wife Abigail (née Perkins) of Grafton Underwood. Charles and Susan were married at Grafton Underwood Parish Church in 1871. An ironstone worker, at one point described as an engine driver, initially living at Grafton Underwood, Charles and his family spent most of their lives at Burton Latimer, but in the 1860s and 1870s there was increased demand for labour in the East Cleveland ironstone mining industry (Yorkshire North Riding), attracting workers from Lincolnshire, Norfolk and even as far away as Devon and Cornwall. Charles was one of those who sought pastures new, moving to Warrenby, Redcar, where we know (from census returns) that he and the family were living in the mid-1870s. However, by the time the third son also to be given the name "James" (initially called "Jesse" to avoid confusion, later "Jim") was born in 1879, Charles & Susan had returned to their Northamptonshire roots.
Charles and Susan Miller are pictured here with their eldest son Frederick.
The boy in the goat cart is probably Tom Miller

Charles Miller's family c 1895. (Girls' married names in brackets)

L-R: Back row: Ada (Hawkes) 1881-1967; James Thomas [Tom] 1876-1960; James [Jesse/Jim] 1879-1966.

Front row: Florence (Bond) 1885-1962; Frederick 1871-1961; Rhoda (Desborough) 1888-1966; wife Susan (nee Brains) 1853-1932; Edward Archibald 1892-1962; Charles Miller Snr. 1851-1939; Samuel 1886-1980; Louisa (Loakes) 1875-1926 and Charles Miller Jnr. 1883-1965.


Additional information: Adam Cann
In May 1884, Mary Ann Miller (1835–1911), Charles's older sister, presented him and Susan with a bible [subsequently passed down to their eldest daughter, Louisa (Loak/es), and her descendants] in which - as was the custom at the - time the names and dates of birth of Charles, Susan and seven of their children were recorded, details of the remaining four being added later by somebody else:
| | | |
| --- | --- | --- |
| Charles Miller | | Borne 1851 |
| Susan Miller | | Borne January 31. 1853 |
| Fread Miller | | Borne June 2. 1871 |
| Thomas James Miller | | Borne November 20. 1873 |
| Louisa Miller | | Borne Mach 20. 1875 |
| [James] Thomas Miller | | Borne october 30. 1876 |
| James Miller | | Borne May 14. 1879 |
| Ada Miller | | Borne october 30. 1881 |
| Charles Miller | | Borne September 24. 1883 |
| Florence Miller | | Born May 20. 1885 |
| Samuel Miller | | Born december 13. 1886 |
| Rhoda Miller | | Born 20 Augst 1889 |
| Edward Archable Miller | | Born July 27. 1892 |
[Note: Mary Ann Miller (1835–1911) - the first Miller family record-keeper - seems to have remained single all her life. She may have been the person of the same name who, upon personal profession of faith, was baptized by the Baptist Church in Northampton in 1855. She shares a grave in St Mary's churchyard with her father, George Miller (1809–81)]
From census returns and electoral rolls, the Burton Latimer address where Charles & Susan could be found, certainly between 1881 and 1918, was Nichols Yard, High Street. In 1934, Charles, at that stage a widower, was living at 87 High Street.
Tom & Nancy
James Thomas Miller (1876–1960, "Tom" Miller senior) was born at Warrenby, Redcar, North Yorkshire during the years that his father, Charles Miller, worked in the East Cleveland ironstone mining industry (see above). He married Annie Manning James (1876–1963, later better known as "Nancy" Miller) in 1897 at the Kettering Parish Church, when both were living at 27 Bayes Street, Kettering, Tom employed as a shoe riveter and Nancy as a machinist in the clothing industry. Nancy, for her part, was born in Bridewell Lane, Kettering, the daughter of Edward James, shoe riveter, and his wife Mary (née Elson), a domestic servant, subsequently laundress, who had moved to Kettering from Earls Barton with their two older children c.1875.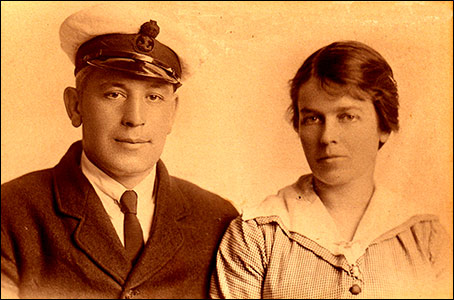 By 1901, Tom & Nancy were living in Duke Street, Burton Latimer, with their two eldest daughters (altogether they were to have six daughters and a son - see below). Other addresses at which they lived included 53 Rosebery Street, 166 (now 168) High Street and 41 Queensway. Tom Miller was boxer of some repute in his younger days. Click here for Sporting Life references to some of his fights.
In August 1917, Tom enlisted in the Royal Navy for "the duration of hostilities" - the First World War. After completing basic training at Crystal Palace Naval Depot (London) he performed shore-based duties as an Aircraftsman in the Royal Naval Air Service at RNAS Wormwood Scrubs (London) and RNAS Mullion (Helston, Cornwall). He was stationed at Mullion when, as a Private, he was absorbed into the newly formed Royal Air Force on 1 April 1918. Posted by the RAF to the former RNAS Laira (Plympton, Devon) in June that year, by February 1919 Tom had been demobilised, returning to civilian life.
A shoe riveter at Burton Latimer in 1901 and in 1911 a shoe laster,Tom later went on to develop various business interests in the town, such as those featured in "Retail & Local Businesses: History of Shops: Section B: 58 High Street - (see Shop 39) and 52/54 High Street (Shop 36)." He never entirely abandoned the skills he had learned in the footwear industry, however, operating a small workshop of his own.
The Next Generation
Tom & Nancy Miller (above) brought six daughters and a son into the world as follows [Burton Latimer residential addresses in 1934 and 1957 can be found in "Genealogy Data for Burton Latimer: Registers of Electors (Electoral Roll)]:
Winifred Ellen Miller, (1897–1977): initially employed as a closer in the footwear industry, Winifred and her husband, Cecil Buckby, managed the "Waggon & Horses".
Gladys Ada Miller (1899–1985): a closer in the footwear industry, Gladys married Herbert Alfred ("Bert") Turner.
Margery Florence Miller (1901 - 72): a closer in the footwear industry, "Madge" married Charles Arthur ("Art") Hearn of Finedon, where they lived as a married couple, latterly at 22 Mulso Road.
Kathleen Annie Elizabeth Miller (1904–95): also a closer in the footwear industry, Kathleen married George Albert Cousins.
Ena Victoria Maud Miller (1906–76): a machinist in the clothing industry, Maud married John ("Jack") O'Dell.
Rhoda Ethel Miller (1908–2003): a machinist in the clothing industry, Rhoda married Francis Bernard ("Frank") Toop. Rhoda helped her sister-in-law, Phyllis Miller, run the fish & chip shop at 52/54 High Street [Shop 36: Retail & Local Businesses: History of Shops: Section B] during and immediately after the Second World War.
Thomas Eric Corbett Miller (1911–84)[also appears in some records as Eric Thomas Corbett Miller]: "Tom" Miller junior's business activities are described in "Retail & Local Businesses: History of Shops: Section B: Shop 36", which also displays a photograph of Tom and his wife, Phyllis Sarah (née Wilkins), taken at the fish & chip shop. Click here to see the entry He was at other times a lorry driver and a demolition worker.