32 High Street (Shop 26)

The thatched house was owned by the Barlow family from the 1880s and was a private residence until from the beginning of the 1920s, when it was occupied by

Cyril Swann

who was a gents' hairdresser and tobacconist who had moved from No: 5 High Street. He converted his front room to a shop and traded from there until about 1950. The next occupier during the 1950s and 1960s was Mrs. S.L. Mutton; she traded as

"The Cottage Wool Shop"

. There was also a furniture repair business in the yard at the back operated by her husband who also had a workshop in Church Street.

It is believed that their's was the last business to trade from No: 32 and it returned to the status of a private residence and remains so in 2007.

Pictured left can be seen Cyril Swann's sign over his front door opposite the War Memorial.

This shop was, from 1877, Charles
Barlow's
grocery shop. From about 1920, Charles' second son Alfred took over the business until 1954 when the business closed. It then became a branch of
Burtons
(Joseph Burton, Nottingham, part of the Fine Fare Group)
.
The next occupant of this shop (c.1964 – 71) was a Northampton based wine and grocery business. James Brothers Ltd., where Jonathan Walker was the manager 1966-69.
It was then empty for a period until becoming another grocery business named the Village Stores. At the end of the 1980s it was taken over by the Co-operative Society on the closure of their main central Co-op stores. They opened on the 2nd March 1989 selling all non-food products on a smaller scale than when they were in their original store but traded for less than two years, closing on 5th January 1991. It was empty for a short period until purchased by Gaynor Hurlock-Hearn who opened in November 1991. The name of the business was Jollytots, selling all products connected with babies and small children. However, the business ceased trading in late 2010, and in April 2011 the premises became a pre-school playgroup.
This shop was Charles Barlow's drapery and milliners shop. From the 1880s it was part of the grocery shop [number 34], its access was up a step and through an opening in the wall to the left of the grocery shop and there was no door to the street, it also had an upper floor. From the 1950s an outside door was placed in the side wall inside the opening to the yard at the rear and eventually the opening to number 34 was closed. This was now a separate shop from number 34. It remained Barlow's drapery and milliners shop, selling ladies and children's clothes and wool, run by Mrs. Edith E Barlow, until the early 1960s, when it closed.
From 1969 until about 1972 there was a change of trade when it became a pet supplies shop owned by Arthur and Margaret Heels. In 1973 it became Amos Horsburgh Estate Agents. They may have been agents for the Anglia Building Society. The building society took over the shop later in the 1970s, exact year unknown, and refitted the shop. By about 1990 they had moved to 98 High Street. The next owner of the shop was Lawrence Stapleton, a licenced conveyencer, whose business was arranging house purchases. He retired at the end of 1999 and sold the shop to Su and Audrey Pinckney who opened in November 1999 trading as With Complements, selling gifts, cards and complimentary therapies, and remains so in 2018.
To the left of number 34 is an opening between this and the next property. Somewhere at the side or rear of these buildings was a bakery. This was owned from about 1866 to about 1909 by the Cooper family who also lived there.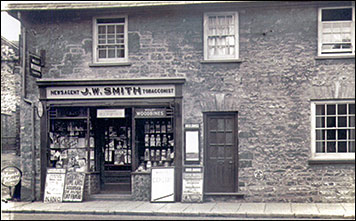 In about 1936 Jack Smith moved to this property which was originally a house owned by the Barlow family. Jack asked Alfred Barlow if he could buy it but was refused and told he could rent it. Jack told Alfred he wanted to convert it to a shop, this was agreed but he would have to pay for the work. The conversion to a shop was carried out and Jack's son John [also called Jack] joined him in the business, popularly known as Smith's Paper Shop . As well as newspapers, they sold tobacco and smoking goods, stationery, greetings cards and confectionery. In 1939, Jack junior went into the army, his father and his mother Nell continued to run the shop during World War II. Jack was married to June Copson in 1940 and in 1946 they also went to live there. The property was later purchased from the Barlows and the Smith family ran it until 1973.
In 1974 it was sold to Eddie Bird who also purchased their other shop at 117 High Street and traded as Burton Newsagents. By the late 1980s the Gill family was trading there, followed by the Patels in the early 1990s, the Desai family in the late 1990s and from 2001 Devesh Patel, who is there in 2007, still trading as Burton Newsagents with the same goods and services.
This shop was opened early in the 1920s by Henry Barlow, a baker and confectioner in Kettering who was Charles Barlow's' brother. It was managed by his son. It was known as Barlow's Cake Shop selling bread and cakes. From the 1990s it has been a fast food takeaway currently (2007) trading as Sasheen Tandori.
| | |
| --- | --- |
| | |
| | |
This shop was the second of two which were owned by the James family. David James' first shop was incorporated into his home, now known as 'Rosebank', which was next door to the shop that replaced it. There is a photograph of 'Rosebank', taken before 1872, which shows the shop window to the right of the front door of the house with a sign above it showing "DRAPER JAMES GROCER". The 1871, 1881 and 1891 censuses show that a female shop assistant was living in 'Rosebank' with the James family. The much larger shop, with living accommodation behind and above, was built, probably just before 1900 when the trade directory entries changed from David to Ernest James, so Ernest must have taken over from his father and continued the business. The building became known as 'Pagoda House', the shop part being divided in two with the doors in the centre. For most of its existence it has had one owner and run as one business, having one side as a grocery and the other a drapery.
From about 1910, the shops were run by the Haynes family trading as Haynes Brothers and continuing the same type of business. One of the brothers had the nickname 'Daddy' Haynes; he owned a Sun motorcycle with a large basket attached to the rear of it which he used to make deliveries. Vera Turner who was a member of the Haynes family had a ladies hairdressing business on the first floor in the 1930s/early 40s. In 1938 her father Hector died and in that year the last known entry in the trade directories appeared as Haynes grocery with the address given as 33A High Street. This would have been the shop on the right because it is known that the shop on the left number 33 was occupied by Stan Elderkin a Radio shop who had moved from number 1 Kettering Road. Fred Toseland who had lived in the town all his life remembered buying an Ever Ready radio from him in 1938 at this shop.
A gala programme in 1939 and a directory in 1940 names a Frank Clay as a wireless engineer at 34 High Street and as it is known that Stan Elderkin joined the armed forces during WWII [1939-1945] he would have left the shop by 1939. Vera Turner had moved her hairdressing business to 186 High Street by 1946.
During WWII, army units were stationed in the town and for a period the cellars of this shop were used as cells to imprison defaulters. The shops were closed during the war and possibly for some time afterwards, although it is possible the military retained the shops after the war and used them as a recruitment office. The next known owner was Peter Toseland who was a painter and decorator who had previously run his business from 11 Station Road and also had a shop at 12 Oxford Street Wellingborough. He opened this shop as the Radiant Paint Stores, about 1957 selling decorating materials, until the beginning of the 1960s before moving to his new shop 1 Kettering Road. The next business in this shop was Compere Shoes a boot and shoe retailer until 1966. Then T. Fillimore Shoe Components had this shop from 1966 to 1976, managed by Phil Stokes. They were distributors of shoe components, supplying uppers, linings, elastic, tapes, laces etc. Their head office was in Norwich. From 1976 it was empty for a period. From about 1980, with a 31-33 High Street address, it became a ladies and children's fashion shop Sam's Ladies Fashions, the name of the owner of the business is presently unknown but she was known as Sam so her name was most likely Samantha and she ran it with her husband. In 1988 Countdown moved here from 119 High Street, selling clothes gifts and other household items. Now run by Irene and Geoff Drage and Pat Woolmer until 1990 when they moved to 60 High Street. It was then sold and became the Roma Italian Restaurant until it was again sold and became The Kushboo Indian Restaurant by 2006 and remains so in 2007.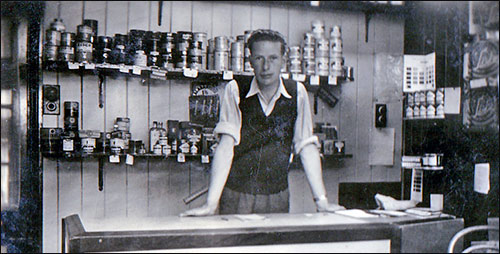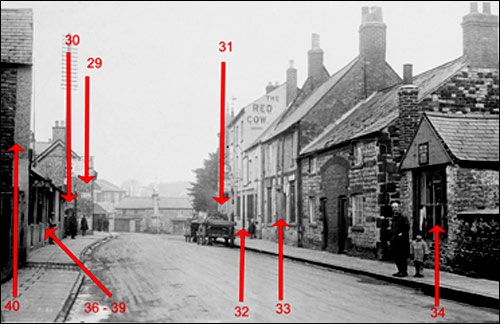 This building was originally the Red Cow Inn, which was closed in 1956, and subsequently converted to two shops which were numbered 35 and 37.It was purchased by Bright's Builders of Kettering who did the conversion into two shops. From about 1957 this builder was trading from number 35 as Bright's Building Supplies, and in number 37 his sister ran a drapery business. Then a Mrs. Grey had the shop selling children's clothes. By 1960, number 37 was trading as Frank's a men's and boy's wear shop, being run by Frank Deacon.
In 1962 Joe and Rosemary Greenwood purchased the whole premises from Bright's. They opened number 35 as Rosemary's a lady's hairdresser's and lived on the upper floors. They continued this business until 1995 when they retired and number 35 was closed. They still lived on the upper floors in 2007.
Frank Deacon remained until about 1970, from 1960 as tenant of Bright's, and from 1962 as tenant of the Greenwoods. The next business there was a furniture repair business run by Dougie Hodgett until the middle of the 1970s. Then one of the owner's sons Garry Greenwood had a motor spares business: Anglia Auto's Car Parts. From about 1980 it was a charity shop selling used clothing and general collectable items and run by Derry Robinson until about 1990. From then until 2004 it was a similar business named Wardrobe. It was closed in 2004 and neither shop has re-opened.
In 2008 the building was sold for redevelopment. Scaffolding went up in autumn 2008 and demolition started in January 2009. Click here to read more about the Red Cow Inn and the story of this site.


During the 19th century and the beginning of the 20th century there were two shops at this location 37 and 39, which were the next buildings to the right of The Red Cow. Edward Quincy was the landlord of the Red Cow from the 1850s until towards the end of the century, he and his son also named Edward also described in directories from the 1850s to the 1870s as butcher, baker and grocer. As these two shops were next door it seems logical that he would have occupied them in this trade but it cannot be confirmed. His wife Emily is also described as a butcher in directories.
The first known owner of one of the shops, which was a butchers shop, was Edward Blott from about 1880. He is also known to have had a shop in Wellingborough where he lived.
A quotation found in a publication called "Memories of a Villager" by Albert Grainger who was born in 1884 stated: "We all left school at the age of 11. I started work and used to go to Blotts' Butchers, this shop stood next to the Red Cow Inn, for two days I was paid 2 shillings and three pence. The rest of the week I went to Barlow's Butchers for one shilling per day. [Barlow's was number 28 High Street just across the road at The Cross.] Edward Blott was there until about 1911.
The first known owner of the other shop was Robert Nelson a men's hairdresser and tobacconist from the early 1890s until 1906. From 1906 until about 1915 when he joined the armed forces in World War 1 it was occupied by Charles Gilby also a men's hairdresser and tobacconist. He was the Grandfather of Roy Gilby who is the owner of number 6 Kettering Road. The history from then of both shops is presently unknown until about 1918 when Joe and Frances Sophia White moved there, probably from the Coffee House. Before that they had been at 94 Alexandra Street which they left in1907. The shop on the left was a confectionery, and the shop on the right was a drapery. A door was installed between the two shops so each could be accessed without going into the street. They traded here until about the end of the 1930s, some time between 1935 and 1939. The shops were later converted to houses.
This shop was a small shop positioned about midway between the Red Cow Inn and the entrance to Hilly Farm. The number 45 has been used as references refer to several different numbers or none at all and this seems to locate acceptably with other buildings.

Herbert William Tomlinson established his cycle shop here in 1902 where he supplied and repaired cycles. He called the business Latimer Cycles. After he left, its owner is not known, but from about 1920 it became a men's hairdresser owned by Frank Evans. Oliver John Benford [Jack] worked here when he first arrived in the town; he later had his own business, first in Finedon Street, and later in Duke Street .

The next owner was Fred Evans. From about 1926 he was a boot and shoe repairer until his death in 1935. He was the last owner as the shop was then vacant until being demolished.

Latimer Cycles in 1902. Joe Evans recalls: A group of Burton folks meet to celebrate the coronation of King George V, June 26th 1911, Uncle Fred Evans on extreme left. In front of him, with home-made sun hat on is Uncle Frank Evans who up to his death was a barber living and cutting hair in Mill Road, Kettering.

Up to 1922/4 the bike shop on the photo was run by Herbert Tomlinson, and then Uncle Fred Evans took it over for use as a cobbler's shop. As a kid of five or six, I can still see Uncle Fred standing at his bench, with a mouthful of tacks 'half soling' a pair of shoes or boots. When Uncle Fred died, I believe the premises were taken over by Jack Benford, hairdresser, before World War II. (Early '30s) Of course, the location was opposite Churchill Way.
Currently, in 2007, these are a row of five shops.
These buildings began life as farm barns but in 1923 the site was bought by J. Eady who made them into four shops with a passage in the middle for an entrance to a public hall, The Pavilion, which was at the rear. There were two shops on each side of this passageway. They were then numbered 52 to 58. The Pavilion was destroyed by fire in 1926, after which the passage was closed in and used as storage by subsequent fish and chip shop owners in number 54. Over the years alterations were made by its owners and they gradually changed in appearance. There was a major change carried out in the 1960s by D H Crouch. The fish and chip shop was reduced in size and the storage area made into an extra shop. The fish and chip shop at 52 and a wet fish shop at 54, this was done by renumbering, 52 became 50, 54 became 52 and the new shop became 54, the other two shops remained 56 and 58 as before.
The first trader to occupy this shop, which was then number 52, was John Wood who ran a cycle and motor repair business until 1923. The next occupier from 1924 was George Mason who started his garage and motor repair business here before moving to 151 High Street in 1929. After George Mason, this motor business was taken over by Fred Clarke. It is not known how long he continued there but by the middle of the 1930s and into the 1940s it was a shop selling spare parts for cars and bicycles, run by the Anderson family. After World War II in the 2nd half of the 1940s it became a radio shop owned by G W Bradshaw - there is a record of an advert in 1949. In the early 1950s there was a change of trade when local builder Bernie Evans had the shop selling fireplaces and building supplies. Later in the 1950s it then again became a radio television and electrical shop owned by Arthur Turner and his family trading as A L Turner (Burton Latimer) Ltd. The number was changed to 50 after the alteration. The business ran for over 50 years before finally closing in 2009. The premises were empty until late 2010, when the reopened as Opus Hair Designs.
This shop opened as a fried fish and chip shop. And has remained so throughout its entire history until 2007. Arthur J Eaves who was known as "Plonk" was the first known owner of the shop in the 1920s. By about 1935 it was owned by Tom Miller, who had previously been a newsagent at number 58, his son, also named Tom [but always called Tommy] worked for him. About 1940 Tommy Miller took over the shop, part of the shop was a small restaurant with at least six tables at the rear and he also sold wet fish from a marble slab behind the window. Wooden boxes of fresh fish were delivered every morning at about 5am from Grimsby and left on the doorstep, Tommy also had a bicycle and trailer and delivered fish to surrounding villages including Isham, Pytchley and Barton Seagrave. He had the shop until about 1955 when he sold it to Mr. Frank E. Long who traded as "Frank's" but bought it back again a year later. When he retired in about 1960 he sold the shop to D H Crouch. In 1972 the business was owned by Dave Thurlow until 1975. He sold it to two people who came from Thrapston; currently their names are unknown. By the 1980s it was trading as Coach Caterers and run by a manager until 1982, then Martin Pepper had it until 1994. The next owners of the business were Harold and Judith Marchant trading as Burton Chippy until 2002. The next and current operators in 2007 are trading as Burton Inn, selling Chinese takeaway food as well as traditional fish and chips.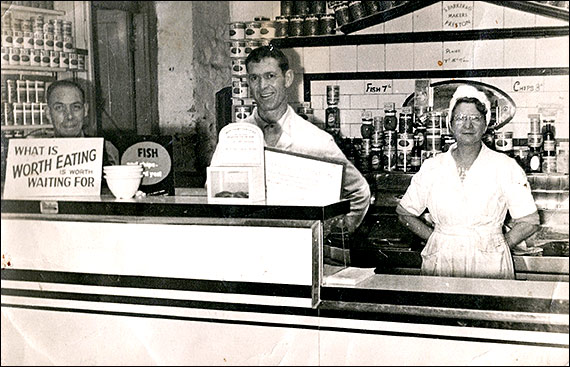 This shop was created when alterations were carried out, thought to be sometime in the 1960s. The small store, which had previously been the passage to The Pavilion, and the chip shop were reduced in size and the new shop created. This alteration was done by D H Crouch as it was at first thought to be a wet fish and greengrocery. The first known occupier after D H Crouch was Dave Thurlow from 1972 as a wet fish and greengrocery, he later changed it to a small boutique selling children's clothes and shoes until 1975. For about the next two years the owners are unknown. In 1977 it became a greengrocery business owned by Neil Hawthorn until the early 1980s. The next owners, until 1994, were Trevor and Hazel Sharman, still a greengrocery. It then became an estate agent - Finedon Homes - until 1996. The next business was Burton Insurance until 2004. It then again became an estate agent and letting agency trading as Cameron's owned by Amanda Cameron until it closed in 2007. For a while afterwards is housed a fax/photocopying bureau, but in 2009 the premises were acquired by the adjacent Burton Inn takeaway (see Shop 36, above) and are now used as spare waiting/seating capacity.
At the time of the Pavilion fire in 1926 this shop was probably being used by A. Smeathers as a watch and clock maker and jeweller. followed soon after by Hilda Turner who sold baby clothes until about 1929. The next owner was Mrs. I Buckler who traded as a draper until 1932. She lived at Kettering and also had shops at High Street Finedon and High Street Wellingborough. The next owner was Evelyn Payne to about 1935. From 1935 the shop became a wool supplies shop owned by A G Claypole. An application was made by A G Claypole on 28th April 1936 to the Burton Latimer Urban District Council to erect a cigarette machine outside this shop and this is about the time the shop changed from a wool shop to a men's hairdresser.
The first barber from then until the early 1940s was Charles Anderson. Joe Shaw occupied the shop during the rest of WWII until about the beginning of the 1950s. From the 1950s to the 1960s Colin Plowman occupied the shop, he was the last men's hairdresser to occupy the shop.
There was then another change of trade in 1972. The shop became a florist and pet supplies shop, the business owned by Arthur and Margaret Heels. They traded as Margaret's Flowers until 1991. It continued to be a florists shop in 2007 trading as The Flower Shop, but it closed in late 2008. It was then a craft shop, trading as Gina's Crafty Ideas, but this was replaced in 2010 with the Corby Kiln Shop, selling a range of pottery and ceramics.
The first possible owner, from an advert in 1923, was
Miss E. Rogers
who ran it as a small café. It was named
B. L. Café
advertising teas and homemade cakes and chocolates.
Mr. E. Childs
is mentioned in the 1926 report of the Pavilion fire as being a greengrocer and confectioner with a tea room so he probably followed Miss Rogers. By the 1930s the occupier was
Tom Miller
who was a newsagent and tobacconist; he also had a lending library. Jack Smith worked for him. Tom continued there until about 1935. He then moved to number 54 High Street to run the fish and chip shop.
Jack Smith
then bought the newsagents business from him but the shop was too small for him as he wanted to sell other goods, so he soon moved to number 42 High Street probably by 1936.
From then the shop became a ladies' hairdressers. The first owner was Marjorie Smith until 1948. The next owner of the business was Rosemary Blowfield [later Rosemary Greenwood]. Vic Blowfield, Rosemary's father purchased the shop for her in 1952. She was there until 1962 when she moved across the road to 35 High Street. The next period is uncertain until it changed to a bookmaker, better known today as a betting shop. In the 1980s it traded as Woodford Commission run by Mr. Dewing until 1991. It was then taken over by Brian Goodyear trading as Goodyear Racing until 2006. The business is now owned by Corals.
An early 20th century postcard shows this building as having a blank wall facing the street which looks like the end of a barn, so previous theories that this was a long-established butchery establishment were probably incorrect.
There are some other possibilities regarding occupants of similar premises; W Powney had a High Street butchers shop in the 19th century which he sold to P J Walters on 17th January 1899. Also William Harding was a butcher from about 1866 to about 1885; these were most probably in the High Street but their positions are unknown

The first confirmed owner of Shop 40, from about 1920, was William Elmore who owned it until after the Second World War. The business was managed for many years by Don Harris, who was married to William Elmore's sister.

Soon after the Second World War the shop was occupied by Wayman & Childs another butchery business which traded there until about the middle of the 1960s, it also sold groceries. From then to about the middle of the 1970s it was taken over by Grace and Frank Long who traded as VG Stores selling groceries and general household goods. Then, when Grace and Frank retired, they sold the business and it then traded as Mace Stores, still a grocery shop. The next business was a clothes shop trading as Gladrags Boutique run by Mrs. Pickering until 1989. In 1990 Countdown moved here from 33 High Street, trading in clothing, greetings cards, gifts and general household items, by now run by Pat Woolmer and Julie Walton and remained so until early 2009, when the business closed. The premises were taken over for a very short time by a firm selling furniture, but they closed not long after opening and the next business trading there was JSK Beauty. This was, however, also short-lived, and by the autumn of 2010 the shop again stood empty.