EARLY LIFE
I was born 4 December 1929 near enough on the spot where we are sitting now at the Heritage Centre. It was in a yard at the back of High Causeway called Wallis' Yard. I only lived there until I was 6 years old so I can remember very little until we moved out and went up the other end. We went through an alleyway and out the back was the yard and there was a toilet in the yard and a washhouse.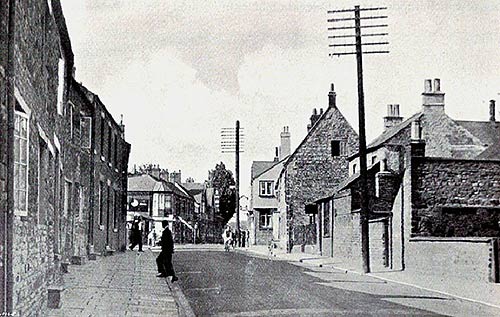 View of the High Causeway in the High Street
It had to be shared by all the people who lived in that yard and there was a barn for putting the coal and stuff in. I think that there were about four families but I'm not absolutely sure of that. At the time there was five of us in the family - mother, father, brother and sister.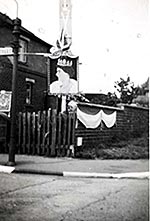 Corner of George Street with Cranford Road decorated for Queen Elizabeth II coronation 1953
We moved from there to George Street. No 8. I stayed there until I moved out when I got married and moved with my wife down to the High Street initially and from there we lived up a yard. It has been all bricked up now and we moved from there to Queensway when they built the Queensway houses. We had one child at the time and lived there then until we left to live in Rushden . Both my parents worked in the shoe trade. They worked at Coles' and worked at different factories in the Coles Group always in Burton. Dad worked in the Finishing Room and mother at the end of the factory in the Packing Room where the finished shoes were all packed ready for despatch.
SCHOOL DAYS
The first school I can remember going to is the Mission Room school when we had a headmistress called Miss Wallis, who was a very nice person. I also remember the Council Infants School up Croxens Yard. I went there for a short time but I can't remember anything about that. Then when we moved up the other end, and I suppose I got a bit older, I went to the Church School. I started at the Infant School there and we had a headmistress there called Miss Orpin. I always remember her because in the afternoons we had to sit with our heads in our hands and supposedly go to sleep. I remember looking up and she saw me look up and she came around with a ruler and with the edge of it she rapped my knuckles. I have never forgotten that. It always stuck in my mind because it hurt so much. We went across the road to the big school when I was seven. When I first went there, the headmaster died just after and I remember his funeral. Then we had a headmaster named John Dunn. When we moved to Rushden my daughter went to the South End School and one of the teachers there was Mr Mitchell. He went up to my daughter and he said, "Are you any relation to Gerald Baish?" so she said, "He's my dad". "Oh I remember him", he said. He was singing my praises, telling her what a wonderful athlete I was at school – not that I was – but he remembered me through my daughter. The last time I saw him was in the Viking pub in Rushden and he was in there with his family. I stood at the bar talking to somebody and he came up to me and asked me if I would meet his family. I then met his family and he had changed completely from the person he was at school. We got into trouble with him, a group of us, nothing terrible we had been scrumping or something like that and he had us out in front of the school and he gave us all the cane.
The year I should have sat the 11+ examination, two days before Christmas, I was taken into the Isolation Hospital at Kettering with diptheria. For two or three days it was touch and go with me and I spent 10 weeks in the hospital. When I came out I had to learn to walk again because I wasn't allowed out of bed in those days. Then I was convalescing. That year was the year that I should have sat the 11+ but because I wasn't at school I didn't take it. When I returned to school, the headmaster's wife Mrs Dunn, who was a lovely person, took me under her wing and coached me on a little bit so that when I sat the 11+ the next year I passed it. I could have gone to the Grammar School at Kettering then but people were hard up in those days and they couldn't afford to buy the uniforms or pay the bus fare so I didn't go. I don't really regret not going as I made my way later. I have been to colleges since, in connection with the Fire Service, and I educated myself a lot from there. I was never a duffer. I could always do my reading, writing and arithmetic. I didn't go in for Latin and that sort of thing.
At the Church school I remember Brian West and Graham West, Jo Sharpe, the Randalls, Gazeleys. We all went to the same school and we would walk home together. The girls were Kitty Barclay, (I remember her because we were both born on the same day), Marjorie Croft, Audrey Meadows, (her dad, Jim, used to be the road sweeper in Burton), and Mary Chamberlain, she had a sister called Nina. I don't know what happened to them because when you reached 18 you were whipped off to do your National Service and then came back after two years and everything was different. All your mates had married and you were getting married yourself so you moved your life on.
EMPLOYMENT
When I left school I went down the Weetabix to start work for a short time. In those days you left school on the Friday, started work on the Monday and you had to have a job to start on. I just went down to the Weetabix and got a job. I didn't stay there long and I had a short spell at Buckby's factory, which later became E K Coles. I was just working in the Making Room. I left there because I didn't like it in a shoe factory. I then went to work for T W Capps, builders, based in Pioneer Avenue. I was described as an improver bricklayer. I worked with Billy Capps' brother-in-law, Billy Gammage. He lived at the bottom of Station Road and was married to Billy Capps' sister. They were a family group. I stayed with them until I went into the air force to do my National Service. I started off as a recruit and I finished as a Drill Instructor, (not a Physical Training Instructor). I had to teach weapon training, marching and that sort of thing. When I went in the air force I went to Padgate at the start, then to Bridgnorth to do my training, then to Weeton to do a course on driving, then to Coltishall in Norfolk on general duties. From there I was posted to Hereford (the station where they train the SAS now) where they trained us as Drill Instructors and from there back to Padgate finishing my time as an instructor there. That was my experience in the air force and I added to my education there.
When I came out I got married and joined the part time Fire Brigade at Burton. I couldn't find a job to suit me but I got a job in a shoe factory and I hated it. I hated being stuck at a machine all day. I was speaking to a chap who worked at Whitney & Westley, and he had been on a couple of Fire Service calls. He told me that I could join the Fire Brigade. as there was a vacancy. You were paid when called out and you also received a retaining fee. Next day he had made me an appointment to join so I joined part time and I enjoyed the job. Then I applied full time and got a job at Rushden in 1957. I had to catch a bus every morning to Rushden and to get to work on time I had to change buses at Irthlingborough, then I started to bike it. One day it was pouring with rain and I was absolutely saturated when I reached work and spent the next few days in bed with a chill. So we decided to move to Rushden. As it happened a chap was leaving Rushden from our station and his house became available. The chap in charge of Rushden station, went to the council to see if I could have it. And they agreed. We have lived there ever since. I finished up working at Kettering station. I was operation fireman at Rushden for 12 years and then I was promoted and had to go to the Fire Service College on different courses. I came back from a general course and I had done all the exams and received good reports. I was then recommended by the College saying that "This man would make a first class Fire Prevention officer". The next thing I knew, Neville Mountford, the Chief Fire Officer, had me in his office and said that he was seconding me to the Fire Prevention Department. I told him that I enjoyed being in the Fire Operational Department at Rushden. Mr Mountford insisted that I be seconded but agreed that we would discuss it later if I didn't enjoy it. I took it on and got on alright and enjoyed it. I remained there until I retired. It was all part of the brigade but I had my own Fire Prevention Department at Kettering. In fact I had my own office at Rushden at the start and that was centralised. I was in charge of Rushden, Wellingborough and the area around. When the Wellingborough Swansgate Centre was built I was in charge of the Ffre Prevention work on that. I was the Fire Prevention Officer until I finally retired when I was 55 in 1985.
| | |
| --- | --- |
| | |
| | |

WARTIME EXPERIENCES
During the war, at the end of Burton where we lived, we had what, as kids, were called the Tank Fields because the army used to go up there training with tanks, etc. We called it Tip Lane, (now Wold Road), and up there on the left hand side we treated the fields as a playground. All the different regiments came - the Duke of Welliingtons, Inns of Court, Czechoslovakians. The next-door neighbours' daughter married one of the Duke of Wellingtons, a despatch rider, but he was killed in the war. We used to get up the fields and go where they had been training. We would get up to all sorts of things. We were looking for any fired ammunition shells, souvenirs. One time a Blenheim Bomber crashed there at the end of the Wold. A group of us went up there to get bits of Perspex and we would carve crosses out of it or try to make a ring. An RAF person was guarding the bomber and asked what we were doing. We said that we wanted to have a look and we asked if we could help with anything. He said that they were looking for the pilot's boot with his foot in it. We realise now that he was pulling our legs but then we all went off looking for this boot. If ever there was an airplane down anywhere we would go to see if we could get Perspex, etc. That only happened a few times. I remember one coming down on the road between Cranford and Barton Seagrave (where the A14 is now). I remember when I was in the building trade we were building some water tanks up Cranford Road, where the Windmill Cottages stood (now the other side of the bypass), and in the field at the back were some old farm buildings. I think the farmer was Eric Stopps who owned that field and he had the water tank built. Whilst we were building it they were training for the D-day landings and every so often you would see a Dakota flying over towing two gliders. This particular day we were working in the field building the brick-lined water tank and we could hear shouting and swishing. One of the gliders came down in the field where we were working. The other one came down over the other side near Windmill Cottages. We had to stop working for a while because the next day they came to pick up the glider. They built a structure, fixed the glider up to it and another airplane came down and swooped down and picked it up. I was about 17 at the time.

As you turn down Cemetery Lane, there was a shop that used to be Garlicks. Before that there was an oldish couple and the old fellow was tall, he reminded me of my granddad who lived in Alexander Street. They used to sell beer. Towards D-day, one day we went up the fields and the fields were full of American troops, living in little tents. They were there for about a fortnight and they were not allowed off camp. We used to go to the outdoor beer house and - if we could - get bottles of beer and take them back to them. They gave us the money for them and would give us a carton of chewing gum or a carton of cigarettes. We went one day and they had gone. Just as quick as they came, they went. We knew they were what they called the Rangers and we found out afterwards that they were some of the ones who went to Omaha Beach and most of them were killed. There is a lot of history in those fields. I like to think that we made some of them happy before they went off. We used to go when there were manoeuvres there. I found a bomb there one day. It was a mortar shell and I took it home. I said to dad "Look what I found up the Tank Fields". I put it on the kitchen table and he asked me where I got it. He picked it up, went down the bottom of the garden and threw it over the wall and sent for the police. The police sent for the Home Guard and eventually the bomb disposal people arrived. It was a practice mortar that hadn't been picked up but it caused a panic at the time.
During the war we didn't take much notice of the blackout. I was 10 years old when the war broke out so you soon got used to it. One of the biggest things that I can remember was going to the pictures at the Palace and walking back in the dark and we used to love it. You just grew up with it. The part that used to slow us down a bit going home was walking up Church Street past the Church and there were trees overhanging from the Church and the Rectory so it was a bit creepy going under there. As regards rationing, I always had a full stomach as the parents always seemed to find food from somewhere. We had a good garden at George Street so we grew a lot of vegetables. Over the back where we lived at the bottom of the garden was a wall about 6 feet high and over the other side was what we called the paddock belonging to Attfield's farm. We used to sit on the wall watching them shearing the sheep and every year our Christmas dinner came from there. We always used to order it and they had little pens in that field where they put the cockerels to fatten them up for Christmas. Up George Street at the time they built the houses from number 5 right round to number 13 where the Cheneys lived and then there was a piece of spare ground which has been built on now. Then the next ones to be built were the bottom three where Mrs Blott, the Evans family and Jo Sharpe lived. Across the other side from the spare ground, before Masons' house, there was another space that we used to call The Greens and during the war they dug that up to grow produce. We would keep rabbits and chickens and things like that to eke the rations out.
We had special weeks, like Spitfire week, during the war. We used to go up the Paddock to raise money to buy a Spitfire. We had a teacher at the Church School called Mr Lawrence and he taught us to sing and formed a choir. We sang as a choir at the Paddock and he conducted. It was a part of the entertainment for the afternoon.
When the Czechoslovakian army was here, the President of Czechoslovakia at the time, was President Benes, and he came here to review his troops. Because of the evacuees here we went to school in the mornings one week and in the afternoons the next week and vice versa. This particular morning we all sat out in front of the school on the raised bank and we had to wave flags as the President went by. All of us from the George Street end decided we would find out what was happening up Tip Lane and we made our way across the fields. In the distance we saw two big marquees so we made a beeline across the fields to them. Little did we know that the troops were all doing their exercises for the President in these fields. We were getting across one field and we heard the tanks and vehicles moving about and somebody started shouting at us over a Tannoy system, "Stay where you are, stand still". So we all stood there petrified because the army was on to us. We had to stay there and then a lorry came and picked us up and put us in the back of the lorry. We thought we were going to be taken and executed. We were taken to one of the marquees and they kept us out of the way feeding us on cups of tea and Bovril sandwiches. So it wasn't as bad as it seemed. We had our ears clipped when we got home for going up there when we shouldn't have done. We were happy to be out of school and looked forward to the morning sessions because if it was the afternoon sessions you had to be back at home to get ready for school. I think that the hours were 8.30 am until either 12.30 pm or 1 pm and then 1 pm to 5 pm.
We used to live in the fields – up 40 Acre – and play in the chalk pits all around. We were at school one day and at 11 o'clock we all had to sit at the desks with our hands over our ears because they were going to test a bomb or something up 40 Acre lane. Prompt at 11 o'clock there was a massive explosion – I suppose the crater is still there. The army used to use that area for testing.
At the school we had a teacher called Miss Barham, she was a lovely lady, very mannish, she always dressed in tweeds. She came by bus from Rushden. She taught us in a play and I had the lead part – Archibald Bilkinton. They were only small parts and it was set at a railway station. The parents attended one night but it was decided to invite the Czechoslovakian troops who were here at the time to watch it. They all marched in and sat down and I don't think that any of them could speak English. At the end of the play they thanked us but I am sure that the only reason that they listened to us was to be polite. The officer in charge of them could speak a little English and thanked us. Hopefully they enjoyed it.
When the troops were here I remember coming home and in the fields at the back that we called the paddock, there were troops with tanks and army cars. It was over the wall where we lived. The troops used to let us sit in the army cars and in the tank. They parked a tank opposite the Church school near the village pump and we were allowed to climb all over it and go inside it. Up Kettering Road, just past the cricket field, there was a searchlight battery and the crew were there so that during an air raid the searchlight would be sweeping the skies. We used to go there and visit them. Sometimes I would get a bit worried, for example, the night that Coventry was bombed. Normally during an air raid we didn't usually do a lot. My father was attached to the police, he wasn't a uniformed policeman. He got a certificate for being a special, but he never had a uniform. He would go to Coles' factory a couple of nights a week and sit in the office and wait for the signal to sound the siren for an air raid doing siren duty. The siren was on a pole at the back of the old fire station in Duke Street. There would be two on duty spending the night at the factory waiting for a call. After the war my father received a medal and certificate. The night of the Coventry raids he was at home. We had a scrub-top table with thick legs in the living room and he got a mattress down off one of the beds and put it under the table. He woke us three kids and put us under the table and told us to stay there. We could hear the bombers going over, constantly all through the night and we could feel the ground vibrating. That was the only time that an air raid bothered me. The drone of the planes flying over through the night got to me.
LEISURE IN TEENAGE YEARS
In our young days we were in a group (or gang). Across the Cranford Road where houses are now being built, there was a field belonging to Eric Stopps and someone asked if we could use the field to put a football pitch in. We had goal posts and Saturdays and Sundays we would meet there – half of Burton young ones came there I think! We had a football match between us. The only football team I can remember playing for the town was down Finedon Road in the Co-op field (close to where the roundabout is now situated).
We used to go to youth clubs. At the Church Street Infants school there was a youth club and we would attend on Friday nights. I was the tiddlywinks champion. We used Preston Hall occasionally but it was closed down. I remember going there for Harvest Festival auctions where the produce was sold.
There was dancing at the Conservative Club – tuppeny hops in the top room. Hart & Levys' canteen and Alumasc canteen used to run dances. The main ones with bands were in Kettering at the Drill Hall or the Central Hall and very occasionally the Royal or the George Hotel. For a big band, Oscar Rabin, etc, they were at the Central Hall. At the Drill Hall it was always Charlie Walker and his band. The final dance was always "Waltzing with a memory of you". We would walk home to Burton because the buses stopped running at 9.20 pm and we couldn't afford the taxi fare. Sometimes we would share a taxi with perhaps somebody going through to Irthlingborough. There was a bloke called Brock Nichols who had a taxi service and if he had spare seats you could probably get one for a few pennies. Mainly you walked home and I remember my mother saying that I needed to rest because on Saturday morning I had been to work all morning in the building trade and I came home, rushed my dinner down, picked up my swimming trunks, got on my bike and biked to Kettering baths, swimming all afternoon. Then I biked home, had a bath, put my suit on, went out dancing all night and then walked back from Kettering. My mother said that I would kill myself if I kept on like that.
We had an Air Cadet Squadron in Burton. It was a detachment of Wellingborough. John Dunn was in charge of us. He was the Commanding Officer then and our headquarters were as you went up the Paddock to the old Council Offices. It was a building on the left, (it is now an Indian restaurant), and in the upper room was our headquarters. When I went for my medical for National Service they said that I would get my papers for the army shortly so I said that I wanted to go into the air force. I told them that I had just spent about 3 years in the air cadets so that would have been a waste of time. They said, "Alright then" and I was put in the air force. If you were a conscript in the air force you had one number but if you were an ex air cadet your number began with 311. So you were separated that way. In the air cadets we used to go on parades and march around the town and think that we were important.
TREATS
We didn't get outings as a child because there was a war on. Up to that time there had been a recession and people couldn't afford holidays. I remember going on a Sunday School trip to Rothwell for the day. What we used to do, crafty little devils we were, was to look for the Sunday School holding the next outing and the same with Christmas parties. My grandmother was Baptist Chapel through and through and my father was Church of England. I wasn't brought up in any particular religion but we would go to the one having the next party or whatever. I remember going to Rushden with the Salvation Army. They took us there and asked us to take 6d each with us. The Salvation Army place was then in Rectory Road. The road came down Queen Street and at the bottom was Woolworths. So we all had to take 6d. and during the afternoon they took us to Woolworths to spend our 6d.
Every Friday night the Captain of the Salvation Army at Burton used to come up to George Street and all the children in that area always used to wait for her. In George Street there was a little corner of grass and we would take a chair out and sit and wait for her. She used to come and tell us stories and we would sing songs. We would really enjoy it. She knew that she had to be away by 7 o'clock because Friday night was pictures night. The reason why she had to leave was that there was a serial on at the Palace, Flash Gordon or Jonny McBrown, and we made a beeline straight off to the pictures as soon as she was done. We would nip in the house and get our 4d and sit on the forms at the front to watch the serial. That was a part of childhood there.
About the first time that I went on holiday – the first time that I saw the sea – was at Skegness. I was working at Buckby's factory at the time and it was a factory outing and I was 15 years old. My grandfather never saw the sea in his life. I said to him once "Come on granddad, I'll take you to the seaside to see the sea". But he said that he didn't want to see the sea but he'd like to go round Rushton. That was where he used to work as a shepherd, years before and he put a lot of the hedgerows in around there.
POCKET MONEY JOBS


I had a job as a paperboy. I used to do the round from Dacres at the Post Office up to the top of Cranford Road and all the streets off, morning and night. The last day, I suppose it was when I left school, Mrs Dacre asked me if I would go round and collect the money from the paper round. So I did that and came back, gave her the money and went home. Then she called me back to the Post Office and said that when she counted the money I was ten shillings short. I said that I would never collect money for anybody else again. I was brought up to be honest.
I also worked on Saturdays for Elmore's, the butchers, and I used to have a bike with a basket on the front. I used to deliver a joint of meat to a lovely lady living past Finedon Station up the hill. I would go into her home and we used to have a little chat before I came back.



SHOPS
Sharps' shop was on the corner of Bird Street where we bought sweets. There was Barlows' butchers where they did the slaughtering on a Friday night and you could hear the pigs squealing. There was a shop owned by Patemans' where Station Road joined Kettering Road and known as Patemans' corner, previously Norton's corner. There were two houses up on a bank opposite and my wife lived there when she came as an evacuee after being bombed out in London.

Arthur Gilbey kept a shop in Kettering Road. He was a nice old boy. We used to have our grocery from there with our ration books. Sometimes he would ask if you wanted a bit of extra butter that week. There was Tommy Miller's fish and chip shop. I remember him cooking sausages in batter and he used to call them breadcrumbs in battledress.

There was a barber's shop near there and further along, Cyril Swan. Mabel Piper's shop was in the High Street and her husband, Walter, the undertaker who made coffins, used to stand outside the shop. When you went by he would say, "I've got one that will fit you". There was one further down Finedon Road that we dealt with when we lived down Queensway, The Grape Vine (previously Walshs), kept by Fred Skinner.

TRANSPORT
Every 20 minutes buses ran to Kettering. Most people owned a bike. We used to catch trains from Burton station occasionally. I remember catching one to Matlock – for a day trip as a child. Coming back we went down to the next station, Matlock Bath, and I was looking out of the window. Somebody had a handful of peanuts and hit me in the face with them. When I was in the forces I used to catch the train at Kettering. They closed Burton station down. At Kettering, apart from the main line, there was one track to Cambridge (now closed and replaced with the A14 road) with one train in the morning at about 8 am and one back in the evening.
HEALTH
The doctor was Dr Kingsley. When I was taken ill with diptheria I was in Kettering just before Christmas. I wanted a football for Christmas and I didn't feel very well. My parents said that I could go into the Sports and Rubber Company at Kettering and get a football. So I caught the bus and went to Kettering. I got the football, and stood at the Library waiting for a bus home when the air raid siren went. I had to go to bed when I reached home and the doctor came and returned the next day to see how I was. He took some swabs and then sent me to hospital as I had diptheria. I was picked up in an ambulance and went to the Isolation Hospital at Rockingham Road. There was an epidemic. One young girl died. She lived on the new estate and I think that her name was Margaret Salmon. My parents were sent for twice on Christmas Day because they thought that I wouldn't make it. I had to lie on a bed under a window where the nurse could check up on me and I couldn't sleep. The nurse came out and got me a flat pillow and also some brandy in warm water and trickled it down my throat. She repeated it several times and I always say that she was instrumental in keeping me alive. There was a strict Matron doing the wards every morning. I remember waking up one morning and there was a commotion and one of the maids, Mary, said that there had been an air raid and bombs had been dropped in Kettering. Apparently bombs had been dropped each side of the steel works in Rockingham Road and then a stick of bombs across Kettering to St Peters Avenue area where one hit a bungalow and killed an elderly couple.
I remember Nurse Brooks who brought me into the world and also attended the birth of my two eldest children. You felt that you could trust her. There was also a District Nurse who married Lenny Capps.
I loved living in Burton and sometimes wish that I still lived here.