24 Finedon Road / 2 Finedon Street ( Shop 76)


This property, situated on the corner of Finedon Road and Finedon Street, was a bakery. The first known owner, from about 1900, was Frederick Harry Partridge who, with his wife Janet, ran the bakery and lived there until about 1949.

The Newing family moved to the property in 1949/50 and traded as Bettles Brothers and Newing. The partners were Emily Newing and her brothers Ernie and Stan Bettles; they traded there for about ten years and were the last owners to run the bakery. After closure the property became a private residence, and still is in 2007.

In the picture on the left, taken in about 1951, can be seen Emily Bettles looking out of the window of 2, Finedon Street at her brother Stan and her young son John Newing (later to become Chief Constable of Derbyshire)
26 Finedon Road / 1 Finedon Street ( Shop 77)
This shop was always a beerhouse and all the owners sold beer, groceries, confectionery, tobacco and other alcoholic drinks. When first built it was known as Hipwell's beerhouse, which appears to point to it having been supplied by Hipwells Brewery of Olney
The first known occupant was Alfred Kitely and his wife Sarah in the 1870s and the 1880s. Mr Kitely applied to extend his beer license in 1881, a report of which can be read here. From the end of the 1880s it was taken over by Joseph Allen, succeeded by his son Frederick until the beginning of the 1920s. They were also threshing machine owners for hire to local farmers during harvest time. Frederick Walsh and his son Edward were the next owners from the 1920s until about 1950 (see the photograph at the top of the page.) During the 1950s the owner was Frederick Skinner until about 1960 when William and Constance Bates took over and it was about this time that it became known as 'The Grapevine'. They were there until 1965 when R. E. Tyler took over, but it was sometime around this time that John Campen ran the shop. In 1974 David and Deborah Harrison bought the shop and business, still trading as 'The Grapevine' but adding lines such as sandwiches to the goods they sold. They were the last to keep this shop, as it closed in July 1996 when they continued to live in what was now a private residence, and remains so in 2007.
22/24 Finedon Street (Shop 78)

| | |
| --- | --- |
| | |
| | |
The first known owner, with his wife Charlotte, was William Blaxley, who was originally a carter operating from the premises. He ran a butchers shop from about 1906 until about 1926. Arthur Palmer with his wife Winifred then had the business until 1935 when they moved to 54 Alexandra Street. During this period all were butchers. William Lovett with his wife Alice was the next owner of the business - he was not a butcher but sold wet fish. This business may have continued until the late 1930s. It is thought that Fred Abbott may have had the shop as a boot and shoe repairer until some time in the 1940s but he certainly had a shoe repair business in a shed at the rear of his house further up at 46 Finedon Street until the row was demolished to make way for the flats and the entrance to Spencer Street. Around this time (1950s) there was a car spares/components shop there named something like Trianon. In the 1950s William Eady purchased the property. He was a manufacturer of shoe components who worked in the buildings to the rear and did not use the shop, which was never used as a shop again. He also purchased an increasing number of houses in this street and elsewhere, which he rented mainly to American Servicemen and their families, this became his business and he had ceased his manufacturing before the end of the 1950s. He remained there during the 1960s and 1970s. As the American presence in the area declined he gradually sold the houses and eventually sold this property and, after moving to Finedon, eventually moved to The Isle of Man. It remains a private residence in 2007.
87 Finedon Street (Shop 79)
This was a steam bakery situated in a front room which was owned by Wilfred Sturgess and his wife Bertha from about 1930, later assisted by his son John and daughter Mary. The business closed in 1954. Wilfred Sturgess died in the mid-1960s

94 Alexandra Street (Shop 80)
This shop was double fronted with the door in the middle; one side was a grocery and general store and the other a drapery. It had stables and coach house to the rear with access in Finedon Street. The first owners were Joe and Frances Sophia White from about 1895 to 1907. In February 1907 there was a fire after which they left the shop and went to live in Spencer Street, but eventually moving to 37/39 High Street where they set up shop again. The next owner from 1907 was Charles William Lee who came from Northampton. He sold the shop at the beginning of 1911 to Horace Sophocles Brown with his wife Catherine Hannah, he was a musician who sold violins and gave violin lessons and tuned pianos and they also continued with the grocery and drapery business. By the 1920s his son was also in the business, he had the same name as his father. Horace senior ran the music business and also as a dentist and removed teeth for anyone brave enough to ask, Horace junior ran the general store. The Brown family had this shop until 1983. In 1983 David and Thelma Green purchased the shop and continued as a general store until the middle of the 1990s when it was closed and became a private residence and remains so in 2007.
81 Alexandra Street (Shop 81)

This shop was a small corrugated iron building on a piece of land on the corner of Finedon Street and Alexandra Street and was built sometime between 1900 and the 1920s, as a fish and chip shop. The first known owner was A. Norman in the 1920s as recorded in the 1926 Burton Latimer trades directory. In the 1930s it passed to Bill Downing until 1938 when he moved to 119 High Street. Mrs. Maud Cunningham took over the shop then, her father Jim Turford prepared the potatoes for the chips. They were there until 1953. It then ceased to be a fish and chip shop. Sid Baish had the shop for the remainder of the 1950s, he was in the clothing trade, he pressed suits trousers and skirts for his customers after they had been washed by the owners. The next known owner was Colin Mason who was a cobbler repairing boots and shoes and was there during the 1960s. After Colin it became empty and was eventually demolished and a new house built on the site, and remains so in 2007.
54 Alexandra Street (Shop 82)
Until 1935 this property was a private house. Arthur and Winifred Palmer moved here in 1935, they had moved from 20/22 Finedon Street where he had been a butcher. They converted the front room and opened a grocery and butchers shop, they traded until 1955 until they retired and closed the shop, so it again became a private house and remains so in 2007.

In addition to the above, a number of people in Alexandra Street ran businesses from their homes during the first half of the 20th century, in their front rooms and/or outbuildings.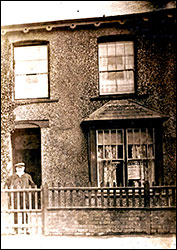 George Henry

Stokes

and his wife had a grocery and confectionery shop at number 59 from about 1924 to 1931.


Having moved from 23 Rosebery Street, Mr. and Mrs. Fred

Wittering

had a drapery shop at number 61 from 1943 until 1949 when they moved to Duke Street. The premises ceased to be used for retail purposes after that.



Herbert

Mason

sold and repaired cycles from number 12 during the 1920s and 1930s he also appears in a directory as a draper, this may have been run by his wife.



Mr

.

Owen

Chamberlain

was a carpenter and undertaker from the beginning of the 20th century at number 27 where Frank Tailby worked for him until Mr. Chamberlain died in 1923 and Frank went to work for AP Lewis in Duke Street. Later, until the outbreak of the Second World War, Mrs. Chamberlain was an agent for Ernest Woodcock, the Kettering funeral directors.
55 Queensway (Shop 83)
This shop was built in about 1960 for W and E Stevens. It is a general store including supplying groceries, confectionery, tobacco, alcohol and as a newsagent. From about 1960 to about 1980 the shop was owned by the Stevens.
From about 1980 to about 1985 by George and Aileen Connon.
From about 1985 to 2000 by Laurance and Jean Leighton. In 2000 the shop was purchased by Kam and Satvinder Chahal. They are the current owners in 2007 and continue trading as a general store in the same goods.
57 Rosebery Street (Shop 84)
This shop may have begun as a butchers' shop and Elias Smith may have been its manager until about 1905. From 1906 it became a grocery shop owned by Mark Payne and was owned by the Payne family until the 1950s, during the 1930s it was run by Arthur Payne who was also a newsagent and confectioner. However the Tyrell Family are listed in a 1925/6 directory as fruit and greengrocers at 59, but Arthur Payne is also listed in the same directory so they may have shared the shop, or it may have been divided into two shops. Alternatively, as this is a fairly large building on a corner, it could have been two properties, numbers 57 and 59. The Payne family closed it in the 1950s and it was not used as a shop again and became a private residence and remains so in 2007.
Other Rosebery Street shops