Fundraising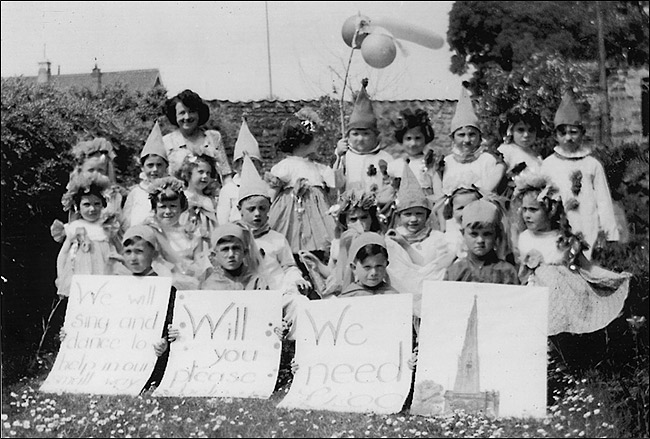 An Infants School group with headmistress Mrs Doris Smith during a fete to raise funds for
the Church Fabric Restoration Fund
Back Row: 1. ---?---, 2. Adrian Dukes, 3. ---?---, 4. ---?---, 5. ---?---, 6. ---?---,
7. ---?---, 8. ---?---, 9. ---?---, 10. ---?---
Middle Row: 1. ---?---, 2. Maureen Smith, 3. ---?---, 4. ---?---, 5. ---?---, 6. ---?---,
7. ---?---
Front Row: 1. ---?---, 2. ---?---, 3. ---?---, 4. Derek Turner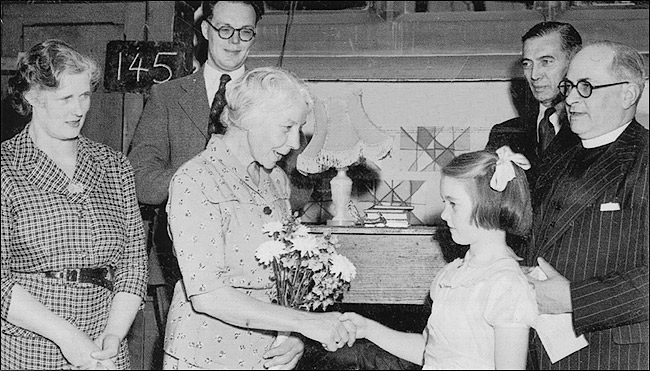 Above - Lesley Betts presents a bunch of flowers
Others: Councillor Mrs E C Peck, Headmaster Gerald Cleaver, Miss Hobbs,
Dr A P Kinsley (Governor), Rev R W Sharpley (Rector)
Below - Miss Hobbs and children
Back Row: 1. Peter Key, 2. John Painter, 3. Megan Lewis, 4. Vanessa Clipstone,
5. Rodney Gazeley, 6. Helen Dohnalek, 7. Susan Howard, 8. Vivian Sawford, 9. ---?---
Middle Row: 1. ---?---, 2. Stuart Dunn, 3. Sheila Smith, 4. David Cooper, 5. ---?---,
6. ---?---,7. ---?---, 8. ---?---, 9. ---?---
Front Row: 1. ---?---, 2. Glenys Buckman, 3. Christopher Clipstone, 4. Mary Allison,
5. Shirley Cheney, 6. Melvyn Blowfield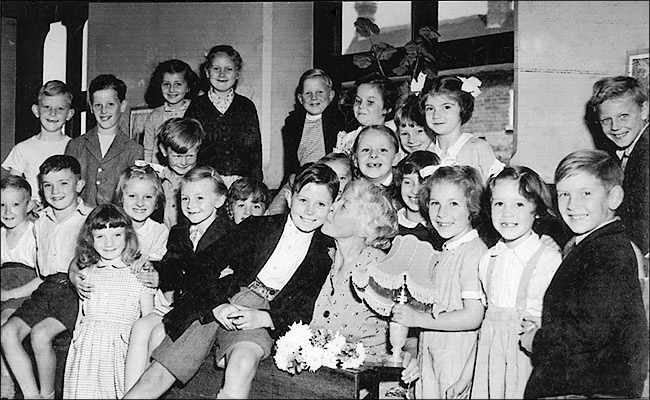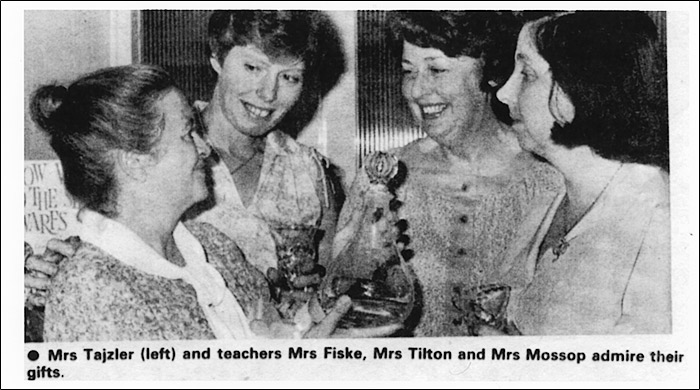 This "Evening Telegraph" photo was taken on the occasion of the last prizegiving at St Mary's School.
The Acting Head, Mrs Jarmila Tajzler, who went on to be head of East Lea St Mary's Infants School,
was presented with gifts from staff and pupils. The other teachers here were halso presented with gifts.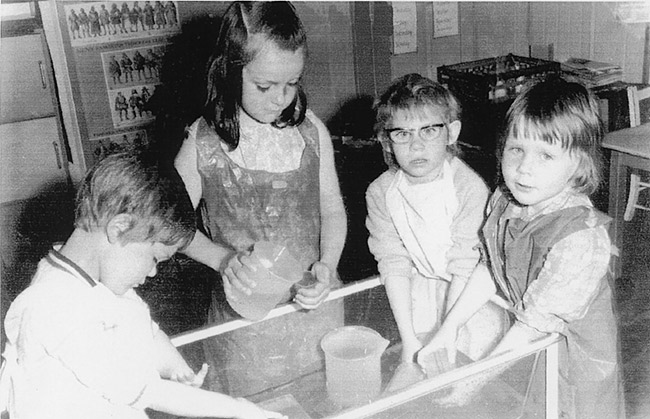 Children in a classroom at East Lea St Mary's use water to measure different volumes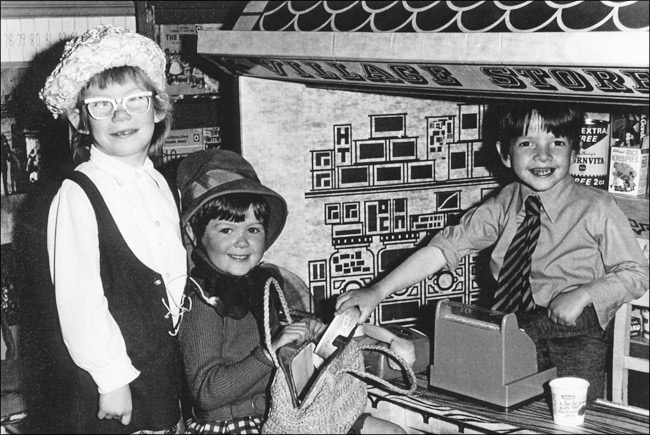 Also at East Lea St Mary's. Sarah Bryce, Kate Burdett and Jonathon Gammon play shop.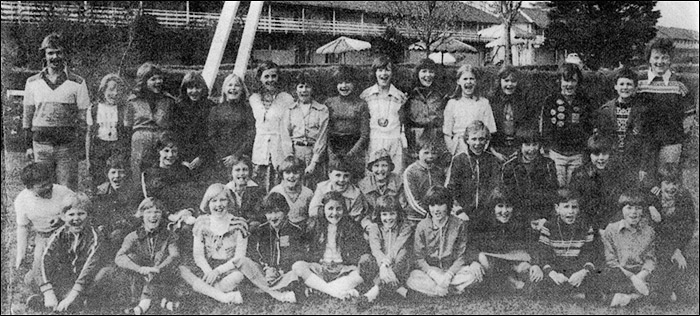 This photo appeared in the Kettering "Evening Telegraph" on Tuesday May 16th 1978.
Accompanying Text:

Venture week youngsters take a break
Youngsters from a Burton Latimer school take a break from judo, fencing and sightseeing to pose for a
picture at Butlin's Bognor Regis centre. The 35 youngsters aged 10 and 11 from East Lea School visited
the centre during the school's venture week. They took part in swimming, drama and a number of
other activities. Headmistress Mrs Eileen Waddington said: "The children particularly liked an open-air
museum which had charcoal burners' huts and historic buildings which had to be moved from their
original sites to make way for roads and houses."
---
Back Row: Mr Asbury, 1. ---?---, 2. Audrey Deligatti, 3. Theresa Wright, 4. ---?---, 5. ---?---, 6. Debbie Creasey, 7. Leslie Bird, 8. ---?---, 9. ---?---, 10. Gillian Bush, 11. ---?---, 12. Glenn Hallam, Mrs Waddington
Middle Row: 1 Ian Harrison, 2. ---?---, 3. ---?---, 4. ---?---, 5. ---?---, 6. Darren Incles, 7. ---?---, 8. Peter Evans, 9. Julian Greenwood, 10. ---?---, 11. Gary McCarthy, 12. Robert Jolley.
Front Row: 1. Paul Nibbs, 2. Sarah Brice, 3. ---?---, 4. ---?---, 5. Louise Pinnock, 6. Kate Burdette, 7. Christine Hughes, 8. Jenny Smith, 9. Lee Sharpe, 10. Nigel York.
We are very grateful to Rob Jolley for supplying all these names. Can anyone supply us with any more?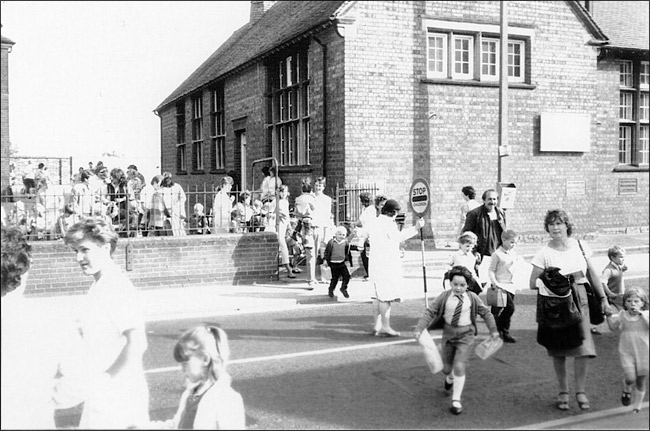 An instantly recognisable scene which is virtually timeless.
Parents meet their children out of school and take them home for tea.
The Lollipop Lady ensures that they are safe when crossing the road.