May Queens


Photo & Article from the Evening Telegraph
of May 16th 1981

The text of the article is printed below

But the wet weather did not manage to dampen the enthusiasm of hordes of parents who turned out to see the Duchess of Buccleuch performing the crowning ceremony at Burton Latimer's recreation hall. Seven-year-old Tracey Craddock, the May Queen of St Mary's Primary School, and her two attendants, six-year-old Wendy Lilley and seven-year-old Teresa Binder-Pollard were hastily hustled indoors when the rain started.

After the crowning the Duchess was treated to an indoor dancing session and the skies cleared just in time for Flash the donkey's moment of glory. Flash, with the May Queen on his back, followed a band from the Pioneer Corps at Northampton back to the school in front of a procession of youngsters and parents.The Duchess was shown around the 400-year-old school which was built on land donated by her family.

A bazaar was also held in the building in aid of school funds.
Mayoress of Kettering, Mrs Janet Meads,
crowns Emmeline Thurlow at the school's
May Queen Ceremony

Can anyone give us the names of
the other children?
Time with the Mayor & Mayoress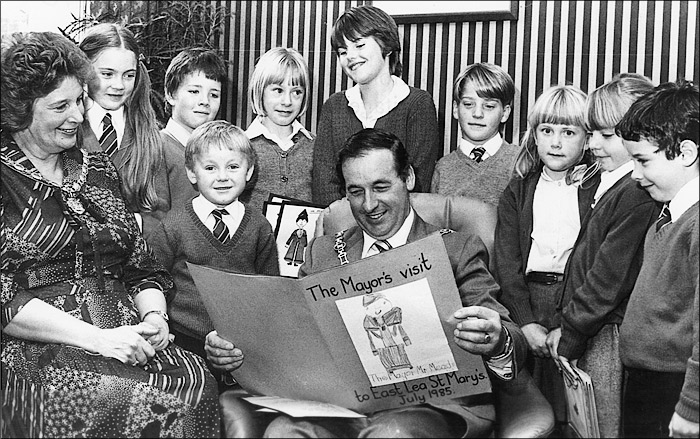 With the Mayor & Mayoress of Kettering, Cllr John Meads & Mrs Janet Meads, are: Kelly Edmett,
Adam Haves, Tristram Tomlinson, Annabel Keach, Wendy Lilly, Jimmy Simpson, Sarah Bodsworth,
Deborah Swinburne and Paul Stacey.
This was a reciprocal visit to one made to the school in the July.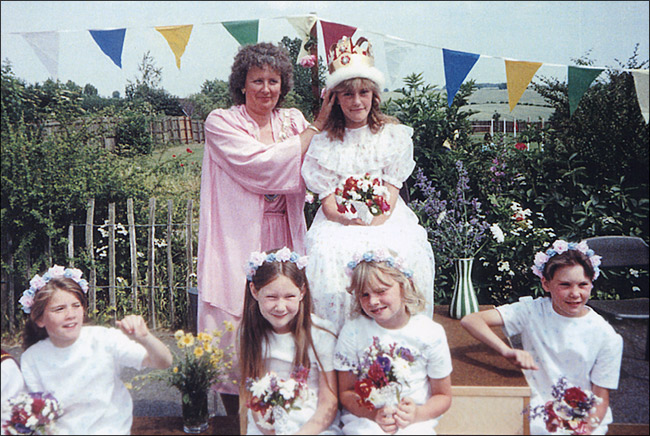 Above - Joan Griffiths, Chairman of the Town Council, crowns Georgina Marks.
Attendants: Louise Lilley, Sally Haynes, Katie Rees, Karen Griffith
Below - The Queen's Coronation Procession, Steve McCann leading, Tracey Newberry on the right with the short brown hair and Adam Grant in the burgundy jacket.
Tracey (Newberry) Brown supplied two names, can anyone supply us with more?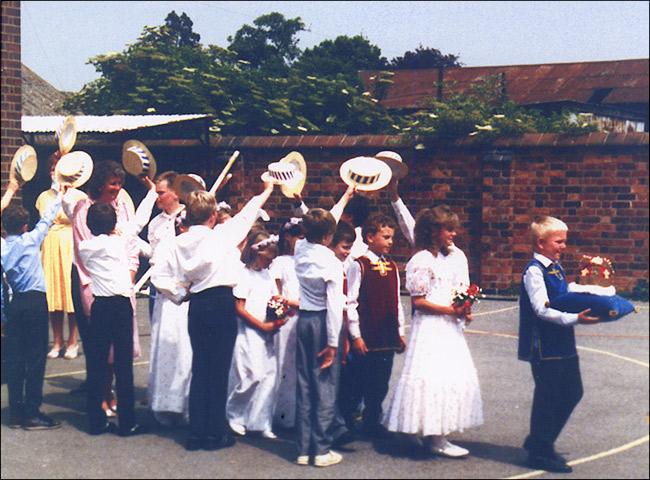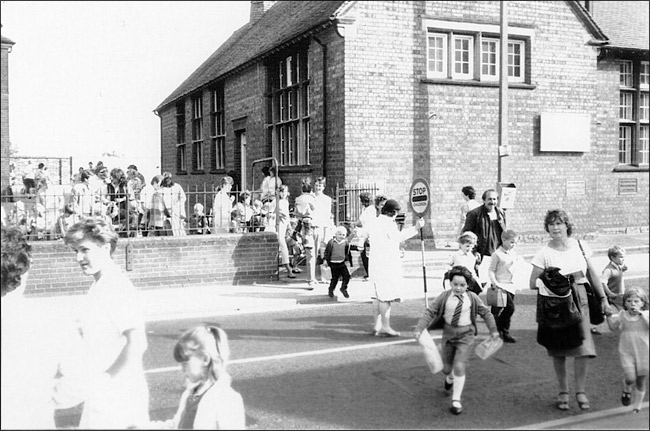 An instantly recognisable scene which is virtually timeless.
Parents meet their children out of school and take them home for tea.
The Lollipop Lady ensures that they are safe when crossing the road.